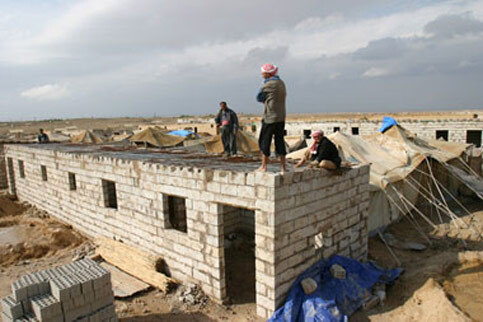 WASHINGTON

, 24 April (

IPS

) -

U.S.

State Department officials confirmed this week that they have been in discussions with Israel and the Kurdish regional government about possible resettlement solutions for the estimated 15,000 Palestinian refugees currently stranded in Iraq.

"At this point, we have had no positive response, but we continue to work on this," said Ellen Sauerbrey, Assistant Secretary of the State Department's Bureau of Population, Refugees, and Migration, during a press briefing. "There is no question that this is the most vulnerable population, and that they have no place to go."

The security of Palestinian refugees in Iraq has deteriorated dramatically since the U.S.-led invasion in 2003. Palestinians and human rights officials say members of the group, who are predominantly Sunni, are being targeted with violence, harassment, and eviction from their homes by roving Shiite militias and Iraqi police in efforts to expel them from the country. Iraq's Interior Ministry has been implicated in the arbitrary detention, torture, killing, and "disappearance" of Palestinians, according to a report from Human Rights Watch.

"Nobody seems inclined to want to take them. Some have been killed, some have been dispossessed, some ethnically cleansed," said Ziad J. Asali, president of the American Task Force on Palestine. "It's just an added complication to the Iraq war."

The United States has also reached out to officials of the Palestinian Authority.

"We have been discussing with the PA and they recognise the Palestinians in Baghdad are particularly vulnerable," said Jay Zimmerman, the State Department's programme officer for Iraq. "They see resettlement as the only option for them and that's what we are pursuing."

Zimmerman would not disclose which Palestinian Authority officials the State Department had contacted. The Palestine's national unity government includes Hamas, regarded by both the United States and Israel as a terrorist organisation.

A responsible official at the Kurdish embassy in Washington said he was unaware of exchanges between the U.S and Kurdistan. The Israeli embassy did not respond to calls for comment.

Iraq's minority groups have largely been forgotten in a conflict that most news media frame as a battle between Sunni and Shiite sects, and the plight of Palestinians in Iraq helps underscore the regional impact of the longest-running refugee crisis since World War II.

Before the 2003 U.S. invasion, an estimated 35,000 Palestinians lived in Iraq — children and grandchildren of Palestinians who followed an Iraqi army regiment that fought in the first Arab-Israeli war in 1948. Although they were denied Iraqi citizenship rights, Palestinians were a favoured constituency of Saddam Hussein, who used them as a propaganda tool to bolster Arab nationalist sentiment against Israel.

Currently, about 1,200 Palestinians remain stranded in three border camps near Syria's border with Iraq, while the rest — estimates range from 15,000 to 34,000 — remain trapped in Baghdad.

"Fifteen thousand is a very soft number," Bill Frelick, refugee policy director of the U.S.-based Human Rights Watch, told IPS. "We were dealing with the official figure of 34,000, but nobody is in a position to say with any great confidence. My accounting is highly speculative."

Neighbouring Syria and Jordan, which have absorbed a disproportionate amount of Iraq's two million refugees as a result of the conflict, have closed their borders to Palestinian refugees.

Syrian authorities accepted 300 Palestinian refugees from al-Hul, a refugee camp within Syria, in May 2006 after they were denied entry at the Jordanian border, but as new groups of Palestinians fled towards the Syrian border, the government has restricted them, according to Frelick. The Jordanian government has also denied entry to Palestinians fleeing from Iraq, though Jordanian law states that Palestinians may immigrate and obtain Jordanian citizenship if they renounce their Palestinian claim.

"We met with the Jordanians… A government official said point-blank, not a single one," said Frelick, about whether Jordan would permit Palestinians to seek refuge. "They don't feel they owe Palestinians more."

Jordan and Syria are not signatories to the 1951 Convention Relating to the Status of Refugees, which defines the rights of individuals who are granted asylum and the responsibilities of the nations that receive them.

Palestinians in Iraq remain outside the mandate area of UNRWA, the United Nations agency that provides humanitarian assistance for Palestinian refugees and their families.

However, they fall under the auspices of the UN refugee agency, UNHCR, making them recognised — or prima facie — refugees. Since the United States is a signatory of the Refugee Convention, it has a particular role to play.

"These are already recognised refugees. The U.S. as the occupying power has the capacity to evacuate. They could put them on a plane and get them out of there," said Frelick. "The question is where that plane would land."

All rights reserved, IPS — Inter Press Service (2007). Total or partial publication, retransmission or sale forbidden.