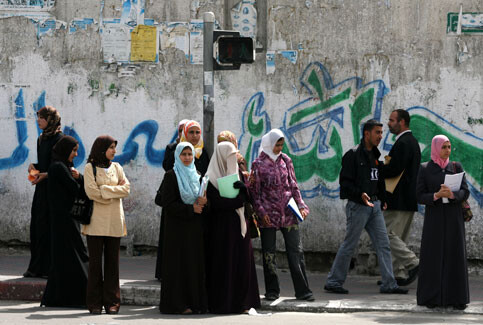 WASHINGTON, 2 June (IPS) - Israel and the US said Friday they would "revisit" a policy that prevents Palestinians from leaving the Gaza Strip to pursue their educational goals one day after a controversial US State Department decision to withdraw all Fulbright Scholarships from students living in the territory.
The seven Fulbright recipients were informed in an email Friday that their awards had been withdrawn and they would have to apply again next year because Israel had denied them exit visas, according to The New York Times, who first broke the story. Instead, the State Department would "redirect" the grants to the West Bank in order not to lose them entirely.
The status of Fulbright recipients remains a minor issue when compared to the broader political morass that has pushed Gaza past the brink of humanitarian crisis. But the plight of the seven students serves as a significant blow to US public diplomacy efforts to win "hearts and minds" in the Arab world at a time when President George W. Bush's administration is racing to complete a sustainable — albeit exclusionary — peace deal between Israel and Palestinian Authority President and Fatah leader Mahmoud Abbas.
The stated policy of the US and Israel is to support "moderate" Palestinians, but critics contend that it is counterproductive — it primarily aims to isolate and wean Gazans away from the Islamist group Hamas, but the economic and security blockade of territory has only served to "collectively punish" an entire population.
"For some time there have been concerns that Israel's policy aimed at isolating Hamas' government in the Gaza Strip is turning into a practice of punishing the Gaza population, which is both morally wrong and politically shortsighted," according to Debra DeLee, president and CEO of Americans for Peace Now, a Zionist organization dedicated to enhancing Israeli's security through peace.
"The current case is a stark illustration of this pattern," she said.
The dovish pro-Israel group Israeli Policy Forum also sent an urgent memo to Congressmen Friday, calling on them to demand that the State Department reverse the decision.
Wrote M.J. Rosenberg: "The State Department's decision is reportedly based on the Israeli policy of blockading Gaza. But officials in both countries seem ambivalent, if not confused, by this decision."
The Fulbright story became the main topic of the State Department briefing on Friday, as spokesman Tom Casey sought to distance the US from the Israeli decision.
"I understand why people want to give this symbolic importance, but I don't think it's something that needs to be overplayed as well," he said.
When asked by a reporter how the Palestinians will view the US role in the peace process if Washington can't pressure Israel on small issues such as the Fulbright grant, Casey said, "I would hope that what people take away from this is the fact that the US is committed to working with the Palestinian people and providing opportunities for them, and that even when there are occasional problems in the process that we figure out ways to work through them."
Secretary of State Condoleezza Rice said she did not know about the Israeli decision, and would "look into it," adding that, "if you cannot engage young people and give complete horizons to their expectations and their dreams, I don't know that there would be any future for Palestine."
Established in 1946, the Fulbright program currently awards 7,000 grants each year in more than 150 countries. It is widely considered as the most prestigious international exchange program in the world.
The White House blamed Hamas for making it "very difficult for students to be able to take advantage of the opportunities that present themselves," said spokeswoman Dana Perino.
"Obviously, we want people in the Middle East, students in the Middle East, to be able to come to America," she said.
The Israeli cabinet declared Gaza "hostile territory" after the Hamas seized control from Fatah in June of last year. The US designates the group as a terrorist organization for its attacks on Israel, and has supported Abbas' parallel government in the West Bank city of Ramallah.
Tel Aviv says it cannot open its border with Gaza and cannot risk the safety of its soldiers and civilians as long as Hamas and other groups continue to fire rockets into southern Israel. Only Palestinians seeking urgent medical care are allowed through, but scholarships to study abroad do not qualify as humanitarian necessity.
But even Israeli hardliners appeared confused by the US decision.
"We correctly complain that the Palestinian Authority is not building civil society, but when we don't help build civil society this plays into the hands of Hamas," said Natan Sharansky, a former Israeli government official and inspiration for President Bush's ambitious freedom agenda.
All rights reserved, IPS - Inter Press Service (2008). Total or partial publication, retransmission or sale forbidden.
Related Links