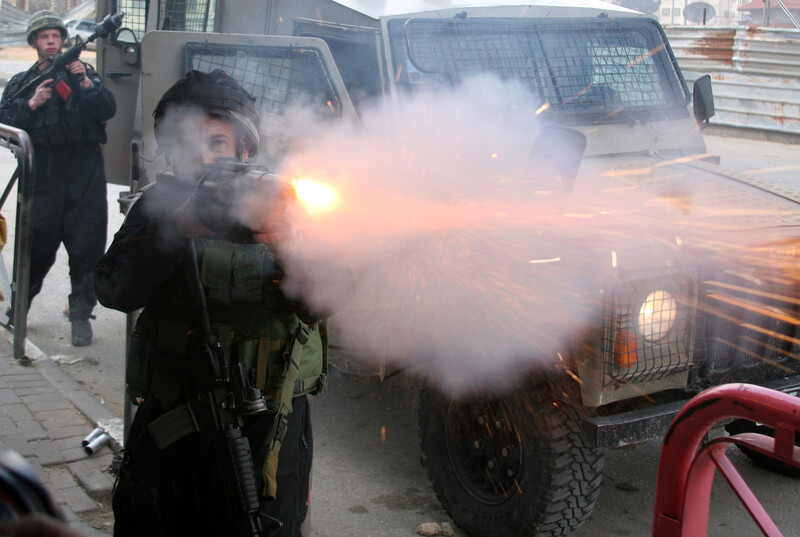 WASHINGTON (IPS) - A new policy paper published earlier this week by the US Campaign to End the Israeli Occupation documents a number of cases occurring over the past decade in which weapons and ammunition produced and financed by the US have been used to kill unarmed Palestinians and US citizens.
"US military aid to Israel is a policy that is running on autopilot and must be reconsidered," Josh Ruebner, the national advocacy director for the organization and author of the new policy paper, said on Monday.
"US weapons provided to Israel at taxpayer expense make the US complicit in Israel's human rights abuses of Palestinians living under Israel's 44-year military occupation of the West Bank, East Jerusalem and Gaza Strip and defeat US foreign policy objectives of halting Israeli settlement expansion, ending Israeli military occupation and establishing a just and lasting Israeli-Palestinian peace," Ruebner added.
Between the years 2000 and 2009, the US transferred "more than 670 million weapons, rounds of ammunition and related equipment," according to the report.
Violating US law
During the same period, "Israel killed at least 2,969 unarmed Palestinians, including 1,128 children, often with US weapons in violation of the Foreign Assistance Act and Arms Export Control Act."
The Foreign Assistance Act, signed into law in 1961, stipulates that "no security assistance may be provided to any country the government of which engages in a consistent pattern of gross violations of internationally recognized human rights."
Several US administrations have sanctioned or withheld funding from countries, including Israel, that violated laws such as the Foreign Assistance Act. But according to the report, official inquires and investigations into US military aid to Israel over recent decades have been met with growing resistance from groups both within and outside of the US government.
Although more expensive weapons systems such as tanks and aircraft make up the bulk of purchasing contracts made between the Israeli government and US manufacturers, small arms and ammunition purchases account for the largest number of deaths.
Killing with American bullets
The report notes evidence that the Israeli military loads many of its guns with high-velocity tear gas canisters and rubber-coated bullets manufactured in the US — a frequent culprit in deaths throughout the West Bank.
"From fiscal year 2000 to 2009, the State Department licensed — and US taxpayers funded — the delivery of more than 595,000 tear gas canisters and other 'riot control' equipment to the Israeli military, valued at more than $20.5 million," according to the report.
In a 2007 "memorandum of understanding," the US pledged $30 billion in military assistance to Israel between 2009 and 2018 — a 25 percent increase in average annual military aid over previous years. Israel will receive roughly $3.1 billion in US military aid for fiscal year 2012.
Speaking at a conference held at the Palestine Center on Monday, Ruebner argued that, apart from the seeming contradiction of US pledges to protect human rights for everyone, military aid to Israel imperils US strategic interests in the region.
It also defers much-needed US tax revenues away from domestic programs, and contributes to a positive feedback loop that conditions the fulfillment of stated US goals in the region, such as a negotiated, two-state settlement, on even more military aid that, in turn, is used to continue the Israeli occupation of the West Bank and Gaza, he said.
Citing data obtained for the US Internal Revenue Service and Census Bureau, the report places the quantity of US military aid in a larger context.
Liability
"With the same amount of money that the US gives each year to fund weapons for Israel, the federal government could instead fund affordable housing vouchers for 350,000 low-income families, or green jobs training for 500,000 unemployed workers, or early reading programs for 900,000 at-risk students, or primary health care to 24 million people without insurance," according to the report.
"Far from being a strategic benefit to the US, [military aid to Israel] is actually a growing political, economic and strategic liability," Ruebner said.
The release of the policy paper coincided with the annual conference of the American Israel Public Affairs Committee, a Zionist lobbying group, in Washington that included speeches by senior US government officials, including President Barack Obama.
US Secretary of Defense Leon Panetta reaffirmed America's security commitment to Israel, including financing for a missile defense and fighter-jet weapons systems in a speech during the conference.
"This is an ironclad pledge which says that the United States will provide whatever support is necessary so that Israel can maintain military superiority over any state or coalition of states, as well as non-state actors," Panetta said.
On Monday, US Congressmen Eric Cantor and Steny Hoyer introduced legislation that will "expand Israel's authority to make purchases under the foreign military financing program," and require the president to report to Congress on "actions to improve the process relating to Israel's purchase of F-35 aircraft to improve cost efficiency and timely delivery."
"Today, my friend Democratic Whip Steny Hoyer and I are introducing legislation to reaffirm our enduring commitment to the US-Israel strategic relationship and to ensure that threats to Israeli and American security will be answered with strength," Cantor stated on Monday.
"It is a bond that reflects the shared values of our people and our shared interests in preserving stability in the Middle East…It is a reminder that support for Israel is not and should never be a partisan issue," Congressman Hoyer added.
Ruebner emphasised several steps US lawmakers could take to prevent additional human rights violations, most notably the enactment of laws that would make US military aid conditional on freezing Israeli settlement building in the West Bank and ending the blockade of the Gaza Strip.
All rights reserved, IPS - Inter Press Service (2012). Total or partial publication, retransmission or sale forbidden.
Tags