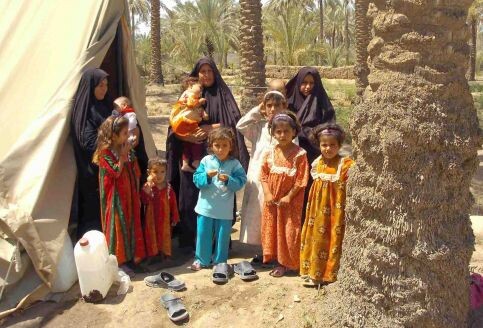 WASHINGTON

(

IPS

) - A leading human rights group released a report Monday documenting the proliferation of human rights abuses in Iraq since the United States' invasion in 2003.

Among the most egregious cases, the 102-page report by Human Rights Watch (HRW) identifies women, journalists, detainees and marginalized groups, including internally displaced persons and religious minorities, as the most vulnerable populations in Iraq.

"Beyond the continuing violence and crimes associated with it, human rights abuses are commonplace," the report found.

It said that in many instances the Iraqi government has failed to pursue "independent and impartial" investigations.

"At a Crossroads: Human Rights in Iraq Eight Years After the US-Led Invasion" is based on 178 interviews with individuals from a variety of stations in Iraqi society in seven cities across the country dating back to April 2010.

The Iraqi government is a party to a number of international treaties that clearly define the role of governments in preventing human rights abuses, such as the Convention on the Elimination of All Forms of Discrimination Against Women and the Convention against Torture. However, the report found that it has often failed to enact and enforce commensurate legal and penal codes.

A large portion of the HRW report focuses on the rights of women and girls. "The biggest victims in Iraq," says one female rights activist interviewed in Baghdad in 2010, "are young women."

Before the 1991 Gulf War, the rights of women in Iraq were "relatively better protected than other countries in the region," thanks to a series of legal reforms promulgated by the Baath Party, "specifically aimed at improving the status of women in both the public and private spheres," the report states.

But as Saddam Hussein began to embrace "Islamic and tribal traditions as a political tool to consolidate his waning power," the status of women's rights in Iraq witnessed a dramatic decline. This was only compounded by decades of war, international sanctions and occupation that negatively affected women and girls' rights disproportionally.

Forced marriages and prostitution and domestic and sexual abuse are frequent occurrences in Iraq, according to the report.

In one case HRW investigated, a 14-year-old Baghdad resident was kidnapped in 2010, drugged, taken to a residence that held other Arab and Kurdish girls and was forced to "sleep with one or two men daily" — a story familiar to many victims of forced prostitution in Iraq.

The report found that because "victims of sexual violence and trafficking have well-grounded fears of reprisals, social ostracism, rejection or physical violence from their families, and a lack of confidence that authorities have the will or capacity to provide the support or protection required," many cases go completely unnoticed by the Iraqi government. Even those cases that are referred to authorities are met with investigative reluctance.

Western and Iraqi governments' seemingly ambivalent response to the myriad human rights abuses include cases in which Iraqi journalists have been threatened or victims of illegal detention have been tortured. Several months of parliamentary gridlock in Iraq beginning in March 2010 caused pending human rights legislation to go unattended.

The HRW report also addresses the disproportionate number of religious minorities and other "marginalized communities" that have been forced from their homes and villages due to lack of security and religious extremism.

Millions of internally displaced Iraqis now face an increasingly precarious situation in what has become a full-fledged humanitarian crisis since the 2003 invasion. While security concerns have limited international humanitarian workers' access to Iraqi populations most in need, Iraq's government assistance to local nongovernmental organizations, better suited to address the humanitarian issues, has been lacking.

Several Washington-based advocacy groups, including Refugees International, have called on the United States to increase pressure on the Iraqi government to "meet its responsibilities to its own people."

Much of this stems from the challenges intrinsic to post-war reconstruction in Iraq, necessitating a continued effort by the international community to alleviate the more serious humanitarian issues. But with budget cuts dominating the political atmosphere in Washington, even United States aid once considered to be critical to Iraq for sustained improvements has come into question.

A Republican-led US House of Representatives budget proposal for fiscal year 2011 takes aim at US foreign aid as a primary budget-slashing target, which would include funds appropriated for the Migration and Refugee Assistance account — the account from which the US government provides internally displaced Iraqis with many of the most basic of necessities.

In a report released last week, Refugees International emphasized the impact modest sums of US foreign aid has on internally displaced populations in Iraq and argues that foreign aid for Iraq should remain at fiscal year 2010 levels. The Republican budget proposal would cut the Migration and Refugee account by 40 percent.

According to the report, without sufficient levels of foreign aid, programs such as the Diyala Initiative, which "helped religious minorities and other Iraqis safely return to their villages where there was extreme violence and destruction," would likely falter.

The HRW report urges the governments of the United States and Britain to continue pressing the Iraqi government to reform its judicial system and legal code, "provide financial and technical assistance to civil society organizations" within Iraq, make alternative "refugee resettlement places available," "ensure that no one at risk of torture … is transferred into Iraqi custody," and "investigate and prosecute crimes" committed by US and UK forces.

All rights reserved, IPS — Inter Press Service (2011). Total or partial publication, retransmission or sale forbidden.