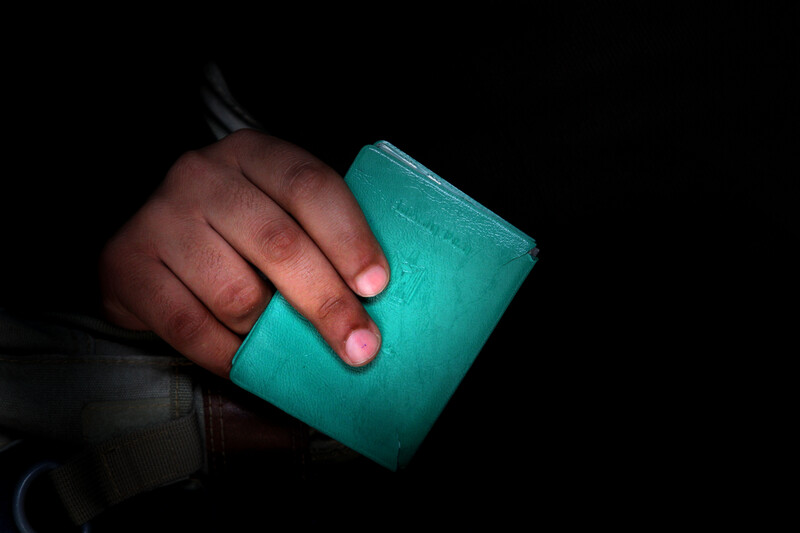 Ahmed Abu al-Ayneen, 27, is mourning his father's passing.
"There will be no grief deeper than the loss of my father," he said.
In February, Nabil Abu al-Ayneen died at the age of 53 of cardiac arrest after a long struggle with heart disease and gout.
His illnesses were compounded by Israel's restrictions on medical travel that all Palestinians in Gaza face. Yet Nabil and his family faced even greater obstacles to traveling abroad, as many members of the Abu al-Ayneen family are undocumented: a situation that has left them unable to leave Gaza legally.
The Abu al-Ayneen family home in the al-Nasr district of Gaza City is shabby. Over the years, they have had to sell off furniture and the television to fund Nabil's medical treatment.
"My father was born in Lebanon, in the city of Nabatieh, to a Palestinian father and Egyptian mother," Ahmed said. "After the Sabra and Shatila massacre in 1982 and the withdrawal of the Palestine Liberation Organization [PLO] from Lebanon, he moved to Egypt in 1983."
"He wanted to work with the PLO," Ahmed said. "He believed in the Palestinian cause and his duty toward his homeland."
In Egypt, Nabil met his future wife, Samira, and they would have three sons and one daughter. Ahmed remembers his father being "immersed in the national songs," especially those of the al-Ashiqin Band, or the Lovers' Band, a Palestinian band formed in the 1970s in Damascus.
In 1987, Nabil traveled to work with the PLO in Sudan. He was a member of the Palestinian National Security Forces, and rose to the rank of major.
Though Ahmed was born in Sudan in 1996 and grew up there, most of his extended family lived in Gaza. When Ahmed turned 17, Nabil and Samira decided they wanted to live in Gaza to be close to Nabil's parents and siblings. Ahmed remembers not wanting to leave and being uncertain about traveling without a passport.
Yet the family left Egypt and crossed into Gaza through a tunnel near Rafah. It was May 2013 and the Rafah crossing with Egypt was rarely open. But even if it was, they would not have been able to cross there.
"The trip was really tough and hard," he said. "We would be imprisoned by the Egyptian authorities if they caught us."
Samira, who is Egyptian, was the only one with sufficient documentation. They traveled light, with only clothing and family photographs, and when they arrived, they settled into their new life in Gaza.
A total lack of rights
"It's as if we don't exist."
This is a common refrain among undocumented people living in Gaza, and according to the Euro-Mediterranean Human Rights Monitor, over 5,000 Palestinians in the Gaza Strip "lack identity documents and are thus deprived of their civil and political rights" as of 2021.
Since Nabil Abu al-Ayneen, though Palestinian, was born in Lebanon, the Israeli occupation refused to grant him an ID card since he was not registered in a 1967 census conducted by the Israeli army.
As a result, for the past decade, the Abu al-Ayneen family has lived undocumented in Gaza. While the inequalities become most glaring in medical emergencies like Nabil's case, being undocumented also affects day-to-day life and one's ability to leave Gaza for any reason.
The family has struggled to open a bank account or enroll in university.
"I am terrified that I may lose another member of my family, just for being undocumented," Samira said.
The al-Safadi family has had similar struggles.
Abdul Hakim al-Safadi, 60, urgently needed to travel abroad for medical treatment related to diabetic macular edema, a condition that can lead to blindness. Yet, due to Israel's refusal to issue him an ID, he has been unable to travel.
Al-Safadi was born in Gaza in 1953, but moved to Saudi Arabia with his family when he was a kid. He married there and lived a full life there, but returned to Gaza in 2012 through the tunnels.
Since then, he has not been able to travel outside Gaza due to lack of a passport.
"I haven't seen my family in Egypt for ten years," he said. "My brother died in Saudi Arabia and I wasn't able to travel to attend his funeral. The pain is unbearable."
Risky travel
Riham Skaik, 34, was born in Damascus to a Palestinian father and a Syrian mother. In 2013, she met Raed Hijazi while traveling in Egypt. Hijazi was from Gaza, and the couple moved there after marriage.
They now live in Tal al-Hawa in southern Gaza, and Riham often feels stuck.
"It's like I don't exist," she said, holding her youngest daughter.
Israel has prevented her from obtaining a Palestinian ID, even though she is married to a Palestinian and now has four kids with Palestinian passports. Her husband has applied for her to receive an ID multiple times through the Palestinian Ministry of Civil Affairs, which receives Israeli approval to issue IDs, but each time has been rejected.
Riham holds a Syrian travel document, which is not a passport but instead the document issued to Palestinian refugees in Syria. With such a document, it is risky to leave Gaza to return to Syria to see her family because she might not be able to return
But in May 2019, Riham took advantage of the Egyptian government allowing Syrian travel document holders to travel to Egypt. She left Gaza through Rafah and was required by Egypt to pay an additional fee of $1,200 as a Syrian travel document holder.
She was overjoyed to see her family, but then COVID-19 hit. She stayed in Syria with her children for over a year and a half because of airport closures.
"When Israel deprives me of an ID, it deprives me of a whole life," Riham said.
Riham studied political translation for four years at Damascus University and was about to graduate, but when she met Raed her life priorities shifted.
"When I moved to Gaza, I thought I could get equivalent certificates," she said. She has faced difficulties enrolling in university in Gaza, which she believes could be due to her lack of an ID card.
Every day she misses her family in Syria. She hasn't been able to attend her sisters' weddings, and they have missed the birth of her children.
"I feel that I'm in prison," she said.
Her biggest fear is if, in the future, she needs specialized medical treatment outside Gaza. She is certain that she would not be able to obtain the necessary permits.
Aseel Mousa is a journalist based in Gaza.
Tags