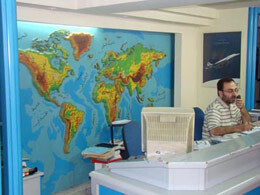 "Shurafa Tourist and Travel Company has been operating in Gaza since 1952," Nabil Shurafa, general manager of the company, says proudly; "it was founded by my father." This historical background is significant, as much for understanding the many and various forms of movement restrictions with which Shurafa Travel has had to deal during Gaza's 43 year occupation as for providing a rationale for how and why Shurafa remains open under the current restrictions, which have made travel outside of Gaza impossible for most of the 1.5 million inhabitants of the coastal enclave.

Indeed, Palestinians in Gaza have been tightly restricted from traveling through the Israeli-controlled Erez crossing for almost two decades, and the crossing has been completely and continuously closed to Palestinian passengers since 14 June 2007. As a result, they have been forced to seek travel via the Egyptian-controlled Rafah crossing, which was until last June open only sporadically for brief periods and continues to be restricted to those with serious medical conditions and those with foreign passports or student visas abroad — and even travelers meeting these criteria are not guaranteed to pass.

Yet Nabil has carried on his father's legacy in spite of the circumstances, and his office is a tribute to a time when Palestinians were not completely denied their fundamental right of movement and could travel via Tel Aviv's Ben Gurion Airport or even Gaza's own Yasser Arafat Airport in Rafah: photographs of foreign dignitaries arriving at the Gaza airport line his desk and on his wall hangs an impressive award from Emirate Airways for outstanding sales. Yet the look of exasperation apparent in Nabil's face as he explains the current state of his business is enough to indicate just how much times have changed: the Arafat Airport has been for almost a decade little more than a pile of rubble after repeated Israeli bombings which began in 2001, and the movement of Palestinians has been suffocated by the closure for about as long.

Like all businesses in the Gaza Strip, Shurafa Travel has suffered greatly as a result of the Israeli-imposed closure. "We are losing lots of money," Nabil says, clearly frustrated, "we are paying out of our own pockets to keep the office open and, because of the siege, the costs to do so are very high." Because all his office material comes through the tunnels from Egypt and because all his necessary utilities, such as his phone service, are controlled by companies operating a monopoly in Gaza, Nabil estimates that he operates one of the most expensive travel agencies in the world, relative to the revenue that Shurafa Travel brings in.

That Shurafa Tourist and Travel Company is still operating despite these conditions is a testament to Nabil's persistence and to the strong ties he and his staff feel to the Gaza community, with whom the Shurafa staff have developed a close bond over the past 58 years of service. "We can't choose when or under what conditions the Rafah border crossing is open, so we have to always remain open for our clients," he explains.

Such consistency stands in stark contrast to the industry in which Shurafa Travel operates, which even in the best circumstances is perpetually uncertain. The recent "opening" of the Rafah border crossing is a case in point. Despite commitments by the Egyptian authorities to facilitate travel for the thousands of Palestinians desperately seeking egress either for urgent medical treatment, to return to their school abroad, or in search of psychological relief from the effects of the latest Israeli military offensive, travel in and out of Gaza via the Rafah border crossing remains a highly complicated affair, and only a small percentage of those attempting to cross are successful: while 10,531 travelers have been allowed into Egypt since 31 May 2010 — with 10,172 more crossing into Gaza from Egypt, countless more have been turned back despite meeting the ostensible criteria. "The conditions of travel are extremely difficult," Nabil says, "our clients never know whether they will pass or not until after they are in Egypt."

The uncertainty and constant fluctuations involved in crossing the border at Rafah creates a difficult balancing act for Nabil and his clients. Those seeking transit via Cairo to Europe and abroad, for instance, must be in possession of a flight ticket in order to be permitted entry into Egypt; yet Nabil's clients are understandably hesitant to purchase tickets without knowing when — and if — they will be allowed through the border. Nabil and his staff must thus attempt to navigate between the rigidity of airline rules and the uncertainty of the Rafah border, waiting until the last possible moment to confirm the purchase of tickets for their clients: "We have no choice but to operate in this way, but, because airline prices become more expensive as the flight approaches, it becomes very expensive." The Shurafa Travel staff spends most of their time scheduling and rescheduling flights based on the situation of their clients at the borders. They must remain constantly prepared to react to unannounced developments at the border, sometimes having to arrange travel at 3am.

The struggle facing Nabil and his clients is unique, yet rather than empathy Nabil is often confronted with indifference when dealing with those outside Gaza: "Most airline personnel I speak with don't understand at all the difficulties we and our clients face when attempting to travel from Gaza, and they don't care to listen." Constant electricity cuts afflicting the entire Gaza Strip further disrupt communication with airlines abroad, often in Cairo, exacerbating the situation as Nabil attempts to coordinate flights at the last moment.

Confronted with myriad difficulties, Nabil has witnessed his clientele shrink and his earnings evaporate under the current siege. His business has been crippled by the suffocating restrictions that affect all parts of Palestinian life in the Gaza Strip, yet Nabil's gravest concern is not necessarily economic. Speaking on his changing client base, Nabil laments that he has witnessed over the recent years a sharp increase in the number of travelers who are leaving Gaza with no plans to return. "This is the most significant effect of the siege, to turn people away from their homes with no desire to return."

While travel via the Egyptian-controlled Rafah border crossing is clearly difficult, the Palestinian Center for Human Rights (PCHR) emphasizes that this option is the only recourse for Palestinians in Gaza due to the complete closure applied by Israel. PCHR calls upon the international community, particularly the High Contracting Parties to the Fourth Geneva Convention, to act decisively to ensure the immediate and complete lifting of the illegal closure through opening unconditionally all border crossings of the Gaza Strip and to ensure the freedom of movement of all Palestinians.

This report is part of the Palestinian Centre for Human Rights' Narratives Under Siege series.