A member of the UK's National Union of Students Executive Council has denounced several youth and student officers from the opposition Labour Party for taking part in an all-expenses-paid tour of Israel and its illegal settlements in the occupied West Bank. The Labour students delegation met with Captain Barak Raz, an Israeli army spokesperson and other Israeli officials.
The Union of Jewish Students (UJS), a pro-Israel group, paid for the entire junket. The 4-9 January tour was led by Dan Sheldon, UJS campaigns officer. It included meetings with Tony Blair, the former UK prime minister who now works as a representative of the Middle East "Quartet" (the US, European Union, UN and Russia), and Mark Regev, chief spokesman for Israeli Prime Minister Benjamin Netanyahu.
Delegation member Joe Vinson told The Electronic Intifada that the group had "visited the [Israeli] settlements" in the West Bank as well as "various religious landmarks" on a "fact-finding mission to explore the conflict." Of the settlements, Vinson said it was "not ideal that Israel is building on Palestinian territory." All Israeli settlements in the West Bank are illegal under international law, a position upheld by successive UK governments. Vinson is president of Cornwall College Students' Union.
Vinson defended the tour, claiming it had given the Palestinian perspective as well as the Israeli. "We didn't control the agenda," it was set by the UJS, Vinson said. "Not for one minute do I think that the UJS tried to use it as a Zionist propaganda trip, they were very conscious to give the two sides of the argument throughout the whole trip."
"Unbiased" propagadanda
Vinson said that Captain Raz "didn't give us much opinion, it was very much an unbiased point of view that he gave us. It was mostly information about what they do to ensure that peace is consistent in the West Bank." He added, "it was interesting, but didn't really give us much to go on." During the trip, Vinson wrote on his Twitter account that he had been "Really glad to meet" Captain Raz.
Asked if he thought it was problematic to visit settlements as part of an Israeli delegation, Vinson said, "I certainly see the issues that surround that and the international law" but that it was crucial "to get opinions from all sides of the argument."
When pressed, Vinson said OneVoice Palestine was the only Palestinian group his delegation had met. OneVoice is an Israeli-Palestinian group founded by Israeli businessman Daniel Lubetzky. It has often been criticized by Palestinians for encouraging normalization between Israelis and Palestinians in violation of the Palestinian civil society call for boycott, divestment and sanctions on Israel.
A "Palestinian perspective" given by Israelis
Vinson admitted that "we didn't meet with as many Palestinians as we did Israelis" but said that the guide for the tour "was always trying to put the Palestinian perspective across, we were always asking him questions about things from a Palestinian perspective." According to other members of the delegation writing on Twitter, this guide who supposedly gave "the Palestinian perspective" was Jeremy Leigh of tour group Jewish Journeys. "Born in the UK and a graduate of the Reform Zionist youth movement, RSY-Netzer, [Leigh] has been living in Israel since 1992," says the group's website.
The Electronic Intifada asked Vinson what he thought qualified Leigh to give a "Palestinian perspective." He replied: "the fact that he's lived there for 20 plus years and I guess he acknowledges both sides of the argument."
Also on the delegation were: Emma Meehan, the secretary of Scottish Young Labour and a vice-president of Edinburgh University's Students' Union; Ruth Brewer, of Liverpool Labour Students; Jess Leigh, the vice-chairperson of Labour Students; Sam Woodcock, co-chairperson of Manchester Labour Students; and Nick Pringle, northern coordinating officer of Labour Students. Labour is now Britain's main opposition party, having been in government from 1997 to 2010.
Student activists denounce tour
James Haywood of the National Union of Students (NUS) Executive Council denounced the tour. Haywood said, "for elected officers to accept all-expenses-paid trips to Israel is scandalous, all the more so that it was arranged by an openly pro-Israel organization. I'm not surprised that these officers didn't meet Palestinian refugees, students and activists — because they would have seen the truth of the racism and oppression they suffer from daily."
Haywood, a Palestine solidarity activist and an elected student officer, is on the same NUS Society and Citizenship committee as Vinson.
Majdi Hafi, president of the Student Council for Birzeit University in the West Bank told Edinburgh student newspaper The Journal he was "very disappointed and shocked" to learn of the trip.
"As students at Birzeit University we were looking forward to working towards forming closer relations" with the Edinburgh Students' Union, he wrote. But he said the trip's "sole aim is to whitewash Israel's crimes and the suffering of the Palestinians."
He said the delegates had shown "a blatant disregard for the history of student activism for human rights at Edinburgh University," and called upon "the other sabbatical officers, and the wider student body [to] distance themselves from this shameful trip and condemn Ms. Meehan for taking part."
Liam O'Hare, president of Edinburgh Students for Justice in Palestine, told The Journal he was "horrified" that Meehan had chosen to join the trip, which he said was "designed to whitewash the continued ethnic cleansing of Palestinian people." The trip "has brought the union into disrepute," he said, promising to protest against it in all relevant forums.
Shallow understanding
Vinson said the tour was a fact-finding mission to encourage debate and improve understanding. If that was really its aim, it seems to have been pretty unsuccessful judging from what delegates have publicly discussed about their trip.
In one now-deleted Tweet, Ruth Brewer commented on the looks of Israelis: "I don't understand why people boycott Israeli goods, the lads here are fine to dine."
The Electronic Intifada asked Vinson how the trip facilitated discussion when they had met with only one Palestinian group, and he had mentioned not discussing the conflict with Captain Raz. He confusingly replied they they had asked Raz "why some Palestinian settlements were being pulled down in Israeli areas and vice versa." When asked if he meant Israeli settlements, Vinson said "sorry, other way around."
Brewer tweeted that they had spent the day in East Jerusalem and the Gush Etzion settlement, then "took a short cut through the West Bank" to Tel Aviv where she was "enjoying cocktails." She later deleted this tweet and several others.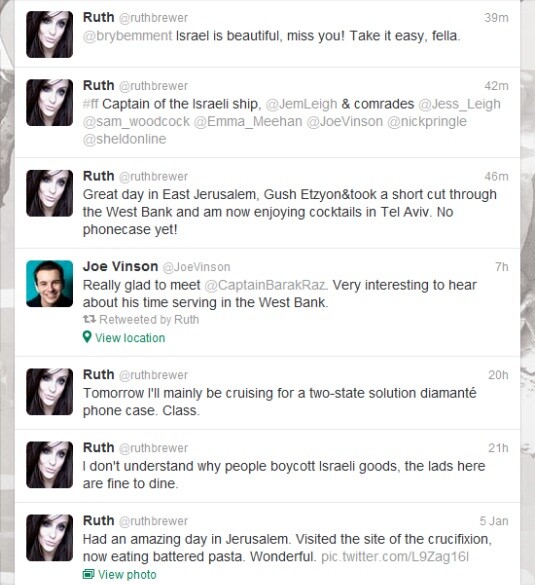 Other members of the delegation tweeted enthusiastically about their free trip to Israel, thanking the UJS for arranging it. The highlight for many seems to have been their meeting with Tony Blair. They came across as star struck after the official Twitter account of Blair's office wrote to delegation members: "Thanks for coming along. Was good to meet you all here."
The mapping information on various tweets from the meeting shows it took place in eastern Jerusalem (illegally occupied by Israel since 1967), near the Sheikh Jarrah neighborhood. Blair is known to have his office in this area.
On the frontline of Zionism
Dan Sheldon of the UJS did not reply to an email asking for comment.
Asked about the UJS' objectives, Vinson said: "I don't think it's fair to call them a pro-Israel group, I'd say they're a pro-two-state-solution group." He accepted the free trip because "I didn't know much about the conflict before," wanted to experience what it was like first hand, and "figured I'd probably never get the chance to go to Israel again, so it seemed like a good opportunity." Of the clause in the UJS constitution that calls for "inspiring Jewish students to make an enduring commitment" to Israel, Vinson said he hadn't been aware of it before he went.
At a recent conference, Sheldon said that UJS had "been at the center of the debate about how we should do Israel for many decades. Many consider us to be on the 'frontline' in the battle for Israel — our campuses have been playing out a shadow conflict for as long as anyone can remember."
Asa Winstanley is an investigative journalist who writes about Palestine. www.winstanleys.org.
Tags