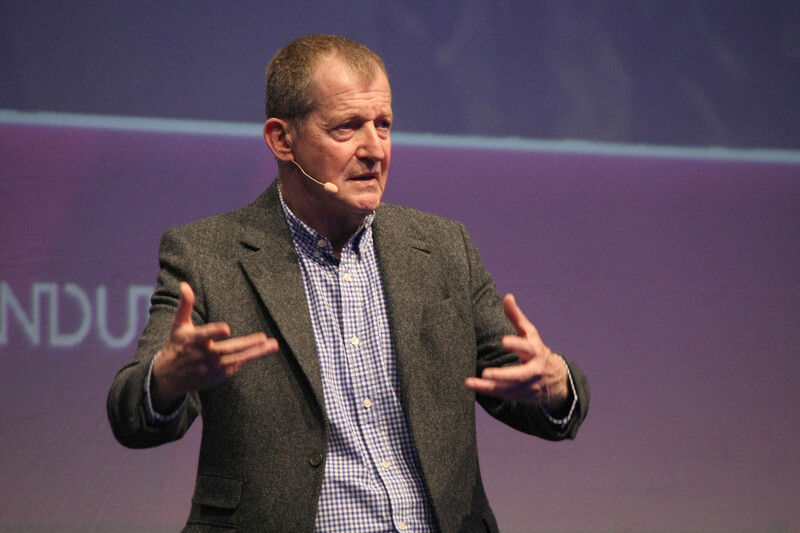 The head of a major British cultural event has pandered to a smear campaign against Palestine solidarity activists.

Opening on 24 June, the Bradford Literature Festival takes place in a northern English city where many local people have protested against Israel's crimes.

Syima Aslam, the festival's founder, has effectively sought to distance herself from public opinion.

In October last year, she took part in an online conference organized by B'nai B'rith, a lobby group and apologist for Israel's colonization of the West Bank and its attacks on Gaza.

Aslam used the occasion to suggest that people moved by the plight of Palestinians have ulterior motives. Her comments accommodated efforts by B'nai B'rith and similar groups to conflate opposition to Israel's oppression of the Palestinians with anti-Jewish bigotry.

Although Israel has erected an apartheid system, with support from Britain and the US, Aslam referred to "conflicts that are going on" which, she claimed, "can actually become sort of lightning rods for the issues."

Aslam did not spell out what "issues" she meant. Yet her comments were clearly in response to a question about "anti-Semitic actions," albeit without examples of such "actions" being cited.

"There's a lot that gets vested into, say, the Israel-Palestine conflict and I don't think the understanding is always there when that is happening," she said. "I think a lot of emotions come into that and I'm not sure those issues always have to do with that particular conflict itself."

Material promoting the Bradford festival claims it will bring "an amazing array of world-class writers" to the area.
Dodgy dossier
Some of the writers scheduled to appear at the 10-day event are firmly entrenched in the British establishment. Among them are Alastair Campbell, director of press for Tony Blair when he was Britain's prime minister.
Campbell, according to the festival program, will be speaking about the "big political moments of the past few decades from Brexit to the pandemic." There is no mention of an arguably bigger political moment – the Anglo-American war against Iraq.
That illegal invasion was enabled by an infamous "dodgy dossier" that Campbell played a major role in drafting. The dossier contained blatant lies about Iraq's weapons of mass destruction.
In truth, those weapons did not exist. Campbell and Blair have never been brought to justice for selling a war based on lies.
The sponsors of the Bradford festival include the Aspen Institute UK.
Headquartered in Washington, the Aspen Institute is closely associated with the Crown family.
Lester Crown, an industrialist and real estate mogul, is a life trustee of the institute and father of its current chair James Crown.
The institute has a formal alliance with the Anti-Defamation League, a leading pro-Israel group in the US. Both organizations run a fellowship program ostensibly aimed at nurturing future leaders.
Lester Crown, meanwhile, is a board member of the Jerusalem Foundation, which undertakes construction work in occupied East Jerusalem, where Israel is actively displacing Palestinians.
He is also known to have raised funds for Friends of the IDF – a group that assists Israel's forces of occupation.
Another sponsor of the Bradford festival is the magazine Jewish Renaissance.
David Dangoor, the president of that magazine's board, is a key player in the Exilarch Foundation, supposedly a vehicle for charitable donations. It finances some of Britain's main pro-Israel groups as well as the Henry Jackson Society, a neoconservative and anti-Muslim "think tank."
A website promoting the "philanthropy" of the Dangoor family describes David as a "strong believer in strengthening UK-Israel ties," who funds activities aimed at advancing the relationship.
The Bradford Literature Festival was approached for comment but had not responded at time of publication.
The festival has been previously embroiled in controversy.
In 2018, many Muslim artists withdrew from that year's lineup in protest.
The protest was in response to revelations that organizers had received undisclosed funds from the UK Home Office's Building a Stronger Britain Together program, a "counter-extremism" initiative predominantly targeting Muslims.
Just as discriminating against people based on their religion or ethnicity is reprehensible, Syima Aslam must be challenged over her pandering to the pro-Israel lobby, which is dedicated to perpetuating an apartheid system.
Perhaps a full boycott of the festival is necessary.
Kit Klarenberg is an investigative journalist exploring the role of intelligence services in shaping politics and perceptions. Twitter: @KitKlarenberg.
Tags