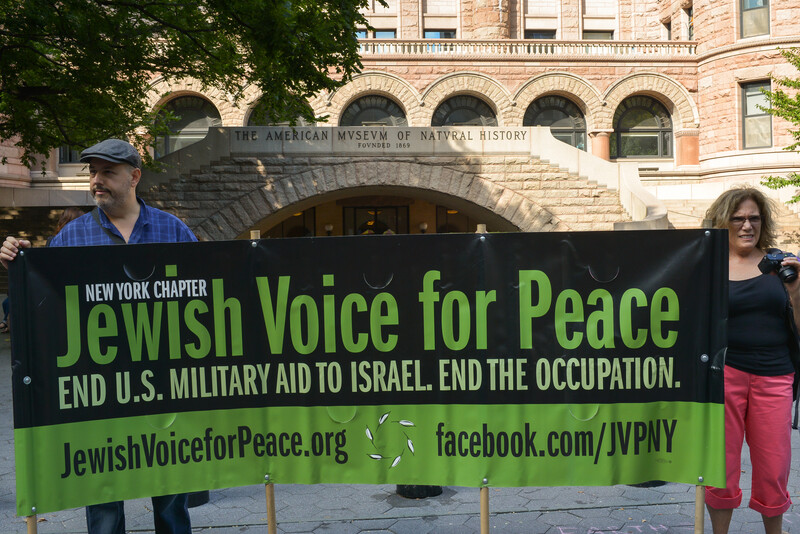 The COVID-19 pandemic has required students supporting the Palestinian struggle for justice to postpone many of their activities.
In New York's Columbia University, a student-led referendum on divesting from companies that profit off Israel's human rights violations, originally slated for April, has been delayed until the fall.
The vote is likely to be controversial, judging by the hostility which senior figures in the college have already displayed toward it.
In March, Columbia's President Lee Bollinger made headlines, particularly in the right-wing media, for his statement tying the planned referendum to anti-Semitism.
Bollinger's argument was convoluted.
Although it did not directly accuse those supporting the boycott, divestment and sanctions movement of anti-Semitism, it strongly suggested that very connection. Bollinger claimed that "when there is rising anti-Semitism in this country and around the world, even a single instance of it in any context is more alarming than it might otherwise be."
In doing so, he not only voiced his own disapproval of the referendum but effectively sided with one group of students – those who support Israel on campus – at the expense of another – Palestinians, Arabs and those in solidarity – presumably out of a fear of upsetting donors, graduates and, worse yet, the US government.
Indeed, Columbia is the target of a discrimination complaint that a student filed with the US Department of Education days after President Donald Trump issued an executive order on combating anti-Semitism.
Columbia's Students for Justice in Palestine (SJP) is named explicitly in that complaint – the first lawsuit the group has ever faced.
SJP activists worry that more lawsuits could be filed against them in the future and some students now feel they are targets.
Some schools have seen an uptick in activity by Canary Mission, an aggressive pro-Israel group.
Canary Mission blacklists pro-Palestine and pro-BDS students and faculty, publishing their social media comments out of context. By doing so, Canary Mission makes students vulnerable to scrutiny by universities, employers, and law enforcement, as well as to public harassment and death threats, not to mention being barred from traveling to Palestine.
New York University (NYU) has seen just such an uptick since the vitriol and controversy surrounding the conferral of the President's Service Award to NYU SJP in April 2019.
NYU President Andrew Hamilton subsequently wrote in The Wall Street Journal that had it been up to him, "SJP would not have received the award."
People are "more freaked out" from fears of "getting blacklisted," a former active member of NYU SJP, who was blacklisted by Canary Mission and wanted to remain anonymous, said.
"It's a racist attempt to shut us up and it's working," he said.
Landscape of lobbyists
Many students are less inclined to engage in activism around Palestine, given concerns about employers not hiring them given their being listed on the Canary Mission website, he said.
Students from Columbia SJP also noted how some formerly active members of SJP have suspended activity entirely out of fear it may prevent them finding jobs after graduation.
"It feels a little bit scarier for us now," Eve Glazier, a first-year student and active member of Columbia and Barnard's Jewish Voice for Peace, said.
She pointed to how organizations supporting Zionism – Israel's state ideology – now have official institutional backing with the Columbia lawsuit.
"Zionists have this whole landscape of organizations and lobbyists that are not even affiliated with the university but are interested in what's happening on this campus," Glazier said. "That's something that's very concerning."
Naye Idriss, a member of Columbia SJP, spoke of how Trump's executive order had emboldened many Zionist groups, "now that they have someone on the federal level on their side."
"What they are trying to do is pick specific targets and make an example of them to make engaging in any form of Palestinian activism look very costly," Idriss said.
None of the resistance to pro-Palestine, anti-occupation activism is new – something student activists are fully aware of.
"The executive order is just following and codifying a trend that has existed for a very long time, weaponizing anti-Semitism to curb Palestinian activism," Glazier said.
Everyone's "pissed off but unsurprised," the NYU SJP member said. "Whatever it takes to get in the way of pro-Palestinian activism and organizing."
He recalled that the Department of Education began investigating NYU as prompted by the executive order, following a lawsuit filed by an NYU graduate against the university for anti-Semitism. The complaint was made following SJP's receipt of the Presidential Service Award.
"It's part of a new wave of suppression of Middle Eastern studies," he said. He pointed to the controversy surrounding the NYU's Department of Social and Cultural Analysis officially announcing an academic boycott of NYU's Tel Aviv campus.
False equivalence
What Trump and his administration have accomplished through the executive order, however, and what Columbia's Bollinger horrifyingly advances, is a dangerous false equivalence between anti-Zionism and anti-Semitism.
We all unequivocally denounce anti-Semitism – which is fundamentally different to anti-Zionism.
Many of us – from all identities – oppose Zionism. We espouse anti-Zionism as an "anti-racist praxis" meant to oppose the racist hierarchy that Zionism historically created, as outlined by Jewish Voice for Peace, a progressive advocacy group fighting anti-Jewish, anti-Muslim and anti-Arab discrimination.
But that position falls foul of the US State Department's definition of anti-Semitism, which includes, "denying the Jewish people their right to self-determination… by claiming that the existence of a State of Israel is a racist endeavor" and "applying double standards by requiring of it a behavior not expected or demanded of any other democratic nation."
The State Department definition, on which the executive action was predicated, de facto criminalizes public criticism of the actions of the State of Israel, and actively disregards the reality on the ground for the past 72 years.
"Any form of asking for Palestinian rights is seen as anti-Semitic," Naye Idriss from Columbia SJP said. "They want to shut down any valid argument by painting all arguments against Israel as anti-Semitic."
Similar to the NYU, Columbia, and Brown administrations, Tufts University's senior administration issued a statement on 24 April, condemning the conferral of an award from the Office of Campus Life to Tufts SJP for their organizing against collaboration between US and Israel police forces.
Students there have pushed back, however. Julia Asfour, a junior at Tufts and member of SJP, said they worked with several groups on campus to voice their demands to the university. Groups outside Tufts have also backed the SJP activists.
Having so many supporters, said Asfour, makes them "able to call out the administration for their hypocrisy."
Small victories
Kenneth Stern, the man behind the definition that the federal government is now using to define anti-Semitism, warned in 2016 that the purpose of that definition was not to regulate speech on campuses around the issue. In December 2019, he branded Trump's presidential order "an attack on academic freedom and free speech" that "will harm not only pro-Palestinian advocates, but also Jewish students and faculty and the academy itself."
Eve Glazier, the student activist with Jewish Voice for Peace, argued that the Trump administration cares little about Jews and rather enables white nationalists, which is "very scary and harmful toward Jewish people."
As a result, she said, the motivation behind the executive order has little to do with combating anti-Semitism.
"We know then the main purpose is to curb Palestinian activism and give Israel a continued path to perpetuate their injustices without opposition from Palestinians, Jews or anyone."
Still, there are victories. Brown University's student body overwhelmingly voted in favor of divestment from companies profiting off Israel's human rights abuses in the West Bank and Gaza in 2019. Predictably, right after the student vote, Brown's President Christina Paxson sent out an email opposing divestment.
Later in 2019, an advisory committee on investment policies at the university voted to officially recommend the university to divest.
Earlier this year, Brown announced divestment from fossil fuels. But Ben Bienstock, an undergraduate student who has been actively involved with divestment since fall 2018 at the Ivy League university, remains unconvinced that this is auspicious news.
"They want to be known as the green Ivy, not the pro-Palestine Ivy," Bienstock said.
But pro-Palestine activists continue organizing, often behind the scenes, maintaining a low profile when needed.
Julia Asfour, the activist at Tufts, said the experience in her university showed the importance of building coalitions. Justice struggles are connecting, she said, and the reaction comes because they are advancing.
Eve Glazier, the Jewish Voice for Peace campaigner, also remains undeterred, even excited. She pointed to the approval last year by the Columbia College Student Council to hold the divestment referendum, now delayed to the fall of 2020.
"Our movement is succeeding and Palestinian solidarity organizing is showing up and being present," Glazier said.
"The reason why there is so much backlash and so much attempted suppression is because we're succeeding." So much so, she added, that "the president of the US feels the need to get involved."
Ali Ibrahim is a Palestinian rights activist, journalist and graduate student at Columbia University.
Sarah Sakha is a writer and graduate student at Columbia University, and leads the Palestine Working Group at the School of International and Public Affairs.
Editor's note: A previous version of this article incorrectly referred to Trump's executive order as the "Anti-Semitism Awareness Act." It has been corrected.
Tags