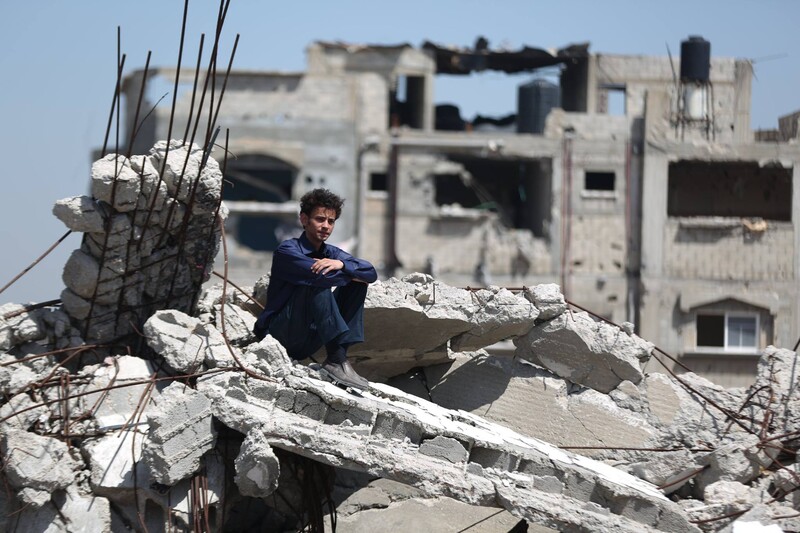 The Idol, directed by Hany Abu-Assad
Hany Abu-Assad is best known for his Oscar-nominated feature films Paradise Now and Omar, both set in the occupied West Bank. His new film, The Idol, takes place in Gaza, and tells the life story of singer Mohammed Assaf.
It is no docudrama, but it is not pure fiction either.
It is a real story of triumph: a Gaza boy dreams of making a global name for himself as a singer and succeeds. Though, in the film, which events actually happened and which were invented is not clear. Not that it matters.
When asked by a member of the audience at the London premiere screening which parts of the film told the truth and what was fiction, Abu-Assad kept the definition of truth broad. "All of it is fiction, all of it is true. If it emotionally works, it's true," he said.
The YouTube clips of Mohammed Assaf's rise to stardom on the talent show Arab Idol have been watched tens of millions of times. His victory at the 2012 championships in Beirut brought hundreds of thousands of Palestinians to the streets across the West Bank, Gaza Strip and inside present-day Israel.
Assaf managed to unite Palestinians in joy. He quickly became a phenomenon, illuminating the potential for art to connect people where politics has failed.
Rising up
Assaf, born in 1984 to Palestinian refugee parents, grew up in Gaza's Khan Younis refugee camp. In the film, his life story is depicted in two stages — as a child (played by Qais Atallah) and then as a young adult (played by Tawfeeq Barhom).
The rhythm of Abu-Assad's films is familiar: his characters begin inspired and optimistic, then are dropped to the ground, then they reach out for salvation and rise up again, and so on.
Usually, given the Palestinian context, these characters end up in a position more vulnerable than the one from where they started — possibly wiser, but invariably with their mortality more threatened than it was at the beginning of the film.
In The Idol, the film ends with the protagonist not only wiser, but a winner; not only stronger, richer and more famous, but fulfilled.
Unlike Abu-Assad's feature films, there is an undeniable feel-good quality to the ending, which, like many saccharine American movies set in high school, ends with a star performing on stage to a cheering crowd.
"Happy endings are so rare," stated producer Ali Jaafar, who had the idea for the film two years ago and approached Abu-Assad.
"When he said it, I got goose bumps," Abu-Assad said in his sandpaper voice.
Charmingly, Abu-Assad appears twice in the film, once in a Hitchcock-like cameo role of a cigar-smoking, wealthy Palestinian asked by Assaf to support his sister's medical expenses and again as one of many dancing fans who gathered in Nazareth's main square in real footage taken on the night that Assaf won the finals.
Gutsy, yet fragile
However, it would be wrong to give the impression that the film is some kind of jamboree of dancing and singing. It is a film that cuts to the core.
The film's most vivid and gut-wrenching scenes are those of Assaf as a child with his sister Nour (played by Hiba Atallah). The child actors, all from Gaza, are superb: rebellious, vocal, tough and gutsy, yet gorgeous, sensitive and fragile, too.
The death of one child — an extraordinary child who brings the events dramatized by the film into existence — communicates some of the pain of the death of a loved child in a place where so many children have died brutally and needlessly.
Another scene shows Assaf, older and now working as a taxi driver, chatting as he drives past row after row of bombed-out buildings. It depicts, without comment, the extent of Israel's devastation of Gaza — even prior to the onslaughts of November 2012 and the summer of 2014.
In one of the last scenes, an image of the actor Tawfeeq Barhom is transformed into the real-life Mohammed Assaf. The two do not look alike at all, but the casting of Barhom is excellent — their eyes capture similar looks amid a kaleidoscope of alternating expressions embodied by Palestinian youth: haunting feelings of longing, delight, hope and resignation.
Also to be commended is Abu-Assad's refusal to falsely glamorize Palestinians or their settings. There is nothing kitschy here, yet he can bring elegance into the Gaza street — as he does through the image of a high-heeled woman in a red headscarf stepping off the pavement. He also introduces an expansive sense of space and height by featuring a dominant sky and sea in many scenes.
Gazan stamina is conveyed through snapshots of parkour athletes running and flipping over piles of rubble; tender beauty is shown through vast landscapes (behind fences, but still); interior mosque scenes evoke peace and calm, the coloring as muted as a charcoal drawing.
These visuals underscore not just what has been lost, but what is being craved and hoped for as well.
Selma Dabbagh is a British-Palestinian writer. Her debut novel, Out of It, is published by Bloomsbury (2012).
Tags