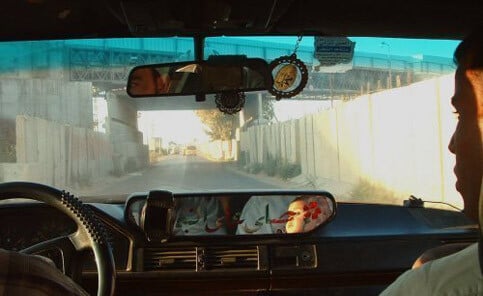 WAFA

— Just after leaving the city of Deir al-Balah, south of Gaza City, our eyes were caught by the beautiful neighbourhood of Abu Holi. Palm trees, olive and citrus orchards and green houses flank the road. A shepherd stands with some sheep between the trees, where a low, rusty metal fence surrounds a calf and a cow chewing leaves.

In the heart of such a romantic view, thousands of Palestinian civilians face daily torture at the two sides of Abu Holi checkpoint, which divides the Gaza Strip into two parts.

Hundreds of Palestinian taxis, trucks and civilian vehicles snake along the dug-up sandy road of the ill-fated Abu Holi. Huge concrete slabs lie along the two sides of the long checkpoint. Cylindrical concrete watchtowers covered with military-green nets border the checkpoint, where the crying of children is escalating along with the endless queue of cars.

In the baking midday sun, a four-month-old baby girl, Shorouq Jraideh, was sitting in her father's lap in a taxi, waiting for the Israeli traffic light to change to green.

Shourouq had no other way to complain about the heat in the closed-window car but to cry. Her father Taleb, 27, opened the window when dust filled the ca, making his daughter cough and cry.

After half an hour, an Israeli colonizer's car, escorted by military vehicles, passes the newly-established bridge that crosses this "valley of concrete".

The driver said that thousands of Gazans are forced to wait long hours when an Israeli colonizer crosses the bridge. "Sometimes one colonizer's car passes and comes back while we are waiting long hours either under the sun or rain," the driver said on condition of anonymity. "This is the case; thousands of Palestinians face torture for the sake of a passing colonizer's vehicle".

"It is not a checkpoint, it is hell! Last week they fired a gas canister inside a crowded car, and some of the passengers went into shock," Suleiman Abdullah, 30, said from the backseat.

Suleiman, from Gaza City, works at a factory for plastic manufacture in Khan Younis, south of Gaza. He tells us that Israeli soldiers often open fire at people, wounding or killing civilians waiting at the checkpoint. He added that sometimes he was forced to sleep outside because he could not pass the checkpoint.

An invisible Israeli soldier turned the green traffic light on. No one of the passengers answered me when I asked about the distance end to end of Abu Holi, and so the driver zeroed the speedometer.

The squashed passengers deeply sighed when the car passed through the 1,100 meter-long concrete tunnel. We passed in one minute. The driver was so nervous when I raised my camera and began photographing from the car "Stop! Stop! Please hide the camera… they will shoot us," the driver shouted.

At the end of the checkpoint, several seconds were longer than a day when an unseen soldier asked, through loudspeaker, the driver to stop for a while. Everyone expected gunshots to riddle the car.

"The distance between Khan Younis and Deir al-Balah is not more than 5 kilometers," the driver of the bus, K. Nairab 54, said, "but we spend long hours waiting".

"Due to the long delays, the students of the Religious School (belonging to The Ministry of Endowment and Religious Affairs), need the toilet, thus the college installed toilets within the buses to solve the problem," Nairab said, "other people also use the toilet of the bus". On the other side of Abu Holi, a group of women and university students gathered at the door of a bus with a toilet.

The torturous Abu Holi scenario speaks volumes about the daily life of Gazans; in terms of health, education, and emotion.

Surrounded with his relatives, a young man, Salah Rashwan, 22, is wearing a new elegant suit, was waiting and repeatedly staring at his watch.

Rashwan, from Khan Younis City, was too nervous to talk to us; he was heading toward Gaza to marry his beloved who was waiting at Shari'a (Islamic law) Court of Gaza.

Dozens of students and patients were among the crowd of people at Abu Holi. Mohammed Kmail, a student at al-Azhar University, was sitting under a tree reviewing a handout. "I am going to sit for today"s chemistry exam, I have been waiting for two hours," he said. "The university may hold a special exam session in Khan Younis".

41-year old Fatima Abdeen, dressed in black, was sitting under a tree, leaning her cheek on her hand and staring at the blue horizon.

"My son suffers from infection in the urinary tract, he sleeps at al-Shifa Hospital in Gaza, I have been waiting for four hours," Abdeen, from Khan Younis City, said. "I prefer to suffer such a disease rather than waiting in such real inferno."

"One man's meat is another man's poison". This proverb is so obvious at Abu Holi — nuts and ice-cream sellers were hawking their wares around the cars, hoping the checkpoint does not open.

"I hope the checkpoint is closed for hours," Salem al-Tilbani, 11, said while carrying a big dish of peanuts. "In such a case, I have a better opportunity to sell more peanuts".

Four men were sitting under a truck avoiding the hot sun. Three of them were sharing in solving crosswords while a wholesale shoes merchant, Mohammed Tawfiq, 46, was begging somebody, through cellular, to wait for the opening of Abu Holi.

"Closure severely hits my business. Several times I have lost package deals because of the inability to commit to appointments with traders," Tawfiq said.

After around two hours of questioning, interviewing and photographing, we left Abu Holi, heading towards Rafah. After just one kilometer, we were stopped at al-Matahen checkpoint, to begin a new phase of waiting!