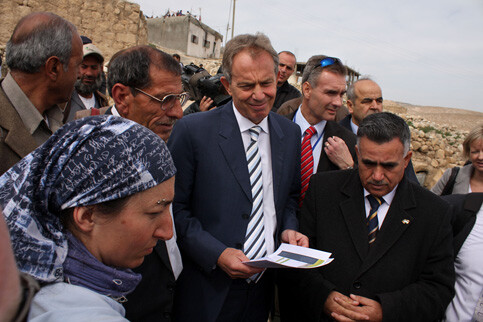 An elderly Palestinian woman grabbed my hand and held it over her chest. "Feel my heartbeat," she said. "We are really afraid of the settlers." Only half an hour before she took my hand, a group of 20 settlers from Maon settlement entered the village of Juwwiya and shot at her and her family as they grazed their sheep. As she clasped my hand and I looked into her face, the reality for Palestinians living in the south Hebron hills became starkly clear to me once again: a lasting peace is difficult to imagine as illegal settlements and outposts remain in the area.

On 19 March, 17 days before Israeli settlers shot at the shepherds of Juwwiya, the south Hebron hills played host to Tony Blair. As the representative of the "Quartet" (comprised of the US, EU, UN, and Russia) for Middle East peace, Blair toured the village of al-Tuwani and focused his attention on the dire humanitarian situation in the area. "It is very hard for Palestinians to enjoy the standard of living that they should enjoy and be able to develop their land as they should be able to develop in freedom," said Blair.

When asked what he would do about this situation, Blair answered, "It's got to be stopped, hasn't it?" But Blair was vague about what exactly should be stopped. "The whole way this area is looked at and administered is changed to make it fair," he said. At no point did Blair specifically mention the Maon settlement or any other of the settlements and outposts that make life in the south Hebron hills so difficult. He made no commitment to pressure the Israeli government to arrest settlers who destroy Palestinian property or attack Palestinian adults and children. He did not ask the Israeli government to follow through on the commitment it made three years ago to dismantle the Havot Maon outpost. Neither the words "military occupation" nor "international law" left his lips.

Palestinians in the south Hebron hills are enduring much more than a poor "standard of living." Since Blair's visit, Israeli settlers have shot at Palestinian shepherds in the village of Juwwiya on two different occasions. On 5 April, soldiers abducted three Palestinian shepherds, ages 10, 11, and 14, took them to Maon settlement and handed them over to six masked settlers who beat them. It's clear that for these children, changing the "way this area is looked at and administered is changed to make it fair" will not be enough to ensure their safety.

When I look the eyes of a frightened elderly Palestinian woman, I can see that only the full measure of justice will be enough.

Joy Ellison is an American activist with Christian Peacemaker Teams, an organization that supports Palestinian nonviolent resistance. She lives in al-Tuwani, a small village in the south Hebron hills which is nonviolently resisting settlement expansion and violence. She writes about her experiences on her blog, "I Saw it in Palestine" at http://inpalestine.blogspot.com.