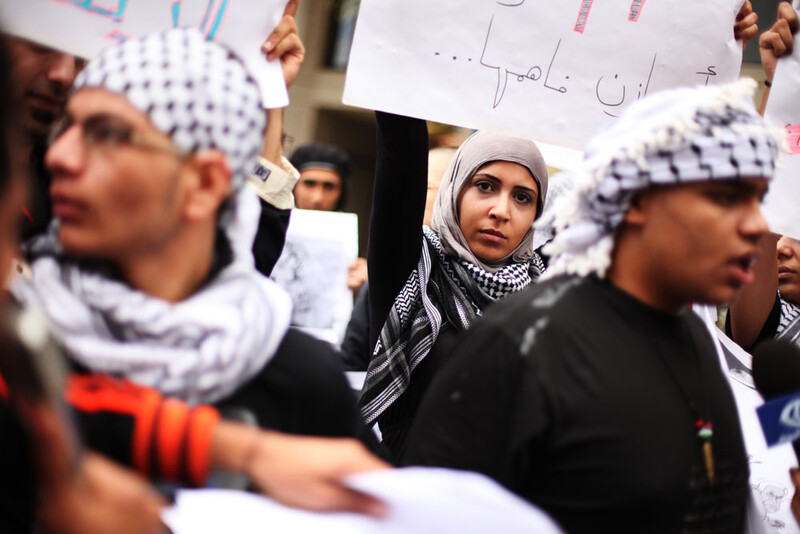 On Friday, 9 November, approximately 100 Palestinian refugees in Lebanon gathered at the Palestinian Authority's Beirut embassy to demand PA President Mahmoud Abbas' ouster. Demonstrators were outraged by Abbas' recent statements on Israeli television against the right of return for Palestinian refugees.
A thunderstorm, threats from members of Fatah, the dominant party in the Ramallah-based Palestinian Authority, and the heavy presence of Lebanese riot police deployed at the PA embassy did not prevent Palestinian refugees from expressing their anger.
May Khashan raised a Palestinian flag while she led a chant. Khashan, along with other Palestinian youth, took part in organizing Friday's protest. A Palestinian refugee from Souhmat Akka, she said: "Abbas is not our representative, he doesn't speak in my name as a Palestinian refugee. We've gathered here today at the Palestinian embassy to say that we never elected this man who keeps giving up our rights to the occupation as if he is a representative of the occupation."
At Jnah, an upper class residential area in Beirut, protesters showed up with a sound system blasting Palestinian resistance anthems and a special song composed especially for Abbas: "Time to go, O Abbas" (Yala irhal ya Abbas).
In the building where the embassy occupies two floors, employees poked their heads and smart phones out from windows to discreetly film the protesters. Each time protesters pointed at the staff, they withdrew from the window.
Surveillance
On the dead-end street the protesters spotted an embassy employee who they at first thought was going to receive them on behalf of the embassy. However, the suited man, who stood facing the raging protesters, only laughed with a Lebanese security officer for a minute or two. The same embassy official later stood behind the Lebanese riot police and started snapping pictures of the protesters' faces, a move that provoked some among the crowd to return in kind.
The scene recalled the protests and uprisings in Arab countries over the past few years. Protesters who were denouncing a corrupted authority were put under surveillance by the very same authority.
Some of the protest's organizers received personal threats and they were expecting a counter protest in support of Abbas, but in the end Abbas loyalists did not turn up.
A Palestinian refugee in Lebanon who is a member of the Palestine Liberation Organization explained why attending this protest was an important move.
"The PA cannot carry on with the present situation," said the refugee, who declined to give his name for safety reasons. "The Palestinian youth shouted it out loud today. We want real reforms in the PLO, we want to end the split between the West Bank and Gaza. All of these demands will lead to the fall of the PA; we want the PLO to play its major role again as the representative of all the Palestinians wherever they are.
"In the age of the Arab revolutions, I can't stand it that Abbas could be that foolish to act as if he is the god of the Palestinian people and he can decide on their behalf. What happened today was a shout against all the nonsense that is going on and degrading the Palestinian cause."
The young protestors handed out a poster depicting Abbas as equivalent to Arthur James Balfour, the British foreign secretary who declared his support for the creation of a Jewish homeland in Palestine in 1917. An image on display showed one face split in two — half of it Abbas, the other half Balfour.
The young protesters expressed pride that this demonstration was not called for by a political party and did not feature any political flags or party slogans. The only flag on display was the Palestinian flag and the only slogans chanted were Palestinian nationalist slogans with the emphasis on the right of return.
Hani al-Zaher, a 23-year-old student, came out with his umbrella and raincoat to lend his support. "This protest today was unusual," he said. "The Palestinians in Lebanon have rarely protested against internal political matters … There have been many protests and activities by the Palestinians in Lebanon but this was the first time an internal demand was made so public. We were expecting a bigger turnout today but the threats, the rain and the Lebanese traffic jams prevented many from participating. This protest is not going to end today, this is only a spark, the first in a series of protests.
"I don't want to exaggerate but the Palestinian refugees in Lebanon have been through the hardest of circumstances. Denouncing Abbas is the least we can do. No matter how much drugs they flood the camps with, the right of return will never be forgotten. Even to us, the young generation, who were not born in Palestine, once we hear our parents talking about it, a strong sense of the right to return is immediately aroused in us. This protest today gave us hope; we realized that all of us refugees scattered around the world should start networking. Therefore, we are moving into another phase of the Palestinian struggle; this protest today will lay the groundwork for more activities."
Abbas' empire
Al-Zaher added: "Abbas has managed to create for himself an empire of money and authority inside Fatah and the PA. That's why we don't expect any internal disciplinary action to be taken against him. This time it is the people who will challenge his power, it's going to be us who will overthrow him. It's the normal Palestinian people regardless of their political allegiance who will stop Abbas.
"I don't think the Palestinian people will be divided among each other like the Lebanese people are. We Palestinian youth feel that the Palestinian spirit is back whether inside Palestine or outside among the refugees. We are fed up with both authorities: Hamas in Gaza and Fatah in Ramallah. We are back to believing in our Palestinian self-esteem. We have accumulated a knowledge from our history of struggle for return and liberation and we want to put it into practice.
"A week ago before we started organizing the protest I was hopeless and frustrated but then while organizing the protest I realized that there are many Palestinian youths who are willing to join forces and start a change — I was not alone. It felt that the Palestinian sense of initiative is back. I see that there is hope and a hope not in a lyrical way but in a feasible sense. Remember — and this Abbas needs to take note of — being Palestinian nowadays is not any more confined to holding the Palestinian identity card. Palestine has become an ideology, a culture of resistance."
The Palestinian youth on Friday stressed their refusal to tolerate additional splits in Palestinian society. A young Palestinian at the protest emphasized: "we want to tell Abbas and his gang that we haven't forgotten Palestine, we never will, and we will be there waiting and guarding our rights even if it costs us our lives. The pro-Abbas guys haven't showed up today. Our protest today has placed them in a troubling corner, and like any authority, they will react in any way possible for them."
Young Palestinians in Lebanon are taking the lead on fighting for the right to return, the latest generation in a long history of struggle.
Editor's note: due to an editing error, this article originally stated that the demonstration took place on 9 October. It has been corrected to show it occurred on 9 November.
Moe Ali Nayel is a journalist and fixer based in Beirut.
Tags