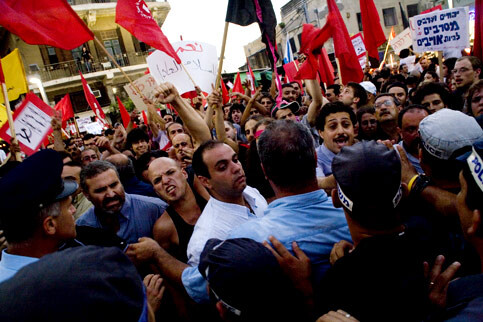 The years 2007 and 2008 are landmark ones for those campaigning against occupation and for the Palestinian right to self-determination. Forty years of Israel's occupation of the West Bank and Gaza Strip was nonviolently marked around the world in June; next year, peaceful demonstrations will observe the 60th anniversary of the establishment of the state of Israel during which approximately 700,000 Palestinians were forced from or fled their land — an event that Palestinians call the Nakba, or "catastrophe."

Next year's worldwide campaigns will reinforce grassroots initiatives, reaffirm the numerous UN resolutions which reaffirm the Palestinians' right to self-determination, and call for the establishment of civil society networks.

As for Israeli civilians, since 1967, as many as one million have voted with their feet and left Israel, and some say the rate of those refusing to serve in the Israeli army is as high as 50 percent and that 30 percent of Israeli pilots refuse to bomb the West Bank and Gaza Strip. This occupation is unsustainable and Israeli civilians are losing faith in militarism. It has to end, and we must work out viable alternatives for living together peacefully, in full recognition of our mutual rights, not least the fundamental human right to self-determination.

Central issues such as acknowledgment by Israel of responsibility for the refugees must be addressed. Not least for the sake of Israeli "closure" and an end to the exceptional nature of Israel, which prevents it from participating as a normal state in this Parliament of Man, which is the UN.

Regarding Israel's cozy relationship with the US, which just announced a $30 billion military aid package for Israel, journalist and filmmaker John Pilger recently observed, "No other country on earth enjoys such immunity, allowing it to act without sanction, as Israel. No other country has such a record of lawlessness: not one of the world's tyrannies comes close. International treaties, such as the Nuclear Non-Proliferation Treaty, ratified by Iran, are ignored by Israel. There is nothing like it in UN history."

In fact, in direct negation of UN recognition of Israeli statehood, Israel has ignored over 60 UN Security Council resolutions.

However, as Pilger also points out, the tide is turning. "The swell of a boycott is growing inexorably, as if an important marker has been passed, reminiscent of the boycotts that led to sanctions against apartheid South Africa. Both Mandela and Desmond Tutu have drawn this parallel; so have South African cabinet minister Ronnie Kasrils and other illustrious Jewish members of the liberation struggle."

In Palestine this year, Kasrils said the situation there is 100 times worse than it was in apartheid South Africa. UN Special Rapporteur on the right to food, Jean Ziegler, and (in a parliamentary debate) British Member of Parliament Clare Short, have both said that human rights conditions in the EU trade agreement should be invoked and Israel's trading preferences suspended. The UN Special Rapporteur on human rights in the Palestinian territories, John Dugard, speaks of crimes against humanity, as the occupation is characterized by elements of colonialism and apartheid.

After five years of working with diplomats, politicians and aid workers in Israel and Palestine, I see on an individual basis enormous personal support and empathy for the Palestinian cause because the picture of injustice is clear. But we stand at the edge of a dangerous chasm, a widening gulf between realpolitik and policies of peace and democracy.

To compel diplomats or politicians to change policy, we must build grassroots movements like the anti-apartheid movement in the '80s or civil rights in the '60s.

In Palestine there are daily home demolitions, arrests, settler violence, the building of the wall on Palestinian land, expropriations, tree uprootings, detentions, closures, checkpoints and military raids. Israeli society is dysfunctional, and Palestinian society powerlessly disenfranchised, so outside help and solidarity are vital. Only this will send the message to Israel and its sponsor the United States that the crimes of occupation are intolerable and must end.

For the sake of both Israel and the Palestinians, we must save Israel from itself. Living in South Africa under apartheid, I saw boycott efforts encourage public awareness, apply pressure and state disapproval for the government's racist policies. Israeli historian Ilan Pappe has said boycotts "will not change positions in a day, but they will send a clear message to the Israeli public that these positions are racist and unacceptable … They would have to choose."

We must halt the Israeli government's suicidal policies. This means lobbying those in power (especially in Washington, but also Europe) and insisting they visit Palestine with critical guides to see what's really going on.

The Israeli government and the neoconservative Bush administration are not acting for peace and it's up to us as citizens of the world to voice our disapproval. We are fighting a spiritual battle that we shall, insha'allah, eventually win. Together.

Angela Godfrey-Goldstein is Action Advocacy Officer of the Israeli Committee Against House Demolitions, a peace and human rights organization based in Jerusalem.

This commentary is adapted from a speech given by the author at the EU Parliament on 30 August 2007 at a United Nations civil society conference for Israeli-Palestinian Peace.