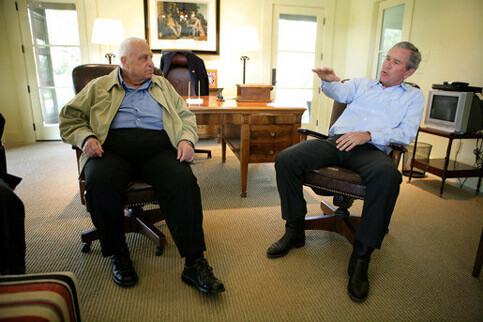 Israeli Prime Minister Ariel Sharon has vowed to keep expanding Israeli settlements on Palestinian land barely days after Israel's withdrawal from the Gaza Strip and four smaller West Bank settlements.
In a recent interview with the Jerusalem Post, Sharon stated his intention to expand the 400,000-strong Israeli population of the West Bank settlements, incorporate the larger blocs of Ariel and Ma'ale Adumim into the state of Israel, and to link the latter to Jerusalem.
"There will be building in the settlement blocs," Sharon declared. "Each government since 1967…has seen strategic importance in specific areas [in the Palestinian territories]. I will build." He went on to say that Ma'ale Adumim will continue to grow and be connected to Israel and that the settlement of Ariel would be annexed as "part of Israel for ever".
Under the internationally-brokered roadmap for peace, Israel is obliged to freeze all settlement construction in the Occupied Palestinian Territories, which is illegal under international law. But the Israeli government has made no secret of its intention to expand in the West Bank.
The international community had hoped the pullout of 8,500 settlers from 21 settlements in Gaza would be the first step towards a full withdrawal from the occupied territories. "It's as though there is a big elephant in the room that no one is talking about," said Angela Godfrey-Goldstein of Christian Aid partner the Israeli Committee Against House Demolitions. "The elephant being the occupation of Palestinian land, the existence of the settlements and the continual reframing of this conflict."
Christian Aid's 2004 report Facts on the Ground outlined the ways in which Ma'ale Adumim is cutting East Jerusalem off from the West Bank and threatening the contiguity of a future Palestinian state.
It is so large and strategically placed that it cuts the West Bank in half, blocking the north/south route between Bethlehem and Ramallah and damaging markets and freedom of movement.
"There are around 31,000 residents in Ma'ale Adumim," added Godfrey-Goldstein, "and by 2010 there are expected to be 70,000. And to think it has a sculpture of a dove of peace on its main roundabout."
Earlier this week, the Israeli Defense Forces and Civil Administration also issued orders for the extension of the separation barrier around Ma'ale Adumim, which could incorporate 67km² of West Bank land into the state of Israel.
Palestinians living in the shadow of the West Bank settlements continue to experience severe disruptions. Their access to healthcare and education is highly restricted because of Israeli polices of closure and the construction of the separation barrier.
"I feel humiliated and as though I have lost all my dignity," said one farmer we spoke to, whose olive groves have been confiscated to make way for the barrier near Jenin in the northern West Bank. "How can there be peace? Israel does not stop swallowing our land, piece, by piece, by piece."
Related Links
Facts on the ground: The end of the two-state solution? (

PDF

) Christian Aid (2004)