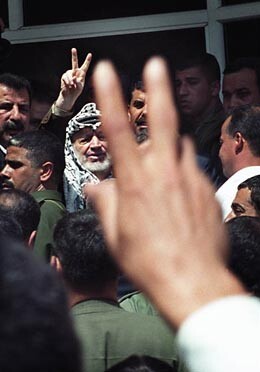 The grave illness of Palestinian President Yasser Arafat has given rise to frenzied speculation about what will happen after he is no longer on the scene.

Much of this speculation is based on the false premise that the presence or absence of a single individual is a decisive factor in settling a complex, century-old conflict. Removing Arafat - or Israeli Premier Ariel Sharon for that matter - changes absolutely none of the conditions that make conflict between Israelis and Palestinians inevitable. The occupation and settlements will still be there. Israel will still have tens of thousands of troops in the West Bank and Gaza, denying millions of Palestinians their basic rights and engaging in atrocities and destruction. Palestinians will still be determined to resist the occupation with all the means at their disposal.

Yet various groups do have vested interests in Arafat's fate. For Israel, Arafat's passing from the scene would be a mixed blessing at best. Just a few weeks ago, Sharon was again threatening to murder Arafat, the way he ordered the killings of Hamas leaders Sheikh Ahmed Yassin and Abdel-Aziz Rantisi. Now, Sharon is apparently offering Arafat all medical assistance to preserve his life.

The reason Israel focuses so much on Arafat is because it needs to provide an alternative explanation for the dramatic escalation in the conflict that its policies and its stubborn refusal to end the occupation have caused. As Sharon's senior adviser, Dov Weisglass, recently made clear, the Israeli government is determined to block any peace process, particularly the "road map" peace plan, so that it can keep its West Bank settlements and ensure that no viable Palestinian state can emerge west of the Jordan River.

Arafat, alive and well in Ramallah, has served Israel as a useful scapegoat. Israel and its cheerleaders in the United States have painted Arafat as a puppetmaster who single-handedly controls all Palestinians, and can even determine the fate of Israeli elections. As Republican pollster Frank Luntz wrote in a confidential report to Israeli lobbyists in April 2003, Arafat has been a great asset to Israel because "he looks the part" of a "terrorist." Ironically, as long as the demonized Arafat is in Ramallah, Israel can make the claim that "there is no partner."

The totemic power of Arafat in this role is demonstrated daily as U.S. politicians of every stripe compete for votes with statements demonstrating their scorn and contempt for him.

Equally concerned about Arafat's fate are his immediate entourage, the sycophantic clique that holds most of the senior offices in the Palestinian Authority. This group derives its power and influence solely from Arafat's patronage, and it seems as if no one has a solid enough base to survive without him. For these people, Arafat is a Brezhnev who must be kept in place without regard to his actual capacities. His mere presence is the keystone keeping their ossified, self-serving system in place.

After Arafat's departure, we can expect an ugly scrap among his entourage to claim his mantle and with it the dwindling perks, power and prestige that the PA has to offer. It is unlikely that anyone emerging from such a struggle would have either the means or legitimacy to represent Palestinians and their interests. Palestinians will also have to guard against efforts by foreign powers to anoint Palestinian leaders whom they see as more pliable.

The other losers from Arafat's possible departure are the members of the self-styled Israeli "peace camp," particularly adherents of the so-called Geneva Initiative. The mainstream Israeli peace movement requires the presence of Arafat as the lynchpin of their fantasy that a credible Palestinian leader will one day formally accept something less than true independence, just as the Sharon government relies on Arafat to be the bogeyman. In this sense, Arafat is almost as potent a symbol for Israelis on the left and the right as he is for Palestinians.

The international actors - the UN, the EU and signatories to the 1949 Geneva conventions - who avoid their responsibility to intervene and protect the Palestinians from Israel will be robbed of what the International Crisis Group recently termed the "Arafat issue" as an excuse for their inaction and their empty calls for Palestinian "reform" while Palestinians face an assault that threatens their very existence. Ironically, those who may be among the least affected by Arafat's departure are millions of Palestinians in the Occupied Territories and in exile for whom he has remained a powerful symbol, but for whom he long since stopped providing effective leadership.

Related Links

BY

TOPIC

: Yasser Arafat

Ali Abunimah is one of the founders of the Electronic Intifada.