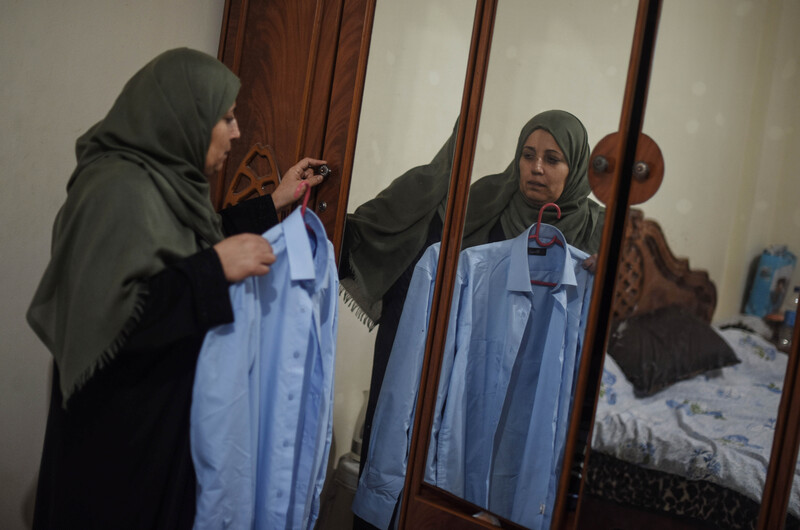 I can still remember the sense of panic at our school on 27 December 2008.
Suddenly, we heard a series of loud explosions. Everyone started to cry, scream, call their parents or run towards the exit, hoping they could get home before things got worse.
I lived close to school, so I hurried home. When I left the classroom, it felt like I was entering hell.
There was smoke everywhere. The main sound I could hear was that of sirens from ambulances. People were running in the streets.
Operation Cast Lead – Israel's attack on Gaza 10 years ago – was a horrific time.
I was in my final year of high school. And I did my best not to let fear defeat me or affect my future. Amid all the destruction, I set myself the challenge of getting top grades in my exams.
I was lucky. None of my relatives was killed or injured. Our home was not damaged.
Many others were far less fortunate.
New shirt
Hanaa Irouq still has the shirt she had bought for her son Hassan on 27 December 2008.
She was due to visit a friend later that day. It had been agreed that Hassan would accompany her and propose marriage to her friend's daughter.
"That morning I went to the market while Hassan was at work," Hanaa, a resident of Jabaliya refugee camp, said. "I bought him a new shirt so that he could wear it for our appointment. But he never came home."
Hassan – aged 22 – was killed on the first day of Operation Cast Lead. He was a police officer, based at a station near the Palestinian Legislative Council's headquarters in Gaza City.
His uncle Mahmoud Irouq was also working at the same station.
Mahmoud was training a group of 52 officers in the station's yard in the late morning. He had told the officers to take a break. Just as he was calling on them to resume training, Mahmoud felt himself being pushed backwards by the force of an explosion.
"After that, I wasn't able to hear anything or move," he said. "I only saw black smoke and smelled blood."
Mahmoud was in hospital for the next three days. It would take a few months before his hearing was fully restored.
Now aged 42, Mahmoud has paid tribute to his late nephew by naming one of his own sons Hassan.
"Even though 10 years have passed, I can still remember every moment of that attack," Mahmoud said.
The Irouq family has shown a determination to be resilient. Five days after Hassan was killed, his father Maher tried to cheer up the family. He organized a large wedding party for Hassan's brother Midhat.
But Hanaa – the boys' mother – was unable to hide her sorrow. As soon as she saw the bride and groom at the ceremony, Hanaa burst into tears. She felt that Hassan should have been the one getting married.
"Unfortunately, life in Gaza never gives you what you want," she said.
Israel attacked numerous police stations in the opening stages of Cast Lead. In total, 248 members of the police were killed during the three-week operation. According to a UN team which investigated Cast Lead, more than one out of every six people killed during the offensive was a police officer.
Under international law, police officers are regarded as civilians.
Approximately 1,400 Palestinians were killed during Operation Cast Lead.
Waiting to say goodbye
Ahmad Saad al-Din was killed, too, on the first day of the attack. Aged 24, he was working in the media relations department at the Muntada building in Gaza City. The Muntada was one of the key buildings for the police administration.
His family's pain at losing Ahmad was worsened by their inability to find his body. Each time there was a temporary ceasefire, his father Abd al-Latif looked for the body at the Muntada site.
"I looked for my son in all hospitals and I searched under the [police station] rubble around 20 times," said Abd al-Latif. "But every time I came back empty-handed."
Operation Cast Lead ended on 18 January 2009. One day later, Abd al-Latif received a phone call from a paramedic, informing him that a body had been recovered under the Muntada station and brought to al-Shifa, Gaza's largest hospital.
Abd al-Latif rushed to the hospital. "When I reached the mortuary, I found that Ahmad's body was torn apart," he said. "I was only able to recognize him from the watch on his wrist. I had given it to him as a wedding present."
"It never occurred to me that I would be happy to see the body of my own son," Abd al-Latif added. "But I was happy when they found the body – after all the suffering we had gone through during the war. We had waited a long time to say goodbye to Ahmad."
Abd al-Rahman Odeh, a police officer, survived the attack on the Muntada station. He had left the station a few minutes before the bombing occurred, with the intention of buying a gift for his wife to mark their second wedding anniversary.
"I was only a couple of meters away from the building," he said. "The bomb threw me in the air. When I looked behind me, I saw the site destroyed. There was smoke everywhere."
Odeh quickly realized that a number of his friends and colleagues had been killed. He called an ambulance, sitting down near the station until it arrived.
Now aged 35, Odeh has resumed working in the Muntada station, which has been rebuilt. He has stopped celebrating his wedding anniversary because the 27 December date has become synonymous with the pain of losing friends.
"He died in front of me"
Imad al-Khaldi and his brother Bahaa started off 27 December 2008 by having breakfast with their father. Once they had eaten, the two young men left for the police station near the Palestinian Legislative Council.
Both were taking part in a training session when "day turned to night," said Imad.
"When I realized that it was a bomb, I started screaming for my brother but I didn't get an answer," he said. "I wasn't able to stand on my legs, so I started crawling towards my brother. When I reached Bahaa, he was taking his last few breaths. I tried to rescue him by doing artificial respiration. But I was very exhausted and I fainted, falling on his chest."
Imad, who had incurred a serious leg injury, remained in a coma for the next week. "I didn't rescue my brother and I didn't even say goodbye," Imad said. "He died in front of me. I can't describe how I feel about that."
At 24, Bahaa was three years younger than Imad. They were very close, to the point that they often shared each other's clothes.
Following the attack, Imad received treatment in Saudi Arabia. His medical team was able to save his leg.
Each December, Imad returns to the site where Bahaa was killed. Imad reflects on his loss, then goes back home.
A decade later, the pain caused by Cast Lead remains raw.
Sarah Algherbawi is a freelance writer and translator from Gaza.
Tags