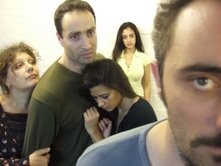 Twenty-five years after the brutal massacre of Palestinian refugees living in the Sabra and Shatila refugee camps in Lebanon in 1982, the Palestine Theatre in Motion group commemorate the tragedy through theatre. Produced by Sami Metwasi and Razanne Carmey on a shoestring budget, the play includes a cast of seven actors, including an outstanding performance by Najla Said, the daughter of the late Palestinian scholar Edward Said.
Sunlight at Midnight explores one man's existential crisis as circumstances around him force him to confront his identity, his heritage, and his people's history. Using oral histories from Sabra and Shatila refugee camp, television footage, and live music, Sunlight at Midnight successfully transports the audience into the refugee camps and back into one man's uncomfortable psyche.
Naji is a British Palestinian solicitor who has buried his past to become assimilated into British society. On an evening out whilst celebrating his engagement with his English girlfriend, he becomes enchanted by a song sung by a Palestinian woman. As time goes by, the power of the song is inescapable and he is forced to explore his roots.
An ordered man, his life is thrown into disarray as he digs out a manuscript he had tucked away for years. The manuscript had been written by a family friend Yosef who had left the Shatila refugee camp under an American-brokered agreement that if all resistance fighters fled the camp, peace would be bestowed.
Despite the promise of the international community, the camp was later desecrated. Using oral histories, Naji and the audience are taken into the world of Shatila refugee camp, where it is estimated that between 2,000 and 3,500 people were murdered in 1982. Here, we learn of the testimonies of a population displaced not once, but several times, who endure hardship within a hostile environment.
The play is thought-provoking, bringing into question many themes such as identity formation, exile and the power of memory, while simultaneously highlighting the failures of the international community and the need to commemorate this tragedy.
As we are introduced to different characters throughout the play, we gain an insight into selective memory and historical narrative. The process of exile has affected each person differently, with the sense of belonging to a Palestinian heritage stronger within the camp. History adopts two meanings in the two worlds we enter: one is associated with power, knowledge and purity, and the other with something threatening or irrelevant.
For those in the camps, the refugees' sense of liminality is highlighted. Yosef explains how "refugees don't take photos: they are always looking to a better day." Within the camp setting, preserving one's heritage and raising one's historical-national consciousness is preparation for the future, a mark of resistance, and is situated within a collective struggle for nationhood. By contrast, Naji's first encounter with Yosef over the telephone shows his desire to distance himself from his origins.
Indeed, in Naji's spiritual encounter with the Palestinian singer later in the play, she declares that she does not recognize him as a Palestinian man. By contrast, his English girlfriend exoticizes his Palestinian origins, insisting on how she loves to be called "habibti" ("my dear" in Arabic). She explains how she met a poor Palestinian man on the streets who needed help and reminded her of him, like all Palestinians do. Here, we are reminded of the multiplicity of identities that we carry and which are constantly reinvented and reinterpreted by others.
As Naji rearticulates his connection with his homeland, we see his feelings of mistrust and apathy towards his fellow Palestinians shift towards feelings of pain and guilt. With the song sung live throughout the play, we learn that the singer was one of the victims of the massacre. As past, present and future merge into one and Naji grapples with his identity, we are reminded of the need to carry our heritage with us into the future.
Just as Yosef's manuscript eventually forces Naji to reconcile his past and bring it into his future, the audience in this moving play are reminded of the tragedy that occurred 25 years ago.
Natasha Tsangarides is a freelance journalist based in London. Her specific area of interest is migration and she has worked in the UK and Malawi with refugee organizations.
Related Links