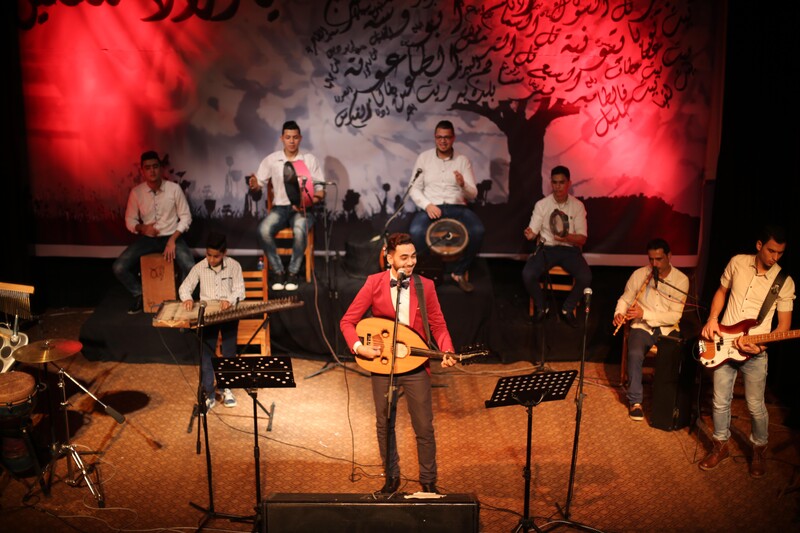 I only ever attended one event at the Said al-Mishal Cultural Center. In March 2017, my husband and I went there to see a play.
The theater on the second floor of this building enchanted me. The seats were a rich shade of red; the lights were turned off, except for those focused on the actors; the audience listened attentively to every word coming from the stage.
I had no idea that we had something so cool in Gaza. Nor could I have known that the next time I would visit this building it would be in ruins.
On 9 August this year, Israel bombed the five-story center.
"When I look at the destroyed building, I can see my laughter, tears, screams and dreams buried under the rubble," said the theater director Ali Abu Yassin. He had been working at the center since 2004, first overseeing a production of Anton Chekhov's The Bear.
Abu Yassin's drama company Ashtar lost approximately $50,000 worth of equipment in the bombing.
He described the facility as a "theater for the poor." Through it, people with limited means could gain an appreciation of the arts.
"I trained many actors and artists here, it was like our second home," he said. "It didn't follow any political party or government. It was an independent institution. We felt free and alive at al-Mishal and it seems Israel didn't like that."
Living through shock
Walid Tafesh credits the center and the artists working there with transforming him from "a childhood monster to a young star."

The 28-year-old is well known in Gaza as a performer of dabke, a traditional Palestinian dance.

Dabke has given him courage. Because of a congenital disorder, he has grown up without a right arm. During his childhood, he was was too shy to play with others.

He has coped better since leaving school, when he began training as a dancer. In 2012, he joined the dabke group al-Anqaa, named after the Arabic word for phoenix.

Each week he taught 85 children the skills of dabke at the cultural center. "They are living through the same shock as me," he said. "It is like Israel has destroyed my left arm."

Al-Anqaa was based in the cultural center and estimates that $40,000 of its equipment was destroyed in the bombing.

"We lost all that we have done over the last 13 years," said Mohammed Obaid, al-Anqaa's coordinator. "We lost our costumes, prizes, official papers, cameras, laptops, everything."

The cultural center was established with the financial support of entrepreneur Said al-Mishal in 1996. Eight years later, it opened in a Gaza City building, which hosted a gallery, library and conference hall, as well as the theater.

It was that building which Israel bombed last month, claiming that the center was used by Hamas – a claim that the center's artists have rejected.
Poems under the rubble
Local residents are in no doubt that Israel targeted the center deliberately. Mohammed Khaliefah spoke of how his father received a phone call from an Israeli number shortly before the attack occurred. His father was warned that the family should leave their home as an attack on the center was imminent.
"We didn't take it seriously because we didn't imagine that a cultural center would be targeted," Khaliefah said. "But when the first missile was fired at the building, we knew that it was indeed serious and we started to evacuate the house, leaving everything behind."
Mona Msaddar recalls fondly when her first book of poetry, I count my steps, was launched at the cultural center in January this year. It was among "the happiest moments of my life," the 24-year-old said.
Some copies of her book had been kept at the center. "Now they are under the rubble," she noted.
Msaddar is part of a writers' group called Shaghaf (Passion), which was formed at the center last year. Its 23 members gathered there on a weekly basis, so that they could show their work to each other.
Yousri Alghoul, the group's founder, is searching for an alternative meeting place. "It's not easy," he said. "We don't have funding and al-Mishal was providing its services for free."
Ahmed Abu Awad, a poet and photographer, started visiting the center following Operation Cast Lead, a major Israeli attack on Gaza during December 2008 and January 2009.
He went there every day, frequently attending its plays and exhibitions, as well as joining a number of groups that used the facilities.
"In general, I don't feel that I'm the kind of person who has a loyalty to places, things or people," he said. "But it was totally different with al-Mishal, it was like my second home. The thing I'll miss most is the smiles on people's faces after every event."
Sarah Algherbawi is a freelance writer and translator from Gaza.
Tags