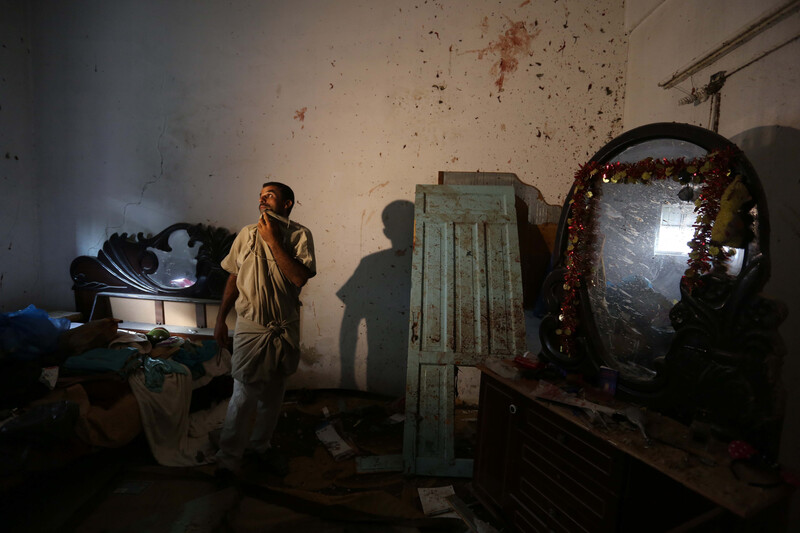 Israel bombed and destroyed a building housing a cultural center in Gaza City before reportedly agreeing to a ceasefire with Hamas late Thursday.

The obliteration of the building in the heart of the densely populated Gaza Strip followed a night of terror for Palestinians in the territory.

Israeli bombing killed a 9-months-pregnant woman and her toddler, as well as a Palestinian man Wednesday night.

Gaza's health ministry stated that Hayat, the unborn child being carried by Inas Khamash, 23, was "born a martyr."

The woman was laid to rest in the same coffin together with her toddler daughter, Bayan, and Hayat on Thursday.

Her husband Muhammad was hospitalized after being injured in the bombing that killed his family.

The Israeli military said that it had hit 150 targets in Gaza since Wednesday evening.
The Israeli daily Haaretz reported the military's claims that 200 rockets were fired from Gaza, more than 30 of them intercepted and most of the remainder landing in open areas.

A foreign laborer working at an Israeli greenhouse was reported to have been "moderately to seriously injured" by a rocket fired from Gaza. Twenty-three Israelis have been hospitalized for injuries as a result of rocket fire since Wednesday, according to Haaretz.

A rocket fired from Gaza hit the city of Beersheba, in southern Israel, on Thursday, causing no injuries or damage.

An Israeli police spokesperson posted photos of a small crater and shrapnel said to be from the rocket:

The Israeli military said that the targeting of the Said al-Mishal Cultural Center in Gaza City's Beach refugee camp was in response to the rocket fired at Beersheba. It published a video apparently showing the bombing of the building.

Israel claimed that the building housed Hamas' internal security services, describing it as "the operational arm of the political leadership of the Hamas terror group."

Yet the army also openly admitted to intentionally targeting civilian areas so that civilians would "demand explanations from Hamas":

Video shows the destruction of the five-story building housing the cultural center, amid shouting of many people in the well-populated area: This video shows people running in the streets after the massive explosion: A photo shows Palestinians holding the cultural center's sign that once hung on the now destroyed building: Israeli airstrikes wounded 18 Palestinians in Gaza on Thursday, according to the health ministry.

A Hamas spokesperson stated that the bombing of the cultural center, which also housed an organization providing services to Egyptian women married to Palestinian men in Gaza, was "barbaric" and "an attempt to sabotage Egyptian efforts in the Gaza Strip."

That was in reference to indirect talks between Hamas and Israel, facilitated by Egypt and the United Nations, that were said to be at an advanced stage earlier this month.
Adel Abd al-Rahman, president of the Egyptian community in Gaza, stated that services were provided to thousands of Egyptian mothers in the building before it was "destroyed in an ugly and arrogant way."

The Islamic Jihad faction stated that the attack "reveals attempts to destroy the cultural and national identity of our people."

Palestinians took to social media to mourn the destruction of one of the few large venues for theater and music performances in besieged and isolated Gaza:

Earlier this year The Electronic Intifada profiled Palestine's Theater, a troupe in Gaza that rehearsed and performed at the center: Since Wednesday, Israeli forces have also bombed a mosque and water infrastructure. The Gaza-based human rights group Al Mezan condemned "the military's targeting of civilians and civilian property, and the unnecessary harm and trauma caused to the population in Gaza."
Tags