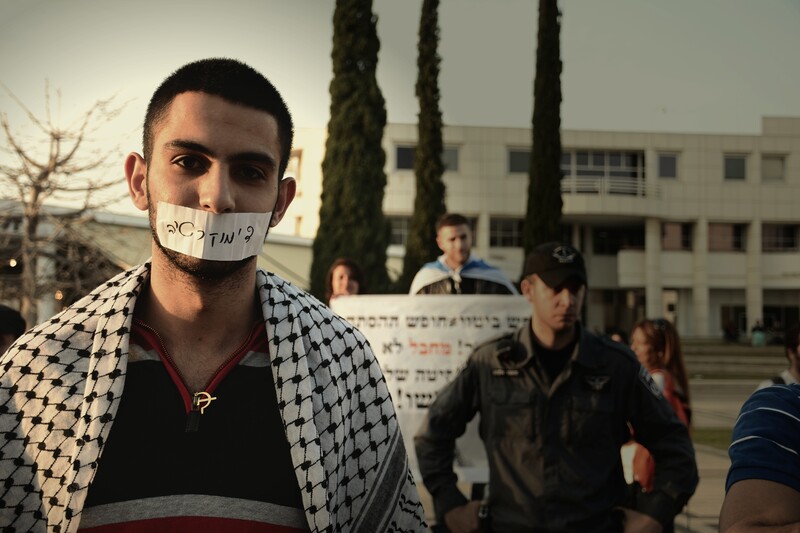 Jad Kaadan was surprised when he learned that Tel Aviv University (TAU) had on Sunday canceled a speaking event organized by left-wing Palestinian student groups for the following day.
The 25-year-old Palestinian student, who is pursuing a master's degree in psycholinguistics, has experienced discrimination time and again inside the Israeli university system.
But he had never expected "such a blunt case of hypocrisy against Palestinian students — because Tel Aviv University claims to be democratic and liberal," he told The Electronic Intifada.
The speaker, Muhammad Kanaaneh, spent four and a half years in prison after an Israeli court convicted him of aiding the Lebanese resistance group Hizballah. He was the general secretary of Abnaa al-Balad, a Palestinian political movement in present-day Israel.
He was scheduled to lecture about Land Day, the annual commemoration of the 1976 killings of six Palestinian citizens by Israeli police forces during countrywide demonstrations against the confiscation of Palestinian land in the Galilee and central regions of the country.
"If Israel's a 'democracy,' it should respect [the fact] that Kanaaneh already served his time in prison," Kaadan said. "And many Israeli professors and students committed crimes against Palestinians while they were in the army. If the university prevents Kanaaneh from speaking, then these people should also be prevented."
Kanaaneh and dozens of Palestinian students assembled in front of the university on Monday evening to voice their opposition to the cancelation.
Right-wing protest
"We received a message from the university at 7pm on Sunday, saying that Kanaaneh cannot even enter the university," Mohammad Osama Eghbariya, a student organizer with Abnaa al-Balad, told The Electronic Intifada.
"Even though we received all the necessary permissions and permits from the university, the administration threatened to 'take action' against the students if he came," Eghbariya added.
A demonstration against Kanaaneh's event took place on Sunday afternoon, drawing some 300 students from right-wing political groups, including Im Tirtzu, a hardline Zionist movement described by many as "fascist."
"As we sold books in front of the main gate of the university on Sunday, the Im Tirtzu group and other right-wing students were yelling and cursing at the Arab students," Eghbariya explained.
Others came from political parties such as Israeli Prime Minister Benyamin Netanyahu's Likud and Habayit Hayehudi (Jewish Home), the party of Naftali Bennet.
"I've killed lots of Arabs in my life — and there's no problem with that," Bennett, a pro-settler politician and the Minister of Economy and Trade, said in a cabinet meeting in June 2013.
Over the weekend several members of Israel's parliament, the Knesset, joined the chorus calling on TAU to cancel the event.
One of those was Avi Wortzman, Israel's deputy education minister, who demanded that the president of TAU prevent the speaking event from happening, the Israeli daily Haaretz reported on Sunday.
TAU's dean of students did not reply to a request for comment for this article.
Threats
Eghbariya explained that the administration tried to justify the decision by pointing to potential violence.
"According to the administration, right-wing students warned that their demonstration [on Sunday] was only preparation and that there will be violence if we continued with our event," he said. "They supposedly threatened to attack Arab students if Kanaaneh came."
Palestinian students at TAU are not strangers to intimidation and threats of violence.
Students from Im Tirtzu also reportedly confronted TAU university protesters demonstrating against Israel's November 2012 attacks on the Gaza Strip. They shouted racist slogans against Palestinian students, including "Death to the Arabs."
In 2012, following a university event marking the Nakba — the 1948 ethnic cleansing of Palestine ahead of Israel's establishment — four Palestinian TAU students received threats of violence from Zionist organizations.
After the 2012 Nakba commemoration, left-wing student activist Rula Khalaily said she subsequently received threatening emails which stated that she and other organizers would "pay the price," as reported by The Electronic Intifada last year.
One student from the Im Tirtzu group broke through the police barriers and tore apart a placard held by a Palestinian student — an event captured on video by this reporter.
Systematic discrimination
Jaafar Farah is the director of Mossawa, a Haifa-based advocacy group that works on behalf of the Palestinian minority in Israel. He explained that TAU preventing Kanaaneh from speaking is part and parcel of university life for Palestinian students, who are rendered second-class to their Jewish Israeli classmates.
"There is an institutional attack against freedom of speech in Israel," Farah told The Electronic Intifada by telephone. "Banning this event at Tel Aviv University is part of that, but it is also part of the harassment of academic speakers and researchers in universities in general."
"The fact that this is happening in universities — places that are built on freedom of speech and freedom of thought — should be alarming for anyone who believes in democracy. There is a campaign to delegitimize the political leadership of the Arab community in Israel," he added.
Human rights groups have documented systematic discrimination against Palestinian students at Israeli universities.
The Arab Culture Association's annual report for 2011-2012 — which documents dozens of instances of discrimination against Palestinian university students — concludes that Israel's increasingly militarized "academic institutes have evidently limited the freedom of expression of Arab students and groups and function as research centers for the projects of the Israeli army."
Against the backdrop of systematic discrimination, student activist Muhammad Osama Eghbariya vowed that Palestinian students will continue to fight for equality on campus and elsewhere.
"The university proved that its priorities are tied up with the government," he said. "But Kanaaneh coming to speak is part of our rights as citizens of this state and students at this university."
Patrick O. Strickland is an independent journalist and frequent contributor to The Electronic Intifada. Visit his website: www.patrickostrickland.com. Follow him on Twitter: @P_Strickland_.
Tags