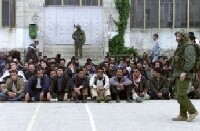 Further reports from Ramallah state that, in addition to those being rounded up in Al Bireh, Israeli soldiers have been calling for males, in some areas between the age of 14 - 40, to 'surrender' themselves in other areas of Ramallah. House to house raids continue, and those detained are also being held in classrooms in nearby schools and, in one instance, a bakery in lower Ramallah. None of those detained from yesterday or today have been released, so it is unclear what their current situation is. The number of detainees is yet not known.
Al Isra' Builing, located on Radio Boulevard and very close to the Muqata'a, was surrounded by Israeli forces, the front door was exploded and subsequently invaded. The 10 story building houses, among other commercial offices and shops, the offices of Addameer Prisoners' Support and Human Rights Association, Al Sharq Television Station, LAW, and the West Bank office of the UN High Commissioner for Human Rights Office. It is one of the tallest buildings in the center of Ramallah, with a direct view to the Muqata'a and from all directions, the center of Ramallah. It is unclear at this point what the situation is in the building.
A close friend of Australian nationality, is currently being held prisoner in his home by Israeli forces. His home was invaded yesterday, and he has been prohibited from leaving or using the telephone. At this point, soldiers have continued to take positions in his home and it is unclear what the situation within the house is.
A local television station, Watan TV, was also taken over by Israeli forces and Israeli forces are airing anti-Palestinian programs, in addition to pornographic films. In the words of a resident of Al Bireh 'This agression is much more than the tanks you are seeing on CNN.'