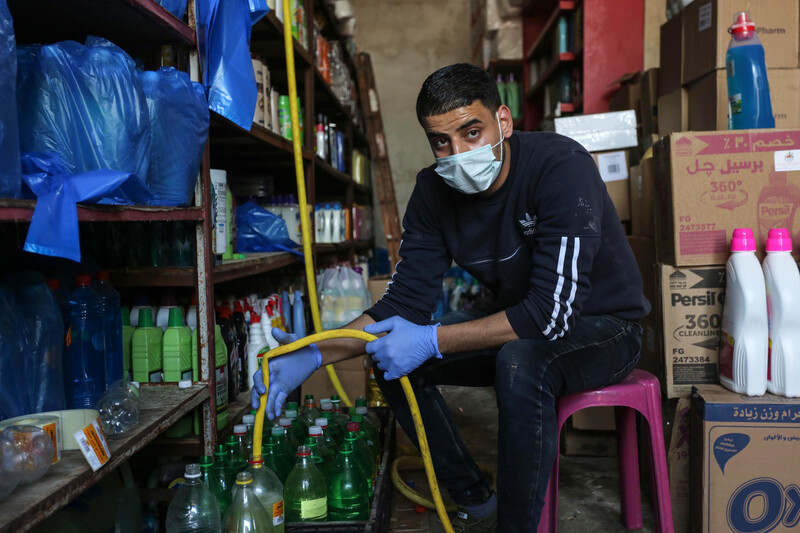 On 3 July, Suleiman al-Ajoury, a 23-year old university graduate, shot himself in the head.
In his last Facebook post on 3 July, he wrote: "This is not a futile attempt. This is an attempt at salvation. Complaining to anyone other than God is a humiliation."
He was found dead at his family home in the Sheikh Zayed neighbourhood in Beit Lahia, north of Gaza City. Gaza police said they are currently investigating.
His was only the most prominent of a worrying uptick in suicides in the Gaza Strip.
Two million people are packed into the Palestinian coastal enclave with little to no access to the outside world and an economy on the brink of complete collapse.
Indeed, al-Ajoury's suicide was one of three to take place in less than 24 hours.
A 26-year-old man from the Shati refugee camp, Ayman al-Ghoul, died after throwing himself off a five-storey building. Ibrahim Yassin, 21, died in hospital a week after setting himself on fire in the same camp.
The number would have been four if an 18-year-old girl from Khan Younis, not named in news reports, had successfully overdosed. She had been living in an abusive family situation and attempted to take her own life.
Gaza has been under a tight Israeli blockade since 2007, and with unemployment and poverty rates at over 50 percent, young people do not harbor much hope for the future.
"Suleiman was a teenager when the 2008 Israeli war on Gaza broke out," Muhammad Hammad, 24, one of al-Ajoury's friends told The Electronic Intifada.
"He lived through the second Israeli war in 2012 and then the third one in 2014. He knew nothing about the outside world due to the Israeli blockade since 2007. There are no airports and no open crossings in Gaza. To add insult to injury, he was arrested by Hamas security forces as he was one of the leading activists behind the We Want to Live protests last year."
The We Want To Live demonstrations erupted in March 2019. Comprised of mostly young people, they demanded better living conditions and were seen as a challenge to the Hamas authorities, who sent in security forces to disperse protesters.
An alarming rate
Al Mezan, a Gaza-based human rights organization, says the number of suicides is increasing at an alarming rate in the Gaza Strip.
The group blames economic conditions as well as people's limited ability to exercise their rights.
"We have registered 17 suicides and hundreds of attempted suicides, mainly among young people," said Samir Zaqout, Al Mezan's deputy director.
"The difficult living conditions, extreme poverty, despair and a lack of freedom of expression were all factors behind these suicides," he told The Electronic Intifada.
Al Mezan showed this reporter statistics documenting a steady and significant rise in the number of suicides and attempts over the past five years, after being practically unknown in an area where taking your life goes against both religious and traditional teachings.
In 2015, according to these numbers – which have been compiled by Al Mezan's research unit, but are not yet published – there were ten suicides and 553 attempted suicides.
In 2016, there were 16 suicides and 626 attempts. In 2017, the numbers were 23 and 566, in 2018, 20 and 504, and in 2019, 22 suicides and 133 attempts.
Mustafa, 29, attempted suicide in April. He declined to be identified further for this article.
A professional carpenter, he owned his own carpentry workshop and earned a decent income. But his workshop in the Shujaiyeh neighborhood of Gaza City was destroyed in the 2014 Israeli military assault on Gaza, and he has yet to receive compensation.
He started as a carpenter's apprentice when he was just 14 and began working independently at 19 when he built his workshop. After it was destroyed, he had to take what jobs came his way, working in several different places. Sometimes, he would work three days a week; sometimes, just one.
"I didn't have enough money to feed my children," he told The Electronic Intifada. "I had to borrow to open a small workshop. Unfortunately, it failed because of the difficult economic circumstances. I got into more debt."
With no way out of Gaza to seek fresh opportunities and no end in sight for the economic crisis, Mustafa began having suicidal thoughts.
It was, he said, not that surprising.
"We live in an open-air prison. It is no place for hope."
With counseling and family support, Mustafa feels stronger now, but there are many like him who are struggling psychologically.
No place for ambition
Muhammad Khader's younger brother Samir took his own life in September last year. Now, whenever he hears of another suicide, Muhammad, 35, thinks of his accomplished brother.
"My brother was an ambitious teenager," Muhammad remembered. "He got an excellent average at high school and a scholarship to pursue his studies in Algeria."
But his hopes of traveling abroad were thwarted when Israel in 2013 refused him a permit to leave through the Erez checkpoint. With the Rafah crossing closed then during a time of acute Egyptian turmoil, in the end, Samir was forced to stay in Gaza.
Nevertheless, he still did well academically, graduating with a degree in business administration in 2015.
Jobs, however, were impossible to find. He tried over and over, but had to do cleaning jobs to make ends meet.
Without prospects, any dreams he may have had to get married and raise a family were put on hold. His mood deteriorated.
"He was looking for hope, but he ended up losing it," said Muhammad. "One day, we woke to find him dead from a pill overdose."
Hopelessness
Issam Younis, Al Mezan's director, said a sense of hopelessness is prevalent among young people in Gaza and is directly tied to economy.
That situation has been imposed by Israel's occupation, is exacerbated by the political division between Hamas and Fatah and has worsened as a result of the COVID-19 pandemic.
"More than 60 percent of people in Gaza are under 30. They see no hope for a better future. This has forced many of them to emigrate to seek opportunity abroad," he said. For those who stay, "suicide rates have reached serious and unprecedented levels."
Moreover, beyond the closure, authorities are also deeply unprepared to tackle the issue of suicide.
According to Rana Hadaib, who in early July published a research paper on the subject of suicide in Gaza with the International Commission to Support Palestinian Rights, more than 210,000 Palestinians in Gaza suffer from severe or moderate psychological distress, much of which can be attributed to Gaza's desperate economic situation.
According to the statistics cited in her study, more than 50 percent of suicides can be attributed to stress brought on by worries over the economic situation. The rest are attributed to a number of factors, including family disputes, extortion and emotional disorders.
"Despite the seriousness of the situation and the oppression experienced by the young people of Gaza and in light of ongoing suicides, there is no national strategy on the ground to solve the crisis," Hadaib told The Electronic Intifada.
"By late last year, the Ministry of Health announced a draft national plan in partnership with other institutions to prevent suicide. Yet, such policies are inadequate in light of the economic and political factors that play a role in people's decision to take their own lives."
Ola Mousa is an artist and writer from Gaza.
Tags