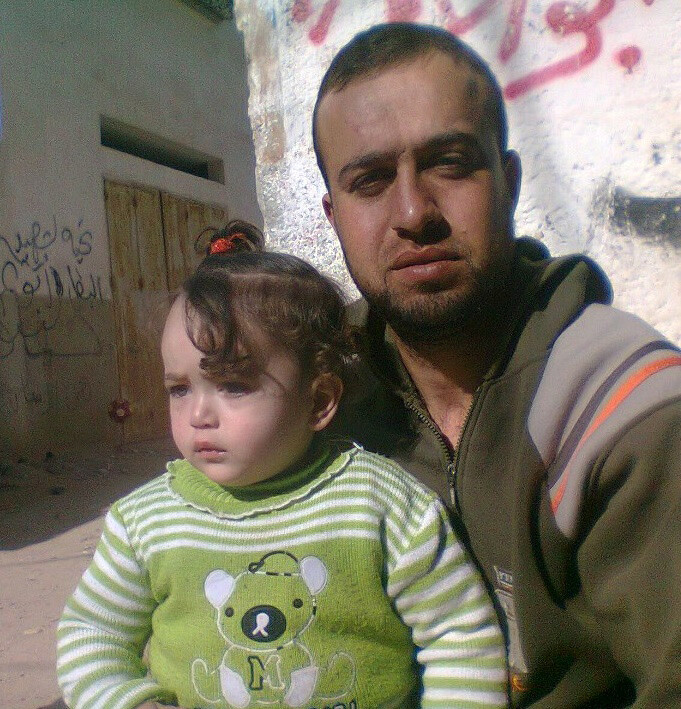 My brother Mohammed Alareer, 31, a father of two, was killed by an Israeli airstrike while he was at home. While he was at home.
No one knows yet if he bled for three days or if he died of the shockwaves from the explosion, or the sound, or the debris, or the shrapnel, or the fire or by them all.
But my brother Mohammed is gone.
His two very beautiful children. Raneem, four, and one-year-old Hamza, are without a father forever. And our big house of seven flats is gone.
A house of four floors but thousands of stories is no more. The stories, however, will live to bear witness to the most brutally wild occupation the world has ever known.
Hamada
I am the second of fourteen children. Mohammed is number five after three boys and one girl. Of all my early memories in life, the birth of Mohammed is the most vivid. I was only four then.
When I heard they wanted to name my new brother Mohammed, I started crying and shouting, "I don't want you to name him Mohammed. I want you to name him Hamada! I want Hamada!"
I used to scream my lungs out every time someone called him Mohammed until no one dared do so. He was then known to all as Hamada (which is a pet name for Mohammed). Everyone called him Hamada except, to my disappointment, my dad, who always used his official name, Mohammed.
Ever since, I felt a very strong connection towards Hamada. It was like he was my son, like I owned him, like I had to take care of him and to make sure his name remained Hamada.
Born in 1983, Hamada was timid but humorous and adventurous. He would be silent most of the time, but when he did speak, he was usually seeking to go beyond the boundaries of the given.
The second intifada in the early 2000s gave him his real, life-changing experiences as some of his school friends were killed by Israel and he took leading roles in their funeral processions.
Hamada went to college and finished a two-year degree in public relations, which equipped him with skills to reach out to people. At the beginning of the second intifada, in a matter of two years, people from all over the Gaza Strip started asking me if Hamada was my brother.
Surprised, I would smile and nod. And in my mind I would wonder what made him rise to fame. I realized later that my shy brother had started leading demonstrations and reciting poetic chants to mobilize the masses protesting an Israeli attack on Jerusalem, or he would lead nationalistic chants at the many funerals of martyrs we had in Shujaiya (locally, we pronounce it "Shijaiya") and elsewhere.
Creative
Of all our fourteen brothers and sisters, Hamada was the most distinguished and creative. As he began his twenties, he became a totally different person, with many friends and many connections. As he became more outgoing, he also became even more creative and proactive.
Every time he told us about what he was doing, I would think of shy little Hamada who never looked at a camera until he was a teenager.
His newly developed public speaking and acting skills won him the role of Karkour, the most famous television character in the Gaza Strip. Karkour, a mischievous chicken, was the star of Al-Aqsa TV's program Tomorrow's Pioneers, which hosted children from all over the Gaza Strip.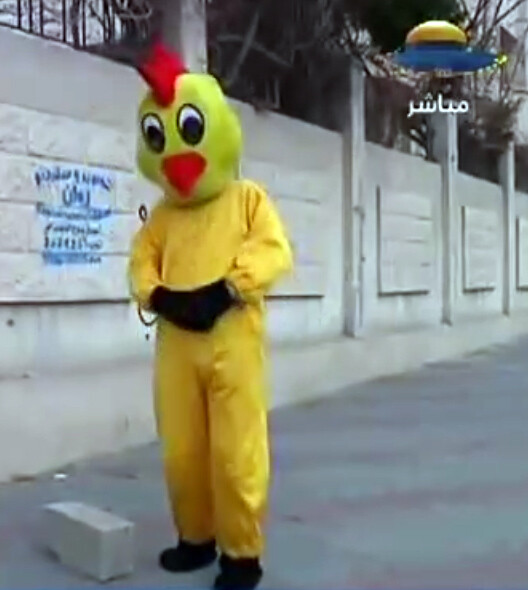 Hamada's character attracted an audience from all over Palestine and even the Arab world, where kids would call to protest Karkour's jaywalking, shouting over the telephone and other such annoying behaviors, and suggest to him more well-behaved alternatives.
Early this year, Hamada won a small role in another TV show that started airing this Ramadan but was stopped due to the ongoing Israeli onslaught.
The death of my brother will come as a shock to the large numbers of children whose favorite part of Friday was watching Karkour misbehave and helping him change into a better Karkour, thanks to their advice, only for him to relapse at the start of the next episode into another anti-social behavior.
By killing my brother, Israel has surely has killed a promising talent, and deprived thousands of children of a funny and educational program.
Martyr number 26
Hamada got married five years ago and had two children, Raneem and Hamza. And everyone, his wife and kids included, still called him Hamada. He was still living in my parents' place after he got married; he worked very hard to build his own flat in the same building, which he finished last year.
He was never able to move up to it, however, because the siege on Gaza, which became even tighter over the past year, made it very difficult for him to furnish the apartment.
Like all Palestinian victims who fell to Israeli terror and aggression, Hamada leaves behind a loving family. My brother will be martyr number 26 in my extended family; five of them were killed last week and had their bodies dug out of the rubble during Saturday's twelve-hour "humanitarian ceasefire."
When I spoke to my mother, who lost two nephews years ago, she was stronger than I ever imagined. My father was calmer than ever before.
They both told me about the tremendous destruction Israel left in Shijaiya — whose name means "the land of the brave." They told me about the families that lost five, ten and even twenty members.
"We are steadfast"
Hearing my parents' reaction, I breathed a sigh of relief. I know how devastating it will be for them to lose a dear son. But their resilience, among so many other bereaved families, did not come as a surprise to me.
When I heard about the twelve-hour lull, I was afraid people, seeing the total destruction Israel left everywhere, would be shocked and give up their support for resistance, undoubtedly a goal of Israel's merciless attack. But I was wrong.
Israel intended to bomb people to surrender by randomly destroying houses and killing people in the streets. But to the contrary, what Israel's actions are doing is bringing Palestinians in Gaza to a position of "we have nothing to lose."
"We are patient. We are steadfast. We are believers. God will surely end this aggression," Mom kept assuring me.
"They can't beat Shijaiya. They just can't," my father told me.
We now live at a time in Palestine when a son lost, two kids orphaned, a young wife widowed must be compared to those who have lost ten or twenty family members at once. There is a clear attempt to ethnically cleanse Palestine, to make us leave and never come back.
Wild rhino
Israel has been acting like a wild rhino let loose in a field of lavender. Palestinians have been acting as they should: resilient, steadfast and even more determined.
We understand that we are not only fighting our own battle but also fighting a universal battle for justice and human rights against barbarity and occupation.
And now, like hundreds of kids who survived the horror of Israel killing either or both of their parents, Raneem and Hamza will be without a father for life. Nothing we can do will replace the warmth and the love of the father they had to lose because Israel wanted Hamas leaders to see the destruction of Gaza.
Raneem and Hamza will live to be witnesses to Israel's war on civilians. They will live and grow in an unjust world where their father can be killed because he is in his own house and the killer will not even be brought to justice because he is an Israeli soldier.
But before that happens, we will continue the struggle against Israeli ethnic cleansing of Palestinians, in the hope that before Hamza and Raneem are old enough, Israeli apartheid will be abolished forever.
Live forever
When my brother passed away, everyone was lamenting the death of "Mohammed." No one called him Hamada. He is again Mohammed.
But I didn't shout at them. I came to the realization that I have to finally let go and let Hamada grow into Mohammed.
Israel's barbarity to murder people in Gaza and to sever the connections between people and people, and between people and land and between people and memories, will never succeed. I lost my brother physically, but the connection with him will remain forever and ever.
His memories, his tales, his jokes, his innocent smile will live forever through us, through his two beautiful children, and through the thousands of children who loved him on TV and in real life.
Refaat Alareer is the editor of Gaza Writes Back: Short Stories from Young Writers in Gaza, Palestine.
Tags