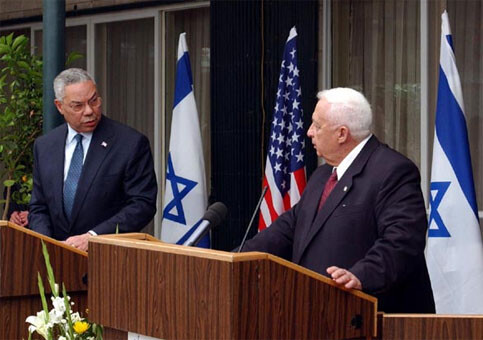 It took just a few hours for

US

Secretary of State Colin Powell's mission to implement the road map to founder on the rocks of Israeli intransigence. Ariel Sharon's "gestures" to humor his American guest lasted barely longer than the visit itself. The movement restrictions that Sharon ordered lifted in Gaza were re-imposed after a mere 23-hours, while Jewish settlers announced plans to establish new colonies in the West Bank.

In recent days, a Washington Post editorial and the New York Times' Thomas Friedman opined that a key ingredient for the road map's success would be the Bush administration's willingness to pressure Sharon. Friedman - a committed Zionist — declared that in order to succeed, Bush must tell "the Christian right and the Likud-run Conference of Presidents of Major American Jewish Organizations that he is not going to let them block his path by their support for the lunatic Israeli settler movement." Yet Powell's meager achievements indicate that Bush is not yet willing to confront Israel's "man of peace."

What Bush and Powell need, therefore, is an ally who is unconstrained by domestic political considerations when it comes to Palestine-Israel. Step forward, Tony Blair.

Blair played a key role in convincing Bush to publish the road map and expressed strong personal support for the new Palestinian 'prime minister' Mahmoud Abbas. In March, Israel reacted with fury when UK foreign secretary Jack Straw acknowledged in a BBC interview the obvious fact that the West has been guilty of double standards by insisting that Iraq implement UN resolutions while not making the same demands of Israel. Blair went on the BBC Arabic Service to convince a skeptical Arab public that he was sincere and committed to justice for the Palestinians.

Before the Iraq invasion, Blair defended himself against charges that he was Bush's poodle. "It's worse than you think," Blair told The Guardian, "I believe in it. I am truly committed to dealing with this [Iraq], irrespective of the position of America." Blair added, "If the Americans were not doing this, I would be pressing for them to be doing so." If it stretches credulity to imagine Blair leading a reluctant America off to war in Iraq, the UK prime minister now has the perfect opportunity to demonstrate that he meant what he said without the need to send the British army back to Palestine.

Here are some specific measures that the United Kingdom should take to help Bush and Powell along:

The UK should suspend all arms exports to Israel. According to London-based think-tank Saferworld, Israel has in recent years bought demolition charges, general purpose machine guns, rifles, small arms ammunition and components for small caliber artillery ammunition, components for air-to-surface missiles, armored fighting vehicles, armored personnel carriers, combat aircraft, combat helicopters and tanks from British manufacturers. The UK government recently angered Israel by quietly turning down several arms requests. But this is not enough. Mr. Blair must publicly declare a ban on weapons sales to Israel as long as it uses such weapons to perpetuate occupation and human rights abuses, and call on the United States and EU to do the same.

The UK should ban the importation of goods produced in Israeli settlements in the Occupied Territories. Last April, the UK government began charging import duties on such products. This is positive, but insufficient. Blair should now impose a complete ban on the importation of colony products, because the ever-expanding settlements are a grave violation of international law, built on stolen land, and Israel should not be permitted to profit from them. Blair should request that the entire EU do the same, since under Article 2 of the EU-Israel Association Agreement, the EU has the right to suspend trade privileges if Israel violates human rights.

Blair should hold Israel accountable for the increasingly frequent killing and maiming of UK citizens by the occupation forces. Last November, UNRWA official Iain Hook, a UK citizen, was shot dead in Jenin refugee camp. In April, UK peace activist Tom Hurndall was shot in the head while escorting children in Gaza's Rafah and more recently, award-winning British documentary-maker James Miller was shot dead, also in Rafah. In every case, autopsy, medical and eyewitness evidence contradicts official Israeli explanations of these killings.

The UK should demand that Israel immediately cease and desist from targeting, expelling and harassing British and other international human rights workers. Israel must stop forcing those entering Gaza to sign 'waivers' which absolve it of any responsibility if Israeli forces kill or maim them. These documents — basically licenses to kill - violate the Geneva Conventions. If Israel refuses to stop, Blair should impose restrictions on visas for Israelis.

These are a few modest but concrete measures that could make a real difference and demonstrate Blair is willing to lead, not just follow Bush. Because of the Iraq war, Blair has enormous credibility with the US public and Congress. He can, for example, argue with great authority against Sharon's new demand that the Palestinians disarm totally before Israel is required to implement the road map. He can explain that crucial to the relative success of the Northern Ireland peace process was that he did not allow any party to hold progress hostage to similar demands.

Anything less than concrete action by Blair will simply confirm widespread suspicion in the region that his support for the 'road map' was nothing more than a cynical attempt to deflect criticism about Iraq. Blair took an enormous risk in Iraq. What sort of risk will he take for peace in Palestine?

A slightly abridged version of this article was first published in The Daily Star.