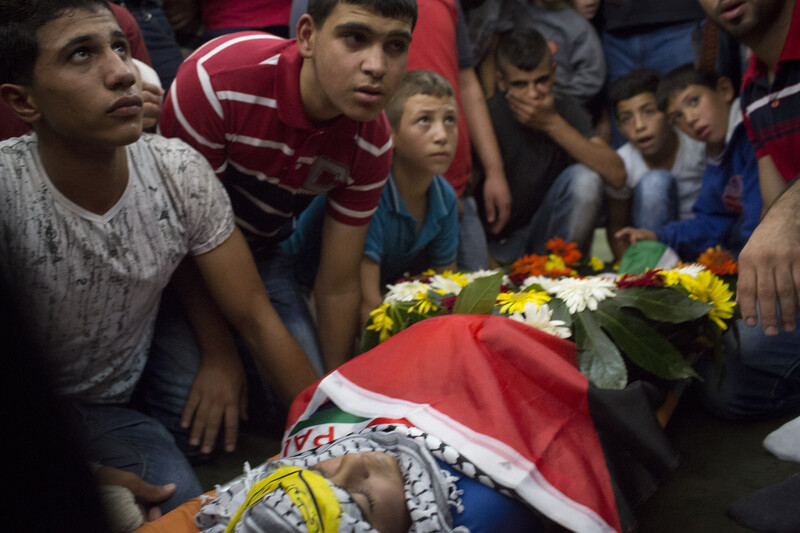 "If you grow up in the camp, fear doesn't exist for you," said Qassam Dweik, a resident of Jalazone refugee camp, north of Ramallah in the occupied West Bank.
Qassam's best friend, 14-year-old Ahmad Sharaka, was killed by Israeli soldiers on Sunday. He had been taking part in the ongoing confrontations between Israeli forces and Palestinian youth near the Beit El settlement colony.
"We know that rocks will not end the occupation, but it's all that we have to resist," Qassam explained.
Built on Palestinian land, Beit El houses the Israeli Civil Administration, the bureaucratic arm of the military occupation, and its district office. The settlement has long been the flashpoint of confrontations between youth and soldiers, though the Palestinian Authority has previously prevented protesters from reaching the area.
Clashes there have intensified, occurring daily after noon prayers, since the beginning of the month, when Israeli occupation forces raided the home of Muhannad Halabi in Surda, a nearby Palestinian village, before dawn on 4 October. Halabi was shot dead by Israeli police the evening before after allegedly stabbing four people, killing two, in Jerusalem's Old City.
Israeli forces have killed 29 Palestinians in the West Bank and Gaza Strip since the beginning of the month, and seven Israelis have been killed during the same period. As of Sunday, more than 1,300 Palestinians were injured by live and rubber-coated steel bullets fired by occupation forces.
Committed to struggle
Ahmad and Qassam risked their lives each day by engaging in the clashes near Beit El. Ahmad had called on his friend to join him on Sunday.
Ahmad's parents, Huda and Abdallah, desperately tried to prevent their son from attending the dangerous confrontations. He had been injured during previous encounters with the army, and the family is still reeling from the death of Ahmad's uncle, Khalil Sharaka, at the hands of Israeli soldiers during the second intifada.
Ahmad quit school two years ago and his main focus became attending protests and confrontations in defiance of his family's appeals.
"He was committed to the struggle from a very young age," his mother told The Electronic Intifada.
Recalling the moment of his best friend's killing, Qassam said, "We were together when the soldiers' shooting intensified. I fled, but Ahmad insisted on staying and throwing rocks at the military jeep."
"A soldier then chased Ahmad with his M-16 and shot him in his left ear," he added.
"The army left him to bleed and only allowed the ambulances to take him after about 15 minutes," he said.
Defence for Children International-Palestine reported that Ahmad was pronounced dead from a brain hemorrhage about an hour after he arrived to the Palestine Medical Complex in Ramallah.
Qassam was stuck near Beit El when he learned that his friend had succumbed to his wounds.
"I first read that he was injured but I wasn't worried. He always got injured during clashes and quickly recovered. But I then read on Facebook that he was killed and I couldn't believe it," he said.
He ran to the hospital in Ramallah and had to plead with security to allow him to see his friend and hug him for the last time.
"I already miss him. No one came to wake me up as he used to do every day," he lamented.
Dreamed of return
Ahmad's family hails from the ethnically cleansed village of Beit Nabala near Lydd, in present-day Israel, and like almost all refugees in the camp, he dreamed of returning to his ancestral home.
Haneen, his twin sister, finds it hard to accept that her other half is no longer alive. Ahmad's friends are also struggling. But they show a composure and strength that belies their youth.
Despite political disagreements between Ahmad and Qassam, their friendship remained intact, a symbol of real unity — one that eludes their leaders. Ahmad had given Qassam a green wristband, a symbol for Hamas.
As Qassam buried his friend with his own hands, he laid the green wristband next to his body on Monday.
"He gave me this because he was a Fatah supporter while I support Hamas," he explained. "He was wearing my shoes when he was killed yesterday. We always used to exchange our favorite things."
Ahmad's friends remember him as incredibly generous and funny. He used to take them to the swimming pool and pay the fees himself.
Ahmad taught himself to swim. That's no small feat for someone living in the crowded camps where there is little space for recreation. While his friends would find it hard to swim, Ahmad would encourage them and push them to continue and do their best.
Instead of preparing for another swim together, Ahmad's friends were left to stand at his graveside before quickly heading to another protest near Beit El.
"I regret that I left him alone. I wish that I stayed with him," Qassam said about fleeing the confrontations just before the killing of his friend. "His killing will only push me to continue going to demonstrations."
Passing the torch
Youth in Palestinian camps witness the killing of their friends at the hands of Israeli occupiers and then carry on the torch themselves.
Ahmad Sharaka knew Laith al-Khalidi, another child from Jalazone camp killed earlier this summer.
"He knew him and took part in his funeral. Here in the camps even children resist because it's the only choice they have," Ahmad's mother said.
Ahmad's funeral procession was massive, attended by thousands.
"In the funerals of martyrs, almost the entire camp comes to pay homage," said a relative of Ahmad's who was also present at the funeral.
Ahmad and his friends, despite their tender age, embody the spirit of the refugee camps. The first to rise up against Israeli oppression, they are the bulwark of the Palestinian cause and identity.
"Ahmad was not just the son of Jalzone refugee camp; he didn't sacrifice his life for this or that political faction," Qassam said. "He was the son of all of Palestine."
Budour Youssef Hassan is a Palestinian writer and law graduate based in occupied Jerusalem. Blog: budourhassan.wordpress.com. Twitter: @Budour48
Tags