Ahmed al-Haj, the owner of al-Bahhar seafood restaurant along the coast near Gaza City, uses solar energy to run his restaurant and his nearby fish farm.
Fish farms are electricity-intensive endeavors. Seawater must be regularly pumped into the tanks, and water propellers must operate nonstop to provide a healthy environment for the fish. Without electricity, the fish cannot thrive.
Before the solar panels were installed in 2010, al-Haj was paying nearly $42,000 in operating costs each year, the bulk of it going to fuel to keep the electricity on.
His operating costs had risen substantially when Israel imposed its siege on Gaza in 2007. And al-Haj, like all other residents of Gaza, has faced protracted power outages that reduce the quality of living and make it near impossible to run a profitable business.
"As a result of the significant stress the siege had on my business, I started looking for a better electrical solution," he said.
He installed the solar panels at a cost of $14,000, after getting a business development loan. Accordingly, his operating costs were cut in half since he no longer needed to purchase fuel to run a generator or rely on Gaza's power plant for electricity.
"By doing this, I was able to hire more workers, make some repairs to the restaurant and expand the size of the fish farm," he said.
A lifesaver
Hussein Shehab, an electrical engineer for MegaPower company, which imports and installs solar panels in the Gaza Strip, estimates that at least a third of Gaza's population and more than 50 percent of its businesses – including hospitals, farms, factories, bakeries, and educational institutions – now use solar panels.
A basic solar panel installation comprises setting up glass panels on a roof. This panel transmits power into rechargeable batteries.
While the initial installation costs can be steep for a typical family in Gaza – between $1,000 to $10,000 – he believes that long-term benefits, both in cost and reliable electricity, make it worth it.
Al-Rantisi Hospital in Gaza City installed 106 solar panels on the building's roof in 2017 using Chinese funds, said the hospital's public relations officer, Hasan al-Refati. He said that 40 percent of the hospital's departments are powered by these panels, which have a 30-megawatt capacity.
The solar panels are now an integral factor in keeping the power on at the hospital, which allows for uninterrupted access to electricity in the emergency and intensive care units, as well as for patients with chronic conditions like dialysis and cancer.
"The irregular electricity [supply] and the high electrical frequencies produced by the generators have damaged a lot of our medical equipment, including X-rays, dialysis machines and blood transfer machines," al-Refati said.
Al-Refati said the hospital relies on three different energy sources: the power plant, three backup generators for power outages, and a solar power system. When the electricity is cut off, the hospital's departments need half an hour to switch the power supply to the generators.
Bassam al-Hamadin, director general of engineering and maintenance at the Ministry of Health, said that Gaza's 13 public hospitals are powered by solar energy. Solar power, he said, lowered electricity costs by $800 million.
"The solar system is a lifesaver for our patients," al-Refati said, noting that the damage to medical equipment has decreased in those departments where solar panels are used.
Not enough power
Zafer Milhem, chairman of the Palestinian Energy and Natural Resources Authority, said solar energy has eased the strain on Gaza's power plant, which can only supply the city with an average of 12 hours of electricity per day.
Yet even those 12 hours are compromised throughout summers and winters, when demand rises.
Gaza's population of 2 million needs 600 megawatts to allow for constant access to electricity, but Gaza is only able to produce 180 megawatts.
In 2021, the Gaza Industrial Estate – which provides businesses located in Gaza with infrastructure and other resources – launched a $12 million solar energy project that aimed to provide businesses with reliable electricity.
Yet the extensive power cuts and the Israeli blockade have made life difficult for Ahmed Abu Safia, who owns a chicken farm in Beit Hanoun.
The absence of light and heat for chicks and hens meant they would not eat or drink as much, and therefore they would not develop fully.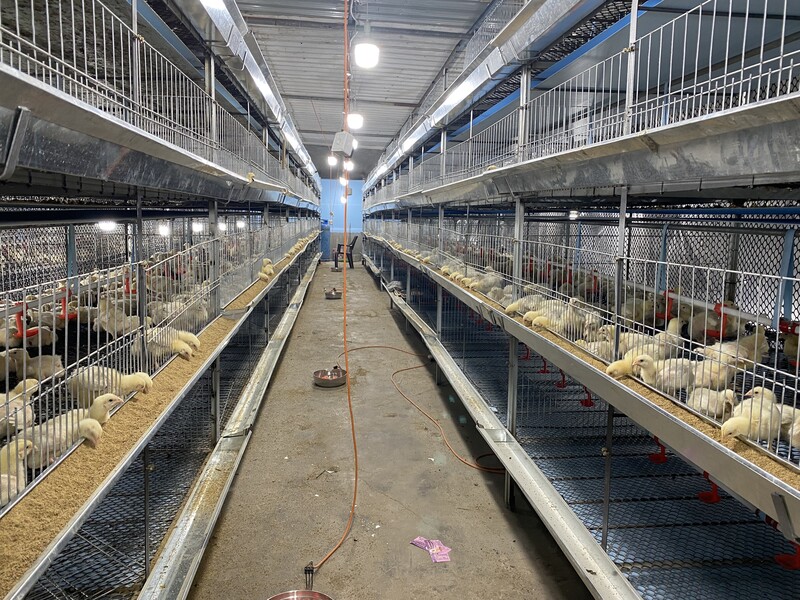 "Numerous hens died from heat or cold each year, and poor lighting and hot or cold environments prevent chickens from laying eggs," he said. "The egg production was cut in half and feeding expenditures rose and their growth period lengthened."
He considered closing his business, as many others did due to Gaza's crippling economic situation.
"During the first ten years of the blockade, before installing the solar panels, I only raised 1,000 hens," he said. "I had to sell them as soon as they reached the necessary weight of 1.5 to 2.5 kilograms."
But once he obtained a $6,000 loan from a bank and had solar panels installed, his business returned mostly to normal. He now raises 3,000 hens a month.
Still, hardships continue. Israeli airstrikes in 2021 killed many of his hens and destroyed parts of his farm, including greenhouses, irrigation systems and several solar panels. Though he has been financially compensated by the government, there is always the prospect of another Israeli attack.
Rakan Abed is a freelance reporter and video producer based in the Gaza Strip.
Khuloud Rabah Sulaiman is a journalist living in Gaza.
Tags