Six-year-old Mousab Sarahnin lost an eye after Israeli soldiers fired rubber-coated steel bullets just after he stepped off a bus at the Fawwar refugee camp, near the occupied West Bank city of Hebron, on 27 September.
"Mousab was walking beside his mother, clutching her dress … the soldier shot him directly in the head," Sheikh Jibreen Sarahnin, the boy's uncle, told The Electronic Intifada.
Soldiers frequently target the camp, home to approximately 7,000 persons, and residents said that the military has been closing its main entrances on a daily basis in recent weeks.
While rubber-coated steel bullets inflict serious injuries that sometimes prove fatal, the Israeli military claims that they are part of an arsenal of "non-lethal" riot dispersal tools. This arsenal includes tear gas, sound bombs, water cannons and skunk water cannons, among others.
Although the Israeli military's central command announced in May that it would fully replace rubber-coated steel bullets with "sponge-tipped bullets" by the end of the year, five months later they are still in frequent use ("IDF to use sponge-tipped bullets in West Bank," The Jerusalem Post, 17 May 2013).
According to the Israeli human rights group B'Tselem, rubber-coated steel bullets have "led to the deaths of dozens of Palestinians."
Mousab's experience is no exception: the Israeli military is regularly accused by human rights groups of attacking, arresting and torturing Palestinian children.
Checkpoint
At about 4:30pm on 27 September, Mousab, his mother, his uncle and some of his brothers and sisters were on their way to visit another uncle who lives near the camp.
Upon arriving at the edge of the camp, the group discovered there was, yet again, an Israeli army checkpoint set up at the camp's main entrance.
Knowing they had little hope of passing through, the group decided to forgo that day's visit, opting to descend from the shared taxi and return home on foot. "As soon as they got off the bus, the army shot at them," said Jibreen Sarahnin. "There weren't any protests going on in that area. There was no one else near them."
Ayed Abu Eqtaish, accountability director for Defence for Children International-Palestine Section (DCI-PS), confirmed that the Sarahnin family was nowhere near clashes then taking place between local youth and the Israeli military.
Mousab was struck in the face, and the rubber-coated steel bullet was left lodged in his eye socket. His 13-year-old sister was hit in the leg as well.
Mousab and his sister were taken directly to the Abu Hassan al-Qassam hospital in Yatta, a town in the South Hebron Hills. Because Yatta does not have the appropriate facilities to treat his injury, he was transferred to the a hospital in the center of Hebron, where an eye specialist was called to examine him.
After determining the severity of the injury, the specialist decided to send the child to the better-equipped St. John's Eye Hospital in the Sheikh Jarrah neighborhood of occupied East Jerusalem.
"He needs an operation now"
Jibreen Sarahnin recalled the eye specialist's comments while speaking on the phone to arrange the boy's transfer: "We are sending you a child that has just been shot in the eye by the army. He needs an operation now. Quickly."
According to Jibreen, the ambulance was forced to wait five hours for the military's permission in order to cross into East Jerusalem.
Abu Eqtaish also confirmed that the "coordination process took about four or five hours" due to delays on the Israeli end.
"If he had been bleeding heavier, he would most certainly have died while waiting to receive permission to be treated," Jibreen added.
The doctor who undertook the initial examinations on Mousab said that the bullet had to be removed from the boy's eye socket.
"When he examined Mousab, he didn't find an eye," Jibreen said, explaining that the boy's eyeball had burst upon impact. "He found the bullet. It had been in there for almost eight hours. There was no eye."
Though the Palestinian Authority paid for Mousab's initial surgery, his uncle said that the boy will need continuous medical treatment as he grows up and possibly throughout the rest of his life as a result of the injury.
While the family has yet to decide if it will pursue legal action in Israel's courts, Jibreen vowed that "we won't be silent for them," referring to both Israel and the Palestinian Authority.
Jibreen said that his nephew has yet to comprehend the permanence of his injury. "We explained to [Mousab] that he had surgery but, because of his age, he does not yet know the seriousness of the situation. He doesn't know that he has lost his eye. He still thinks he is completely fine. But we will walk with him step by step."
Frequent target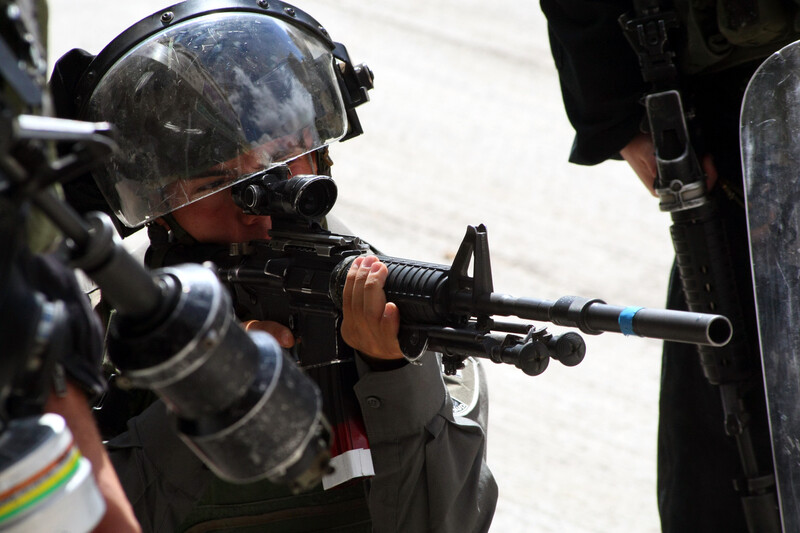 Meanwhile, on 2 October, 10-year-old Yazan Mahmoud al-Abd was struck by a rubber-coated steel bullet as Israeli soldiers fired on local youth who were throwing stones and attempting to block them from invading the Jalazone refugee camp.
Jalazone sits north of the West Bank city of Ramallah and, much like Fawwar, is also the frequent target of Israeli military incursions. For the camp's more than 11,000 residents, the army's violence is nothing new.
According to Alaa Zubeidi, a Jalazone resident, Yazan was shot and injured in the legs while standing near a UN-administered boys school.
Witnesses have said that the soldiers prevented an ambulance from reaching the wounded boy ("Palestinian child injured by army fire in Ramallah," International Middle East Media Center, 2 October 2013). Residents told The Electronic Intifada that the child was undergoing treatment in the hospital as of Thursday evening.
In May, 12-year-old camp resident Atta Sabah was left paralyzed from the waist down after being shot in the stomach by an Israeli soldier while trying to retrieve his school bag near the boys school in Jalazone. A Defence for Children International-Palestine Section report has stated that there were no clashes taking place when he was fired on with live ammunition ("Failing to abide by regulations, Israeli soldiers inflict serious injuries to Palestinian children," 21 August 2013).
"The Israelis usually come every week to arrest people from the camp in the middle of the night," said Zubeidi. "But the soldiers come to get into clashes with the children almost on a daily basis. Each week there are at least one or two children that are injured and have to receive medical care."
Reportage and human rights documentation continually suggest Israel exercises a total disregard for the safety of Palestinian children. More disturbing recent examples include an Israeli soldier's posting online a photograph of a Palestinian child through rifle crosshairs back in February, and a video of a small child being kicked by an Israeli policeman in Hebron last year.
A recent B'Tselem report — which includes dozens of testimonies from residents of the Bethlehem and Hebron areas in the West Bank who were detained at the Etzion police station between November 2009 and July 2013 — paints a particularly grim picture of the Israeli military's treatment of Palestinian children ("Abuse and torture in interrogations of dozens of Palestinian children in the Israeli police Etzion facility," 22 August 2013).
"Dose of pain every day"
"Fifty-six of [those interrogated] were minors at the time of their interrogation," the report states, adding that "the violence included slaps, punches and kicks to all parts of the body, and blows with objects, such as a gun or a stick."
On top of that, twelve children testified that "the interrogator threatened them or female relatives with sexual assault, such as rape or genital injury," according to the report.
"The lack of enforcement and accountability has led to the increase in violence against Palestinians, among them children," said Abu Eqtaish from Defence for Children International-Palestine Section. "That the military rarely opens up cases against soldiers perpetuates impunity for soldiers that attack Palestinian children."
The Ramallah-based group has documented twenty cases of children being used as human shields by Israeli soldiers since 2004. Nineteen of the documented cases took place after October 2005, when the Israeli high court ruled that using human shields was illegal.
"DCI has documented more than 25 cases of Palestinian children shot by live ammunition or rubber-coated steel bullets since the beginning of this year. Among this number, [there were] two fatalities," Abu Eqtaish said, referring to 17-year-old Karim Abu Sbeih from Jenin and 15-year-old Salih al-Amarin from Bethlehem.
Furthermore, 195 Palestinian children — 36 of whom are under 16 years old — are now behind bars in Israeli prisons, according to the most recent statistics from Addameer, a group campaigning for the rights of Palestinian prisoners. An estimated 8,000 children have been detained by Israel since 2000, according to Defence for Children International-Palestine Section.
"In the press, all you hear is peace, peace, peace," said Jibreen Sarahnin. "Living in the refugee camp, I have a dose of pain every day. You're trying to make me forget the suffering that I live through. On top of that, you make me drink heartbreak and bitterness, and you don't even have mercy on my children."
Jibreen Sarahnin insisted that his nephew's story be known: "Take photos. Send it everywhere in the world. Show the world what the Israeli army does to children."
Patrick O. Strickland is an independent journalist whose articles have appeared on Al Jazeera English, Truthout and The Electronic Intifada. Follow him on Twitter @P_Strickland_.
Dylan Collins is a freelance photojournalist and writer based in the West Bank. His work has published by Al Jazeera English, Al-Akhbar English, Mondoweiss and elsewhere. Follow him on Twitter @CollinsDyl.
Tags