Niraz Saied says he's good at taking pictures, but not at speaking.
Yet when he begins talking about Yarmouk refugee camp, he speaks with a passionate lilt, captivating eloquence and a vivid amount of detail which is almost as powerful as his photography.
A refugee from the ethnically cleansed Palestinian village of Awlam, south of Tiberias — it was completely destroyed in April 1948 during the Nakba, Israel's foundational act of ethnic cleansing — 23-year-old Saied was born and raised in Yarmouk refugee camp on the southern outskirts of the Syrian capital, Damascus.
The Syrian regime air strike that hit the camp on 16 December 2012 was a decisive moment in Niraz Saied's life, as it was for the hundreds of thousands of other Palestinians and Syrians who lived in the camp.
Saied was not in the camp when the MiG fighter jet bombed Abd al-Qader al-Husseini mosque, but it was the airstrike, and the exodus and blockade that followed, which prompted him to return a few weeks later.
Just as the Syrian regime and its allied Palestinian militias imposed a partial siege on the camp after the emergence of armed opposition fighters such as the Nusra Front, Saied returned to the camp, armed with his camera.
"There were many media activists and citizen journalists who were covering the shelling and the clashes back then," Saied told The Electronic Intifada in an interview conducted via Skype.
"But I'm a photographer, not a journalist. So I did not return to document events but to narrate the camp's untold stories through my lens," he explained.
"Many focus on transmitting graphic images of charred corpses, blood-soaked faces and intense shelling. I tried to capture the daily life reality in the camp, to accentuate the human face of the suffering and transform the smallest details into a work of art."
Breaking the siege
This detail was precisely what Saied captured in his award-winning photograph "The Three Kings," which received first prize in a 2014 photography competition organized by the European Union and UNRWA, the UN agency for Palestine refugees.
Saied took the picture in March 2014 when the siege was at its height.
"The three children were supposed to travel to Europe to receive medical treatment, but the Syrian regime refused to grant them a permit to exit the country," said Saied. "Their pale and tired faces tell the story of Yarmouk. But I haven't been able to see the children again and no one in the camp knows anything about them."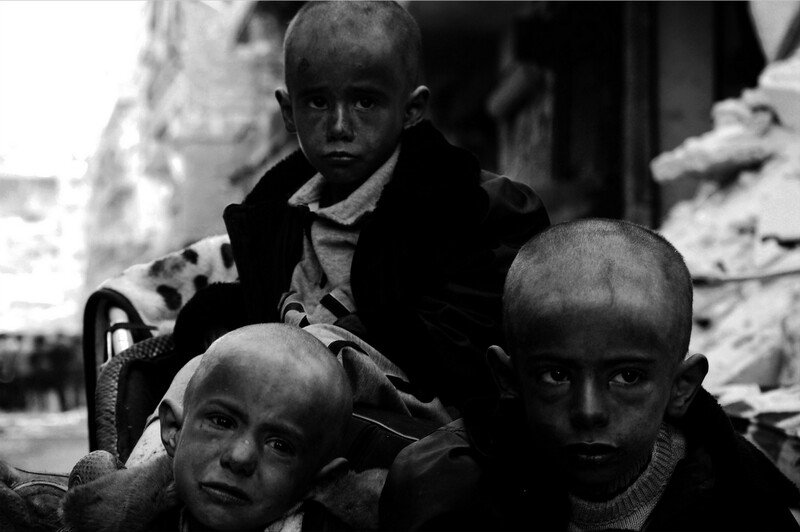 This photograph, along with fifty or so of Saied's other images, were showcased in an exhibition at the Mahmoud Darwish Museum in the occupied West Bank city of Ramallah in June.
Titled The Dream Lives On, the exhibition illustrates Saied's view that Yarmouk is not merely a pile of stones and destroyed buildings; it also contains human beings who love, dream, struggle and persist.
The pictures broke the siege imposed on the camp and made it into occupied Palestine, bridging the distance between the homeland and the diaspora and sharing with Palestinians at home the anguish, fear and hunger that their brothers and sisters in Yarmouk go through on a daily basis.
A similar message is conveyed in the new documentary Letters From Yarmouk, directed by Palestinian filmmaker Rashid Mashharawi. Saied assisted in the production of the documentary by filming and photographing from within the camp.
In Masharawi's words, Letters From Yarmouk carries "messages captured at Yarmouk refugee camp in moments of extreme complexity; messages siding with life in the face of death; moments of love in a time of war and questions of homeland and exile."
According to Masharawi, the documentary "presents stories that are still being told through still or moving images. Watched or heard, they are stories colored with hope for a better life. They are letters written by a lifelike documentary film."
"Indispensable"
The primary target audience of the documentary, according to Saied, is the Palestinian people.
"For so long we Palestinians have been trying to convince Westerners of the justice of our cause," he explained. "But this film is aimed at telling our fellow Palestinians about what's going on in Yarmouk. We do feel that we have been let down. We always insist that the Palestinian people should be unified, but we feel that Yarmouk has been ostracized."
For Saied, the camp is what connects us Palestinians to our homeland. Camp streets named after Palestinian towns including Haifa are "an embodiment of how we cling to the right of return and Palestine. We want Palestinians to know that Yarmouk is an indispensable part of the Palestinian cause."
Saied dedicated the film to his good friend Hassan Hassan, a young Palestinian-Syrian actor and director who was killed under torture in a Syrian regime prison. Hassan was arrested at a regime checkpoint in October 2013 while trying to leave the camp with his wife, Waed; Syrian security forces seized his laptop and arrested him after finding that he had downloaded anti-regime videos.
One of the scenes in Letters From Yarmouk was filmed just outside Hassan's home when both he and Saied were nearly hit by a shell. But even when close to death, Saied remembers that Hassan remained jocular and sarcastic.
"We're not begging"
"For months after Hassan's death, I couldn't film anything," said Saied. "I only took still images — his death broke me. But I realized that if Hassan were alive he would have urged me to continue this film. His contagious smile and our shared memories accompanied me in every step in preparing for this film."
Saied is critical of the purely humanitarian discourse that only focuses on starvation or water cuts in the camp without holding the Syrian regime responsible.
"Even media outlets run by the Syrian regime circulated pictures of starving children in the camp because for them, our plight sells," he said.
"We are not, however, begging for charity. We want an end to the siege imposed by the regime, release of our detainees held in Syrian regime prisons since the start of the uprising, and anyone who committed a crime, killing or torture to be held accountable," he added. 
"In fact, we are paying the price for welcoming displaced Syrians, for siding with the people rather than the regime, for refusing to turn the camp into a military base for pro-regime militias."
Despite trying hard to remain optimistic, Saied believes that Yarmouk may never return to what it once was.
"Yarmouk as we know it is gone forever," he said. "It is either heading towards complete decimation or becoming an Islamic emirate or towards maintaining the status quo because no one seems interested in solving the crisis, not the regime, not the rebels and definitely not the Palestinian factions."
It is often repeated that the camp has been under full siege since July 2013 and that the camp has been cut off from water since 8 September 2014, and the human toll of this is massive, making everyday life a constant struggle.
"I have to wake up early in the morning and fill several buckets with water from the well using very modest equipment," Saied said.
"It tastes like anything but water, but we've gotten used to it. Then I have to collect firewood … [from] demolished houses. The gasoline inside the camp is incredibly expensive … [but I'm] relatively lucky because I have a gas cylinder and a generator. Electricity has become such a rare luxury that many children who were born during the siege are growing up without even knowing what it's like."
For Saied, the siege also means being away from his fiancée and his family, who were forced to leave the camp. Yet he still clings to the hope of capturing with his lens that happy day when people of Yarmouk "return" to the camp en masse. To a camp without siege, shelling and persecution.
Budour Youssef Hassan is a Palestinian anarchist and law graduate based in occupied Jerusalem. She can be followed on Twitter: @Budour48.
Tags