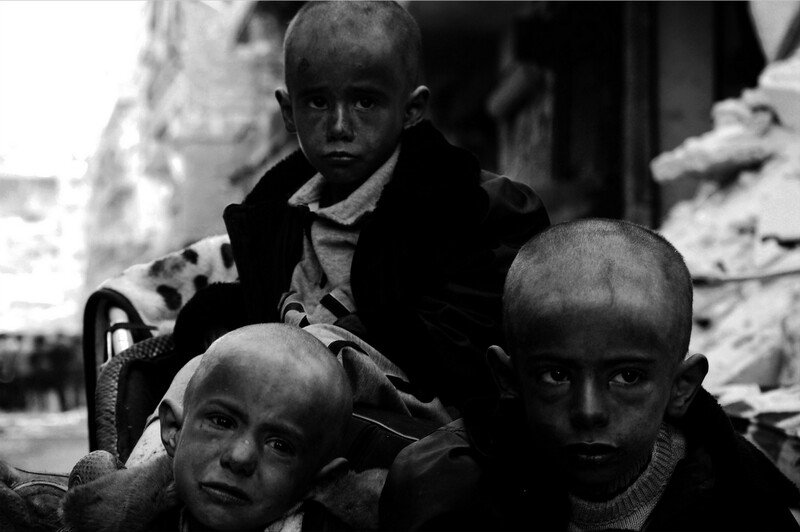 A young Palestinian awarded for his photography documenting life in a besieged refugee camp was reported to have been arrested by Syrian secret police in Damascus earlier this month.
Niraz Saied claimed top prize in a photography competition organized last year by UNRWA, the UN agency for Palestine refugees, and the European Union.
His winning image shows three boys who appear malnourished in Yarmouk refugee camp, where dozens of residents had died of starvation around the time that the photograph was taken in March 2014.
Saied also appears in and has filmography credits for the 2014 documentary Letters from Yarmouk by Palestinian filmmaker Rashid Masharawi.
UNRWA spokesperson Chris Gunness told The Electronic Intifada that "UNRWA Syria has verbally raised the arrest of Niraz with its government counterpart. No confirmation has been received and no further information has been provided."
Yarmouk's untold stories
Saied was born and raised in Yarmouk on the outskirts of Damascus.
Once a safe haven for the largest community of Palestinian refugees in the country, Yarmouk became increasingly vulnerable as the government sought to crush the popular protests that erupted in March 2011 and armed rebel forces sought to gain control of this southern gateway to the capital.
A Syrian fighter jet bombed Yarmouk's central Abd al-Qader al-Husseini mosque on 16 December 2012, killing several civilians and fully inaugurating the camp as an arena of fighting. Many of the camp's 150,000 residents fled and armed rebel groups seized control.
Saied, who was outside the camp at the time of the bombing, resolved to return and "narrate the camp's untold stories," as he explained in an interview with The Electronic Intifada last year.
Access to the camp was soon cut off by the Syrian government and allied forces, preventing the movement of people and supplies. The camp has not had reliable electricity for nearly two and a half years, and no running water for more than a year.
Saied remained in Yarmouk until April of this year, when the camp was invaded by Islamic State fighters, according to an account sent to The Electronic Intifada by Radio Yarmouk 63, a version of which was published on the group's blog.
Threats were made against Saied's life, as they were against other civil society figures in the camp. He was evacuated to Damascus, where he went into hiding, waiting for a chance to leave the country.
"But like all other Palestinian Syrians, leaving the country … was next to impossible, as entering all neighboring countries is forbidden," Yarmouk 63 stated.
"Saied was not granted protection, visa or permission to travel by any foreign government, regardless of his numerous works being used by many foreign media outlets."
Countries neighboring Syria have prevented Palestinians fleeing the country from entering.
Jordan has banned Palestinians from Syria from entering for any reason, while Lebanon is only allowing entry to those who hold papers showing they have interviews scheduled with European embassies, or tickets to fly via Beirut's airport.
Turkey has stopped issuing visas to Palestinians from Syria to enter its territory from Lebanon for two years, but grants visas to those who hold residency in Gulf states, according to the Action Group for Palestinians of Syria.
The group states that 3,000 Palestinians have been killed in the country since the beginning of the uprising in 2011. This number includes Palestinian combatants.
Nearly 1,000 Palestinians have been detained during that same period. A further 400 have died under conditions of torture, according to the group.
Siege without end
Though the United Nations quietly lifted its designation of Yarmouk as besieged territory earlier this year, the 3,000 civilians estimated to remain there live in extremely dangerous conditions.
Rebel groups opposed to the Syrian government have also imposed movement restrictions on people and food supplies as the camp has become a battleground for a number of groups vying for control.
More than 50 people in the camp have died as a result of the ongoing conflict since April, according to the Action Group.
Approximately two dozen of them were combatants, most of them belonging to the pro-government faction Popular Front for the Liberation of Palestine-General Command, who died during clashes with the Islamic State and Jabhat al-Nusra, al-Qaida's affiliate in Syria.
But many others were killed by snipers or were executed, or they died during bombing and as a result of malnutrition and lack of medical treatment.
Hamas denies interference
Meanwhile Hamas denied claims aired on Syrian state television that it is interfering in the country.
Those claims were made by the leader of Aknaf Beit al-Maqdis, an armed group opposed to the rule of Bashar al-Assad and which initially sought to repel the Islamic State's invasion of Yarmouk. In a lengthy videotaped confession made after his recent arrest at a checkpoint near Yarmouk, Mamoun al-Jaludi said that he had longstanding links with the Palestinian resistance movement.
Hamas refuted the assertion, stating that the confession was extracted through torture. The group reiterated its sole objective is to liberate Palestine and that is has no battle in Syria.
It further called on all concerned parties to recognize the neutrality of the Palestinian refugee camps in Syria.
Before the uprising in Syria in early 2011, there were more than half a million Palestinian refugees registered with UNRWA in the country.
Most Palestinian refugees in Syria were forced from their homes during the ethnic cleansing of Palestine in 1948, or are the descendents of those who were displaced. For decades Israel has denied them and millions of other Palestinian refugees their right to return to their homeland.
While tens of thousands of Palestinian refugees have fled Syria in recent years, most remain there as neighboring countries have closed their borders to them.
Of the 480,000 Palestinian refugees currently in Syria, 280,000 are internally displaced, according to UNRWA.
Tags