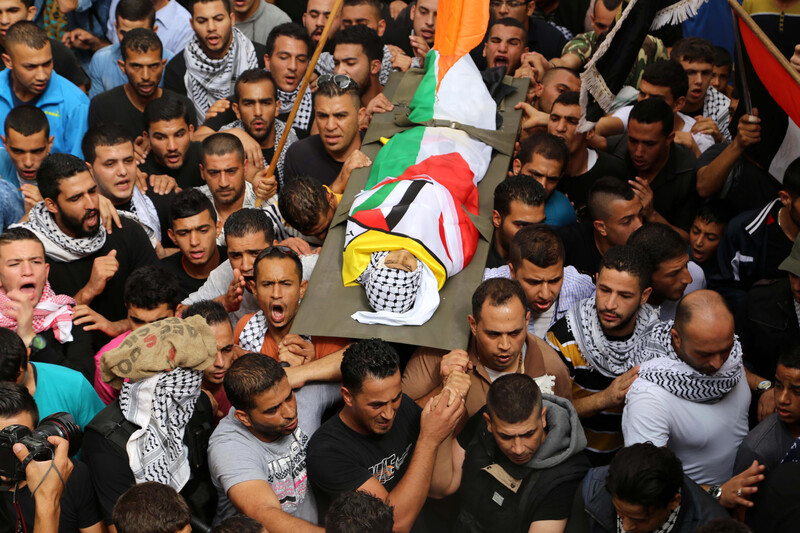 It is not unusual to see youth from the Aida refugee camp in Bethlehem fight with the Israeli forces of occupation. But the clashes which followed Israel's slaying of 13-year-old Abdulrahman Shadi Obeidallah — or Abdo, as he was affectionately known — were among the fiercest that residents have seen in recent years.
For hours after Abdo's funeral procession on Tuesday, anyone entering the camp had to wade through clouds of tear gas that had been fired by Israeli soldiers. Young locals, many of whom knew Abdo personally, could be seen gathering rocks and tires in preparation for another riot.
The sense of collective grief and rage is always palpable when a Palestinian is martyred. Nowhere is this more so than in refugee camps, where communities are bound together in resistance and by the desire of returning to homes from which they were expelled.
The sole park in Aida — where Abdo and his friends often played — is called Laji (Arabic for refugee), as if to remind children of their roots.
Abdo's family were displaced from al-Qabo, a village near Bethlehem attacked by Zionist forces during the Nakba, the 1948 ethnic cleansing of Palestine.
Despite his tender age, Abdo was painfully aware of the restrictions imposed on Palestinians. He kept a close eye on the news from Jerusalem, a city just five miles from Bethlehem, that Israel had made off-limits.
"He has an aunt in Jerusalem whom he always dreamed of visiting," said his mother Dalal. "But, you know, we are deprived of visiting Jerusalem."
Disbelief
Dalal remains in a state of disbelief that one of her five children has been taken from her in such a cruel manner. She recalled how Abdo had left for school at 7:30 on Monday morning. He had asked his mother to wake him early. "But he gave me a lot of trouble until he finally woke up," Dalal said.
At 1:30pm, Dalal received a phone call to say that Abdo had been injured. "I was overwhelmed by horror," she said.
"I have no idea how I summoned the strength to run to the hospital" in nearby Beit Jala, she added.
"They initially told me that he was shot in the feet in order not to scare me," Dalal said. "But I later realized that he was actually shot in the chest and I immediately knew that my son would not come out of this alive."
Abdo was killed during clashes between local youth and Israeli forces.
The Israeli military has reportedly claimed it shot Abdo by mistake. Its intended target was an adult who had been standing near Abdo, according the Tel Aviv newspaper Haaretz.
The organization Defence for Children International-Palestine has stated that its initial probe into the incident suggests that Abdo may have been unlawfully killed. Abdo was not taking part in clashes, according to DCI-Palestine.
"My closest friend"
The killing follows an announcement by Prime Minister Benjamin Netanyahu that Israel is at "war" with stone-throwers.
Under a new policy, Israeli troops may open fire if they feel that anyone in the vicinity is deemed at risk from Palestinians throwing stones. Previous rules of engagement had been more limited.
Abdo's father Shadi said the boy had left school earlier than normal on Monday.
He was just looking on while the clashes were taking place, Shadi added. He was still wearing his school uniform.
"If I'm honest with you, I never really expected my son to be a martyr or to die like this," Shadi said.
Muhammad, Abdo's 17-year-old brother, described him as "my closest friend," who loved computer games.
"He was the only one I could trust to tell all my secrets, knowing that he'd never reveal them to anyone, not even to our parents," Muhammad said.
Abdo was the fourth Palestinian child killed by the Israeli military in the West Bank this year.
His killing will not deter Palestinians from resisting the occupation of their homeland. That much was obvious as thousands turned out for his funeral and youth vented their anger in new clashes.
Even though they knew that some among them would be shot — as indeed they were — youth kept on throwing stones at Israeli soldiers. The struggle goes on.
Budour Youssef Hassan is a Palestinian writer and law graduate based in occupied Jerusalem. Blog: budourhassan.wordpress.com. Twitter: @Budour48
Tags