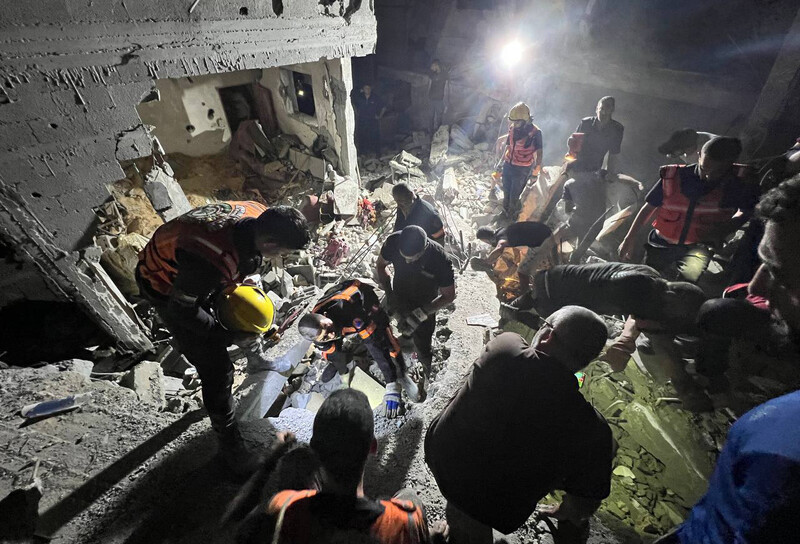 The night of 6 August was quiet in al-Shaout, a neighborhood in the southern city of Rafah in the Gaza Strip.
Alaa al-Tahrawi, 30, was playing with her 3-year-old son Ahmad. She asked her husband, Ismail al-Malahi, 36, if he wouldn't mind running an errand and taking Ahmad along with him.
Ismail had only been out of the house for a few minutes when he heard the bombings shortly after 9 p.m. In a panic, he started to rush home, asking people along the way if they knew where the bombing had occurred. He knew then it was al-Shaout.
He picked up Ahmad and ran. Once there, he saw collapsed buildings, a scene of destruction.
It took two hours for rescue workers to inform him that his wife had been killed.
"Alaa had asked me to buy a few things from the grocery shop near the house," he said. "I took my child out only to have him return home an orphan. Israel killed innocents without warning."
Ostensibly the Israeli target in al-Shaout was Islamic Jihad leader Khalid Mansour. Yet, that evening, Israeli airstrikes in Rafah killed six additional people, including at least one child, and injured 35, including 18 children, according to Al Mezan, a human rights group in Gaza.
They were among the 17 children killed during Israel's three-day assault on Gaza that left nearly 50 people dead and more than 360 injured.
Ahmad's birthday was 9 August. His mother had hidden gifts for him at her father's house, preparing to surprise him on his birthday. Instead, Ahmad's uncle delivered the presents, and Ahmad turned 4 without his mother.
It was a massacre
Just a few days before Israel attacked Gaza, Abeer Omar Harb, 24, and Ismail Dweik, 30, were busy preparing for their upcoming wedding.
Abeer was joyful as she tended to the details of their wedding party and put the finishing touches on the house where they would live.
Once Israel started bombing the Gaza Strip on 5 August, Abeer had talked to Ismail on the phone about the bombings, how they had grown used to them and how they would pass, as with the other times Israel had targeted Rafah.
Ismail had dinner with his mother, Hana al-Khalidi, at their home in al-Shaout, after talking to Abeer. Shortly after they hung up the phone, Israel bombed the area, and Abeer's family home, which was hundreds of meters away from his, was shaken.
Abeer's father told her that a house near her fiance's had been targeted. She grabbed her phone to call him, but he didn't answer.
Her father, Omar Harb, 66, set off toward Ismail's home and, within a few hours, he returned with the news that the Israeli bombings had killed Ismail and his mother.
Omar, who had arrived from Egypt three days before the Israeli attacks, said it took more than five hours to recover all the bodies from under the rubble of al-Shaout, due to limited equipment and rescue crews.
It was a horrific massacre.
"Her fiancé invited us to dinner at his family's house the night of the bombing, but I declined because I was exhausted from the trip back from Egypt," Omar said.
The next day, Abeer stood with her father near the rubble of Ismail's family home. One of the neighbors asked her to go inside what remained of the home to see if she could find something of Ismail's to keep.
Among the items she found was a teddy bear she had given him, along with some of his personal belongings and photos.
Ismail was a bodybuilder at Rafah's Khadamat Club. They had been engaged for two months, a period Abeer described as "the best days of my life."
"Demolish the house"
Ashraf al-Qaisi learned about the massacre in al-Shaout by phone. He was at the grocery store when his neighbor called to tell him his house had been bombed.
He ran home, hands trembling, but when he arrived his family was nowhere in sight. He soon found out they were safe, at a neighbor's house. His wife and one of his sons had been injured, but everyone else was not physically harmed.
Along with his neighbors, al-Qaisi dug through the rubble to try to find people. When rescue crews arrived, they came to the conclusion that they could better access possible survivors in the rubble if they completely demolished al-Qaisi's home.
Al-Qaisi didn't hesitate in his decision.
"Demolish the house and quickly rescue the injured from under the rubble," al-Qaisi recalled saying.
Al-Qaisi described his house as unsuitable for human living with eight people living in two rooms. He said that the house was very cold in winter and often had rainwater from the alley flow inside, while in summer the house was too hot due to the lack of airflow.
Though al-Qaisi has struggled with finding work, he often makes a living as a street vendor, selling chocolate-filled breads.
By agreeing to let his home be demolished, he has gained the reputation of a hero in the streets of Rafah.
Ola Mousa is an artist and writer from Gaza.
Tags