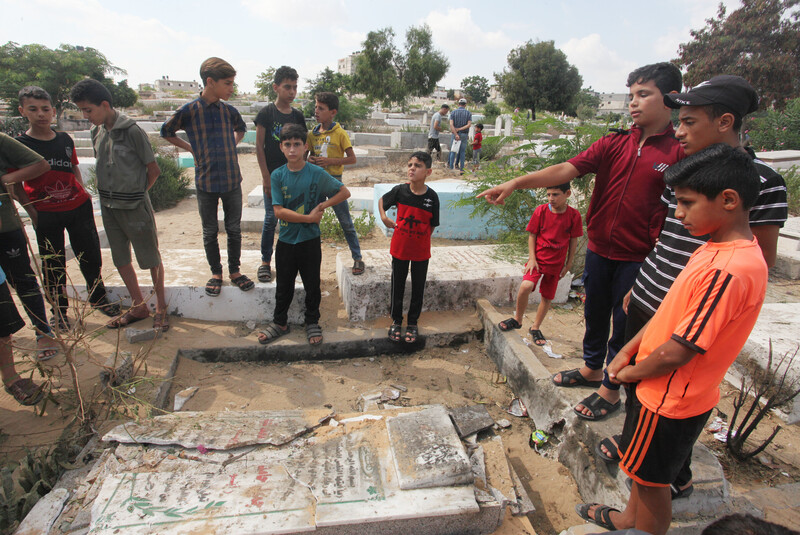 The Israeli military admitted it killed five Palestinian children in Gaza earlier this month after initially claiming the atrocity was caused by an Islamic Jihad rocket that fell short.
The explosion took place around 7 pm on 7 August at the al-Fallujah cemetery west of the Jabaliya refugee camp in northern Gaza.
The children killed in the Israeli attack were Jamil Najmuddin Jamil Najim, 3, Jamil Ihab Jamil Najim, 13, Nathmi Fayez Abdulhadi Abu Karsh, 15, Hamed Haidar Hamed Najim, 16, and 16-year-old Muhammad Salah Hamed Najim, according to an investigation by Defense for Children International-Palestine.
They were among the 17 children killed during Israel's three-day military attack on Gaza that left almost 50 people in Gaza dead and more than 360 injured.
Palestinian armed groups were firing rockets as Israeli military drones flew overhead, DCIP reported. The group was therefore unable to determine the cause of the explosion.
"Immediately after their deaths, several senior officers said the five were most likely killed by a misfired Islamic Jihad rocket," Tel Aviv newspaper Haaretz reported.
"Despite their off-the-record assessments, senior IDF officers never commented publicly about who was responsible," according to Haaretz.
But the newspaper said that several unnamed military sources have now confirmed that the 7 August explosion was caused by an Israeli airstrike.
Maximum propaganda value
Israeli military spokesperson Ran Kochav told media last week that 15 Palestinian civilians were killed by Islamic Jihad rockets that fell short during Israel's three-day bombardment of Gaza earlier this month, while 11 were killed in Israeli airstrikes.
The new revelations in Haaretz on Tuesday invalidate Kochav's claim that Islamic Jihad rockets killed more civilians than Israeli fire.
The sources of three other explosions during the Israeli assault on Gaza remain unclear.
They include an explosion in Jabaliya refugee camp on 6 August that killed seven Palestinians, among them four children: Hazim Muhammad Ali Salem, 9, Ahmad Walid Ahmad al-Farram, 16, and 11-year-old Ahmad Muhammad Ahmad al-Nairab and his brother 5-year-old Mumin Muhammad Ahmad al-Nairab.
The source of the explosion is still being investigated by DCIP. No other human rights group has determined its source.
The army publicly maintains that the 6 August explosion was caused by an Islamic Jihad rocket that fell short, and has used the claim for maximum propaganda value.
The Israeli army has a long history of lying in order to justify its often deliberate targeting of civilians,
In addition, the Israeli military's own propaganda videos show that it is capable of seeing civilians, including children, before it drops bombs on targeted areas.
Killing of children approved in advance
If Israel is to be believed, then those who carried out the 7 August airstrike on the cemetery would have known they were targeting children.
Indeed, former Israeli soldiers told Israel's +972 Magazine that the military's rules of engagement when dropping bombs on Palestinians allow for the premeditated killing of children.
"Conversations with Israelis who served in various units of the IDF Intelligence Corps over the last months reveal that during its military operations, in many cases the army knows ahead of an attack that it will be killing unarmed civilians," the publication reported last week. "The decision to kill them is not a mistake, but rather a calculated and conscious one."
"The former soldiers testified that they were told by their superiors that there is a certain number of 'non-combatants' — meaning families and children — that the army is allowed to kill during operational activities," +972 Magazine states. "As long as this amount is not exceeded, the killing can be approved in advance."
Despite these revelations – and Israel's apparent admission of responsibility for the 7 August killing of five children – there's no reason to expect anyone to be held accountable.
Shot in the head at home
Meanwhile, Israel has continued its killing spree in the occupied West Bank after its ceasefire with Islamic Jihad in Gaza took effect on 8 August.
On Monday, Israeli occupation forces shot a Palestinian man in the head inside his own home in the occupied East Jerusalem village of Kufr Aqab, part of which sits on the West Bank side of Israel's separation wall.
At approximately 3:30 am, an Israeli Border Police force surrounded Ibrahim Shaham's house as a large number of Israeli soldiers blew up the door and raided the home, according to the Palestinian Center for Human Rights.
Israeli soldiers fired live bullets at 21-year-old Muhammad Shaham, Ibrahim's son. After a bullet struck his head, he bled for 40 minutes while Israeli soldiers prevented his family from providing him with first aid.
Israeli authorities claimed that Muhammad Shaham had attempted to stab the home invaders with a knife when the Israeli soldiers shot him. No Israeli soldiers were injured during the incident, as in many previous cases in which an alleged Palestinian attacker was killed.
Ibrahim Shaham rejects Israel's version of events.
"When Israeli occupation forces saw Muhammad, they shot him at point-blank range and wounded him with a live bullet in his head," he told PCHR.
"My son did not have a fight with the soldiers, who raided our house, but they opened fire at him without a prior warning and even without asking who he was."
Ibrahim and his wife tried to assist Muhammad, but Israeli soldiers prevented them from getting close to him.
"They also assaulted me, my wife and our five sons; three of them are blind. We were then taken and detained in a nearby apartment," he added.
"Forty minutes later, I saw the soldiers leaving the house and carrying Muhammad, who was covered with a piece of cloth and bleeding from his head."
Tags