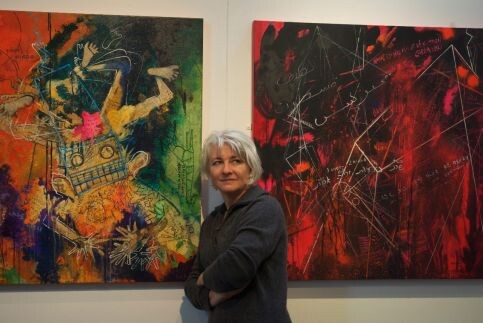 Scottish artist Jane Frere's exhibition In the Shadow of the Wall reminds us that the plight of the Palestinian people is not just confined to periods of overt conflict, but is an ongoing, everyday experience. Indeed, the paintings on display in the countryside of northeast Scotland through 30 November were inspired by what Jane Frere witnessed living behind Israel's wall in the occupied West Bank and in Palestinian refugee camps.

In an artist's statement, Frere said "my work is a response to having been there, to what I witnessed using all five senses" and this hints at the style and tone of the paintings. They bear witness to the atrocities inflicted on the Palestinian people, but they also question our own indifferent responses to this. Eyes feature prominently, often disembodied, in paintings such as "An eye for an eye" and "Scarlet tears." They are both the eyes of the world, bearing witness, and the eyes of the victims, watching us witnessing their suffering.

Of course, images of the suffering of the Palestinian people are already very familiar to us from news reports, but these paintings recontextualize them. They are as much about representations of this suffering, and the question of how to represent it, as they are about the suffering itself. They reference many of these representations, particularly those in the mainstream media. There are fragments of newspaper reports amongst the jumble of images in some of the paintings. Many also feature stenciled, graffiti-like words and phrases. The canvases are like an extension of the wall, which Frere says is "covered in graffiti, slogans, messages, insults and sometimes striking artistic images" extended to Britain, a country which has the influence to intervene in the situation and helped create it in the first place. These paintings incorporate the art of resistance, and attempt to achieve that status themselves. In that sense they are a call to action. Indeed, the text in one of the paintings reads "Keeping silent against violence is to be a part of it."

Silence is another prominent theme of the exhibition. Against the perceived silence of the international community over Israel's actions in the West Bank and Gaza, the paintings scream. Many feature screaming heads, with echoes of Francis Bacon's anguished figures, and the word "silence" reappears several times, while others are a great deal more abstract. "The color of confrontation" and "Seeking Confrontation" are composed of swirls and slashes of garish color, removing the human object and confronting our gaze directly. However, these paintings are not an existential howl of rage. They respond with anger to needless suffering, rather than with sadness. But they also rage against our indifference to suffering. The screaming heads attempt to wake us from our ennui. Yet, they are also aware that their rage is impotent, that it is a futile effort. As the title of one painting suggests — "what is the color of gassed tears?" — these paintings wrestle with the dilemma of how to represent suffering, injustice and inhumanity, and the impossibility of representing the feelings of those who have witnessed it. In that sense they are existential. It is noticeable that some of the heads have no eyes, or eyes that are detached from them. Witnessing such horror is not enough anymore. Shouting is required. This is done in a visual, rather than an aural, medium, as the screaming itself is thwarted and silent.

Nevertheless, their power to shock remains. A depiction of the Virgin Mary and Christ, a standard in Western art, is reconfigured as a nightmarish scene in "Check point birth: Madonna and Child." In its chaotic composition and in the form of its figures it also recalls a famous depiction of the effects of war on civilians, Picasso's "Guernica," with the horses that feature in that painting replaced here by snarling dogs. The subject is, of course, symbolic, but it also references an event which happens regularly, and which Frere has witnessed. She said "The reality of pregnant women being held at checkpoints (and at gunpoint), sometimes until they had to deliver their babies on the ground, was brought home to me. Many babies have died as a result, and some mothers too." As well as suffering, the other main theme of this exhibition is Israel's wall itself. It looms large in some of these paintings, such as "Beneath the Wall," as it must do in the consciousness of those who live behind it. You almost miss the dozens of tiny figures along the bottom, sheltering from the wall or raging against it.

A wood-lined barn in a beautiful countryside may seem an incongruous place for life behind the wall to be represented, but it is precisely this contrast that makes the exhibition so powerful and important. It is right that these paintings be exhibited in public, which is why it was disappointing to see that all but one of them was for sale, especially considering they are certainly not suitable for decorative purposes. Horrific and distressing images of the suffering of the Palestinian people are familiar to most of us, but this exhibition revives their horror and power to shock. It asks the questions the news reports don't ask, and it attempts to jolt us out of the inert stupor we enter when viewing such images, and I can only hope that it succeeds.

In the Shadow of the Wall continues at Lang Byre Gallery at the Woodend Barn Arts Centre, Banchory, AB31 5QA through 30 November 2010.

Stephen Fiddes is a postgraduate student of Visual Culture at the University of Aberdeen, and is active in the Stop the War Coalition. He can be contacted at s.j.fiddes.03 A T aberdeen D O T ac.uk.