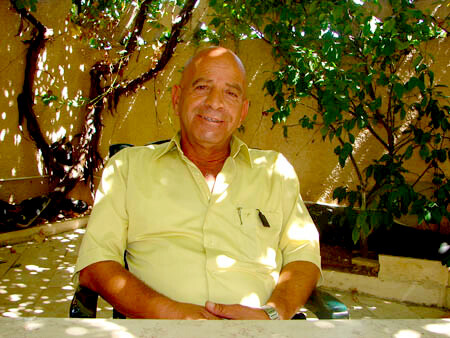 An investigation by The Electronic Intifada has found that a freelance journalist for the BBC once depicted a Palestinian known for collaboration with Israel as the founder of a peace group.
In a 2002 article about "a criminal gang" that supposedly "imposed a two-year reign of terror" Paul Martin interviewed Zohair Hamdan, describing him as the "founder of the Movement for Coexistence in Jerusalem" who was attacked by the gang ("Exiled Palestinian militants ran two-year reign of terror," The Washington Times, 13 May 2002).
But a recent Israeli court document describes Hamdan as once claiming to have had a position "in the ministry of defense." The Israeli media has described him as "a proud collaborator," reported that he and his family are legally armed and noted accusations in his hometown that he works for the Shabak (Israel's secret police, also known as Shin Bet).
The Washington Times article was published under the byline "Sayed Anwar," a person Martin and the paper were later forced to admit did not exist. Writing the article under an Arab name added a superficial veneer of authenticity.
As reported in previous Electronic Intifada investigations, Martin stands by both "Sayed Anwar" articles. He claims that, despite the undisclosed use of a pseudonym, the stories themselves were true.
Corroboration proved difficult due to the use of unattributed Palestinian sources, often using only first names. Zohair Hamdan (or Zuhair as the article transliterated his name) was one of only two verifiable Palestinian sources used in the two "Sayed Anwar" articles. The report described a Palestinian assassination attempt that did in fact target Hamdan on 5 October 2001 (although Martin's report incorrectly gives November that year as the date for the attempt).
The Electronic Intifada set out to find Hamdan in order to check the story. But the place Hamdan was eventually found — and the nature of who he really was — proved to be a story in itself.
Paul Martin and the BBC
Paul Martin is a freelance journalist who since around 2007 has worked with the BBC on reports about Palestine. The BBC's flagship Newsnight program once described him as their "correspondent," but at other times as an independent filmmaker.
One of Martin's documentaries from Gaza was featured on BBC World, and he says a follow-up will air on the channel soon. He has also appeared several times on BBC Radio 4's From Our Own Correspondent program. While not particularly high-profile, Martin has good connections in the UK's mainstream media, and his work has also featured in The Times, The Evening Standard and on Al Jazeera English.
BBC editors have stood by Martin, but have shied away from public comment since The Electronic Intifada's initial exposé.
The search for Zohair Hamdan
The 5 October 2001 attempt on Hamdan's life (allegedly by armed members of Fatah in Bethlehem) led Israel to attack Palestinian fighters from the Abayit family soon after. According to The Jerusalem Post, some in his southeast Jerusalem home district of Sur Bahir "believe [Israel's attack] was revenge for the assassination attempt on Hamdan" ("A unique voice from Sur Bahir," 25 October 2008).
The public records of Israeli human rights group B'Tselem show that three members of the Abayit family were assassinated by Israeli forces in the Bethlehem region on 18 October, nearly two weeks after the attempted hit on Hamdan. The cause of death seems to have been a car bomb: an "explosion … while driving in a jeep" (see Palestinians killed by Israeli security forces in the Occupied Territories, 29.9.2000 - 26.12.2008, B'Tselem).
In Martin's "Sayed Anwar" report the following spring, Hamdan mentioned the revenge killings. Martin wrote that: "Five of the seven assailants have since died, at least one of them fatally shot by Israel during the recent church siege, he [Hamdan] said."
And yet Hamdan himself, as well as members of his family, carry Israeli-licenced firearms — something unheard of for most Palestinians.
In a 2008 interview with Israeli daily Maariv's online edition NRG, the reporter described Hamdan's Sur Bahir home as "surrounded by a fortress wall and security cameras. When I visited his home a few years ago, a guard stood at the entrance, armed with a gun."
Hamdan told the reporter that the man with the gun was one of his sons: "My house has always been like this, I haven't brought in anything new. There's no guard, the people you saw are my children. Do I need guarding? I've got 18 children" ("Honor to the Sector?" 29 September 2008 [Hebrew]).
It's highly concerning that a correspondent for the BBC once described a man whose home has "always" been guarded by armed men as the founder of a movement for "coexistence." Such discoveries call into question the corporate media's coverage of Palestine, and in particular the BBC's continued reliance on Martin.
The usual suspects
Hamdan also seems to be an occasional source for The Jerusalem Post's "Palestinian affairs" correspondent Khaled Abu Toameh, quoting him as "mukhtar" (local leader) of Sur Bahir (e.g. "East J'lem residents have mixed feelings about former mayor," 1 March 2007).
In a 2002 story about the murder of a young Palestinian girl, Abu Toameh quotes Hamdan speaking in glowing terms about the Shabak: "The police did a great job … [but] If they can't achieve results, they should hand the case over to the Shin Bet, which, I'm confident, has more experience in solving murders" ("Murder, they ignored," The Jerusalem Post, 20 September 2002).
Abu Toameh frequently writes stories for the right-wing Israeli newspaper about Palestinian and Arab society, comparing them unfavorably to Israeli society. In the murder story, Abu Toameh quotes an Israeli policeman who claimed that "the basic problem lies with the attitude of Arab society to the value of life … this society, which is violent by nature."
Abu Toameh also appeared in the rough cut of Martin's next film for BBC World, Friends Under Fire (seen by The Electronic Intifada at a July public screening). Martin's narration describes Abu Toameh as "a well known Palestinian journalist who's been an expert on Hamas for two decades." The two then briefly discuss a 2010 arrest of Martin by Hamas in Gaza.
In recent years, Abu Toameh has traveled to the US to speak at universities on behalf of Israeli propaganda groups such as StandWithUs and the Israel on Campus Coalition ("Khaled Abu Toameh - Upcoming California StandWithUs Tour," StandWithUs website, 16 March 2007; "Hudson New York: On Campus: The Pro-Palestinian's Real Agenda," Israel on Campus Coalition, 25 March 2009, captured on the Internet Archive).
An almost entirely negative view of the Palestinian people is something Abu Toameh and Hamdan seem to share. "In my opinion the Palestinians have no right to Jerusalem," Hamdan once told another journalist from The Jerusalem Post ("Something stinks," 31 December 2004).
Hamdan's agenda in Jerusalem has all too often reflected the Israeli propaganda line. On one occasion he told Abu Toameh: "An Israeli withdrawal [from East Jerusalem] would bring all the gunmen of Fatah, Hamas, Islamic Jihad and Popular Front to Damascus Gate, Mount Scopus and Mount of Olives. They will turn Jerusalem into Gaza" ("Jerusalem Arabs oppose division of city," 22 December 2002).
In 2008 Hamdan announced his intention to run for mayor under the slogan "One Jerusalem for Jerusalemites." This attracted some headlines in Israel, as he was the first Arab to run for mayor under Israeli occupation.
But his paperwork was reportedly not filed and his bid was ultimately dropped. The Jerusalem Post reported that he eventually threw his weight behind Nir Barkat's ultimately successful run while "aiming for the position of Arab affairs advisor" to the mayor ("East Jerusalem mukhtar to endorse Nir Barkat," 19 October 2008; "A unique voice from Sur Bahir").
In 2003, Abu Toameh had reported Hamdan announcing his support for the right-wing Likud party's mayoral candidate Yigal Amedi ("The forgotten constituency," 30 May 2003).
While Hamdan has no problem associating himself with some of the most right-wing Israeli political movements in Jerusalem, the vast majority of Palestinians in occupied Jerusalem boycott Israeli elections. Palestinians do not recognize the Israeli annexation of the city, and their participation in Israeli municipal elections there is frequently reported in single-digit percentages.
This Palestinian refusal to accept occupation hasn't stopped Israel and its agents from trying to convince them otherwise.
Suspicious looks in Sur Bahir
Journalist and The Electronic Intifada contributor Maath Musleh decided to visit Sur Bahir, hoping to speak to Hamdan, and see if Martin's story about the assassination attempt could be corroborated.
Asking around for the location of Hamdan's home caused many locals to respond with suspicious looks, but he soon found it. Nobody was in, but the next day Musleh tried again and talked to a man who said he was Hamdan's son. There was no sign of the security measures described in the 2008 NRG report.
Hamdan had apparently fallen out with the Israeli authorities as of late. He has been in prison for a year and a half, the son said, promising to ask his father to call for an interview from jail.
Less than 20 minutes after the son's promise, Hamdan phoned Musleh from a Hasharon region landline (there is a Hasharon Prison near the Israeli city of Kfar Saba).
Hamdan confirmed he had spoken to Paul Martin in 2002, but (unsurprisingly) had no idea who "Sayed Anwar" was. He said the 2001 assassination attempt had been a response to a request he made to then Israeli Prime Minister Ariel Sharon to expel then Palestinian Authority President Yasser Arafat to Tunisia (Sharon apparently refused).
He confirmed a quotation attributed to him in Martin's "Sayed Anwar" article concerning the two surviving alleged would-be assassins (who were later deported from Palestine): "wherever they end up, someone will get to them and make them pay for all the awful things they've done."
So far, it seems, that threat has not been followed through on. But the two surviving fighters Hamdan seemed to be accusing do reportedly live in fear of being assassinated by Israel ("The Palestinian Terrorist and Me," The New York Times magazine, 17 June 2009). They were expelled from Palestine after the 2002 Israeli siege of the Church of the Nativity in Bethlehem.
One of the two could not be reached by The Electronic Intifada for comment. Ibrahim Abayit, was deported to Spain in a March 2002 deal between Israel and the European Union. Abayit is the second potentially verifiable source in Martin's "Sayed Anwar" story.
To explain his prison sentence, Hamdan told Musleh he had been set up by the Israelis on a bribery charge because of his run for mayor. He said he expected to be out of jail in less than a month.
Musleh had also asked the son about the "Movement for Coexistence" associated with Hamdan in the article by Paul Martin writing as Sayed Anwar. Is there a headquarters? Is anyone in charge of it now that Hamdan is in jail? The son was evasive, only suggesting looking on the internet for the Forum for Jewish-Arab Coexistence in Jerusalem. Hamdan himself claimed to Musleh to have set the movement up in 2002 and that he was its president.
Google searches for that title or for "Movement For Coexistence in Jerusalem" in English or in Arabic do not turn up any promising results. The closest is an Israeli group based in Jaffa called Sadaka Reut whose old website described it as a "Jewish-Arab Youth Movement for Coexistence" (and does not mention Hamdan).
No group by any of those names appears in the 2010, 2011 or 2012 editions of the PASSIA Diary (the volume contains an extensive directory of Palestinian organizations, regularly updated by the Palestinian Academic Society for the Study of International Affairs in Jerusalem).
The group therefore seems to be a sort of shell or phantom with no real organizational existence.
A falling out
Hamdan went to jail in 2011. According to a Jerusalem district court document the charges against him were: receiving goods deceitfully, issuing a bad check, assault, threats, harassing a witness, attacking a policeman, interfering with a policeman on duty, insulting a public servant and intentional destruction of property (Criminal Appeal 38691-06-11 Hamdan (prisoner) vs. State of Israel, 21 September 2011 [Hebrew]. Full copy on the website of lawyer Ronen Freidman, partial copy available free on the Psak Din legal portal).
In other words, he was convicted as a conman, thug and fraudster. The Jerusalem Post has also reported that Hamdan was born in Jordan and quoted him making claims about other friends in high places: "I maintain close ties with the Jordanian court — first with King Hussein and now with King Abdullah" ("A unique voice from Sur Bahir").
The crucial part of the court document concerns the case's unnamed complainant, with whom Hamdan is said to have had a "romantic relationship." The woman's daughter supported her version of events, which included Hamdan's promise to purchase a luxury vehicle at a low price due to what he claimed was a position "in the ministry of defense" (Criminal Appeal 38691-06-11).
So there you have Zohair Hamdan, a Palestinian from East Jerusalem boasting to a girlfriend that he works for the Israeli military or its agents. A supposed peace activist relied on as a source by the corporate media turns out to be not at all what he appeared.
Israeli press openly calls Hamdan a collaborator
There are further reasons to take Hamdan at his word in this case. Israeli press reports often call him a collaborator, especially in Hebrew.
An October 2001 Ynet report on the assassination attempt against Hamdan said: "The Jerusalem police suspects that Palestinians attempted to assassinate him with a background of suspected collaboration with Israel … In the past Hamdan, who held many meetings with Israeli politicians, requested that Israeli authorities grant the Palestinian residents of East Jerusalem Israeli citizenship …" ("The mukhtar of the village of Zur Baher [Sur Bahir] was shot and wounded medium-serious wounds; the police: this is an attempt to assassinate him," Ynet, 5 October 2001 [Hebrew]).
A July 2010 article on the Nana 10 website (partly owned by the Israeli Channel 10) describes Hamdan calling for Muhammed Abu Tir, a member of the Palestinian Legislative Council for the Hamas bloc, and a colleague to be expelled from Jerusalem after their release from jail: "Muhammad Abu Tir and Ahmad Attoun will get out of here. I'm going to bring down Muhammad Abu Tir, I'm going to bring down both of them … if the government doesn't decide what the end will be, I'll bring down both of them, I say it openly" ("An enemy from within: who's afraid of senior Hamas figure Mahmoud Abu Tir?" Nana 10, 2 July 2010 [Hebrew]).
The Nana 10 article also describes Hamdan as "a proud collaborator with Israel."
The NRG interview with Hamdan that mentioned his armed guard said that residents of Sur Bahir define Hamdan as "a Shabak collaborator. Activists of the Committee Against Home Demolitions are also convinced that he sold-out on his neighbors. They support their assertions by pointing out that Hamdan carries a licensed weapon."
Hamdan superficially denies the accusation: "I was never a collaborator. They can say it." But then, in answer to the very next question, he says he has links to the Shabak: "I have. I have ties with the entire state [of Israel] … I've had several positions."
So it would be fair to say that Hamdan is far from shy about advertising his links with armed organs of the Israeli state. Which leads to the question of what he really told Paul Martin.
What did they know?
Martin did not reply to an email asking who had first put him touch with Hamdan. So The Electronic Intifada called, but Martin refused to talk on the phone. He said, "You're welcome to send me an email," then immediately hung up.
Martin did not reply to an email asking why his "Sayed Anwar" article had not mentioned Hamdan was a collaborator, or even the accusation.
Did Paul Martin know he was talking to an Israeli asset, and deliberately mislead his readers? He certainly could have found it out from the Israeli press or from talking to the wider Palestinian community.
In the most generous interpretation, Martin seems to have been duped by Hamdan into portraying him as the leader of a peace group. He failed to check his background, taking Hamdan's word alone on the existence of his supposed "movement."
It is difficult to avoid the conclusion that Martin didn't want to look any further.
This case throws the spotlight on the questionable sources of the BBC and The Washington Times when it comes to Palestine. Such cases of deceit are worse than the BBC's common reliance on official Israeli spokespersons. At least you know who you are dealing with in those cases.
The "Sayed Anwar" report fed into the narrative of the Palestinians being "against peace," trying to kill one of their own merely for talking to Israelis. But in reality, Hamdan was some sort of Israeli agent, not an innocent party, and was targeted by a Palestinian armed group as such. Without excusing the assassination attempt against him, Martin could have offered this more realistic explanation as to why it occurred.
Mainstream media organizations have not learned from such dubious journalistic episodes, and continue to represent Palestinian voices in a token fashion, at best. The question now is, with such journalists continuing to work for the BBC, how can we trust that their interviewees really are who they say they are?
Maath Musleh in Jerusalem contributed reporting and research. Dena Shunra contributed research and translation from Hebrew.
Asa Winstanley is an investigative journalist from London who writes about Palestine.
Tags