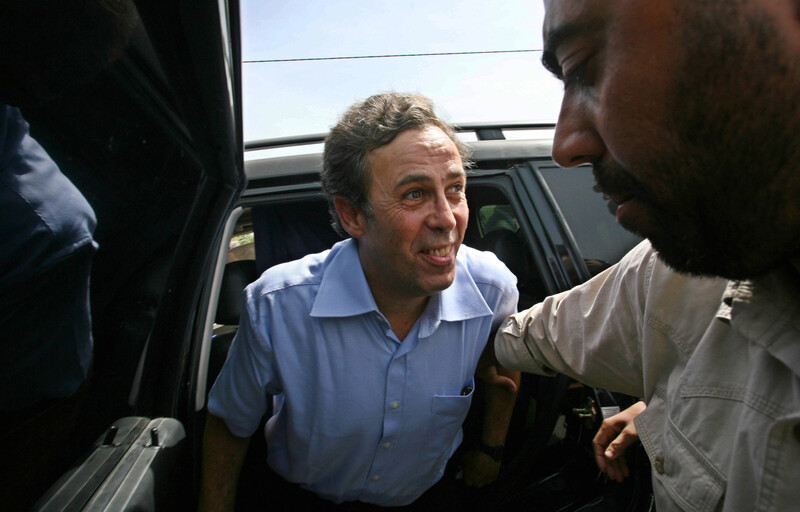 A journalist who produced a film defending Israel's war crimes in Gaza for the BBC is the same man who wrote hoax stories about Palestine and Lebanon a decade ago, The Electronic Intifada has learned.
In 2002, South African-British freelance journalist Paul Martin posed as a Palestinian journalist writing from Bethlehem under the fake name Sayed Anwar. But Martin later had to admit there was no such person. Martin also sometimes uses the name Paul Cainer.
In stories written for right-wing broadsheet The Washington Times in 2002, Martin posed as a native informant reporting a "reign of terror" against Palestinian Christians by "hard-core Palestinian militants" who he claimed had "seized the Church of the Nativity" ("Exiled Palestinian militants ran two-year reign of terror," 13 May 2002; "Arafat Aided group that besiged church," 23 May 2002).
A few months later Martin was found by the Canadian Broadcasting Corporation to have attributed a fabricated quotation to Hizballah leader Hassan Nasrallah. Writing as Paul Martin on the front page of The Washington Times, he quoted Nasrallah as saying: "I encourage Palestinians to take suicide bombings worldwide. Don't be shy about it" ("Hezbollah calls for global attacks," 4 December 2002).
But CBC's Neil Macdonald scoured the TV archives in Lebanon and found Nasrallah had never said any such thing. "The story originated not in the Middle East but in London, with this man [Paul Martin]" Macdonald concluded at the time. Martin publicly threatened to sue Macdonald and CBC but, unsurprisingly, he never did so.
Fabrications swept under the rug
Martin has re-emerged in recent years as a freelance filmmaker, his past swept under the rug. His documentary reports have appeared several times on the BBC's flagship Newsnight program since 2008, mostly reporting on Palestinian fighters in Gaza. Newsnight described him as "our correspondent" on at least one occasion.
In January 2010, Newsnight broadcast one of Martin's films featuring British Colonel Tim Collins (who gave a much-reported speech to the Royal Irish Regiment in Kuwait on the eve of the 2003 invasion of Iraq, in which he urged British troops to be "ferocious in battle" and "show them no pity" to followers of Saddam Hussein). The point of the segment was essentially to cast doubt on the Goldstone report, the UN-sponsored investigation into Israel's attack on Gaza in 2008 and 2009, one year after the ceasefire that ended that bloody assault. Collins visited a mosque that had been bombed-out by Israel and claimed it had been used to store arms.
In an interview with the Middle East Monitor, Desmond Travers, the retired Irish army colonel who co-authored the Goldstone report, accused Collins of "serving the propaganda interests of one belligerent over another" and described Collins' mosque accusation as "drivel" ("Gaza is the only gulag in the Western hemisphere," 2 February 2010).
The segment can still be viewed online. The BBC Newsnight website notes the film was made by ConflictZones (one of Martin's dissolved companies) and links to its site (see "Celebrated Iraq war veteran's view of the Gaza conflict," 19 January 2010).
In 2010, one of Martin's documentaries, Rocket Man Under Fire, was shown several times on BBC World, the corporation's international satellite news channel. An earlier, related film was also shown on Al Jazeera English's People and Power strand (and is still available to watch on Al Jazeera English's YouTube channel under the title Rocket Men).
Martin writes on a freelance basis in for London's Evening Standard, which recently ran reports by him datelined Libya and Egypt.
BBC stands by Martin
BBC editors contacted by The Electronic Intifada have stood by Martin. Newsnight editor Peter Rippon said: "We do not have any concerns regarding the work he has done for us."
BBC World commissioning editor Mary Wilkinson confirmed that the channel was in negotiations to buy his next film: "we do [work with him] from time to time. We last ran a film of his in 2010 … I am talking to him about [another film]." She did not respond to an offer to comment on Martin's past fabrications.
But Martin's freelance relationship with the BBC does not extend to all parts of the vast public corporation's news operation.
The BBC's Middle East editor Jeremy Bowen told The Electronic Intifada: "I've never worked with Paul Martin and never, as far as I remember, even met him. I know he's done some work for Newsnight in the past. They do their own commissioning. As far as I know Mr. Martin has never worked for BBC News [as opposed to BBC World]."
Gaza arrest
Martin's name hit headlines in 2010 when he was arrested and held for a month by Hamas authorities in the Gaza Strip. Hamas spokespeople accused him of being "a spy for Israel" and being in contact with Palestinians accused of collaboration with Israel. But they ultimately released him without charge, deporting him from Gaza. A senior Hamas figure Mahmoud Zahhar — foreign minister in Gaza's internal administration — said Martin would face trial if he ever returned to Gaza.
Ma'an, the Palestinian news agency, reported at the time that Martin was released at the request of South African and British diplomats ("British journalist released from Gaza jail," 11 March 2010).
Arriving at the Erez crossing between Gaza and Israel just after his release, a British reporter asked Martin to respond to the accusation of spying: "ridiculous, ridiculous," he said ("British 'Spy' Reporter Released By Hamas," Sky News, 11 March 2010).
Martin had been detained since 14 February that year and interrogated by Hamas intelligence over interviews he had been conducting with a Palestinian accused of collaborating with Israel. This seems to have been Muhammed Abu Mualik, the subject of Rocket Man Under Fire which would be shown on BBC World later in 2010. The story of Martin's detention was also told in that film.
Paul Martin responds
At the Phoenix Cinema in East Finchley, London, on Sunday 8 July, Martin held a public screening of a rough cut for the forthcoming film he said was set to run on BBC World. Friends Under Fire is a follow-up to Rocket Man Under Fire, in which Martin meets with Abu Mualik's Israeli friend "Dan."
During the question-and-answer session that followed the screening, this reporter cited Martin's 2002 fabrications, and asked why his new film should be trusted.
In front of the audience, Martin stood by the fabricated Nasrallah quote and promised to email its source to The Electronic Intifada. Weeks later, Martin has failed to make good on this promise, despite follow-up requests over phone and email.
Martin admitted to writing under the name "Sayed Anwar" but claimed an original disclaimer clarifying the use of a pseudonym was mistakenly left out because of a Washington Times editing mistake: "I did use a pseudonym … half the story wasn't written by me, it was written by a Palestinian … [a disclaimer] was put at the bottom on the story but the sub-editor took off the last paragraph and that statement."
Martin did not directly respond to a question asking why he never followed through on his public threat to sue Neil Macdonald and CBC, claiming only that he had offered to appear on the channel.
After the question and answer session, Martin approached this reporter and insisted he had only written a single article under the pseudonym: "there was only one [article] where that name was used."
However, a database search of The Washington Times back issues proved that the pseudonym had been used at least twice, and in both articles there was no disclaimer. The two Washington Times articles under that byline are also preserved on the Internet Archive (the articles are still on the Washington Times website, but with no author named).
Martin also said: "I'd be delighted to talk to The [Electronic] Intifada. By the way I think it's an excellent website … I try to be balanced."
So The Electronic Intifada later called Martin with a list of follow-up questions. He repeated the false claim that "Sayed Anwar" was only ever used once, and said he would email the source of the quote, but refused to answer further questions over the phone, hanging up when asked why he also used the name Paul Cainer.
The Electronic Intifada emailed Martin the questions, which included: why did you not follow through on your threat to sue Neil Macdonald? Why do you sometimes use the name Cainer? Martin did not respond to the questions, but did ask to see a copy of this reporter's draft article "so I am in a position to respond" (his request was denied).
Martin's background
In 2002, the Toronto Star quoted CBC's Macdonald saying that Martin eventually admitted that his source for the fake Hizballah quote was Walid Phares ("Curious silence greets discredited Hezbollah tale," 13 December 2002).
A former top-ranking political leader of the far-right sectarian Lebanese Forces militia, Phares has reinvented himself in recent years as a "terrorism expert." Last year he was controversially given a top job as part of US presidential candidate Mitt Romney's team of Middle East policy advisors.
The Canadian press caught onto the story in 2002 because the fabricated quote appeared at a time when the Canadian government was considering a ban on Hizballah's political-social wing. The quote appeared to be decisive in the ban going through, although the government denied that was the case after the CBC exposed the quote to be false.
A source who was in a class with Martin at the University of Cape Town in the 1970s said he had been known as Paul Cainer in South Africa.
Speaking on condition of anonymity, the source recalled that The Cape Times in June 1972 had run a photograph of "Paul Cainer" as a young student in a wheelchair after being beaten up by police while protesting against apartheid. The Electronic Intifada found a copy of the photograph in the British Library Newspaper Archive in London.
After Martin was arrested in 2010, Agence France-Presse reported that "Israel's Government Press Office, which accredits foreign journalists wishing to work in Israel and the Palestinian territories, said it had issued a press card for a Cainer Paul Martin, who also has US and South African passports" ("Hamas faces calls to release British reporter," 15 February 2010).
A LinkedIn profile for "Paul Cainer" shows him to be the chief executive of World News and Features, the name of Martin's main production company (although it was dissolved as a limited company in 2009).
What appears to be Martin's Facebook profile has one "friend" listed as "Paul Cainer." Both profiles appear to be rarely used, with only small handfuls of contacts. "Paul Cainer" is "friends" with the British ambassador to Israel Matthew Gould, the Israeli settler Itamar Marcus and Alan Mendoza, co-founder of the neoconservative think tank the Henry Jackson Society.
Editors note: this article originally quoted Colonel Tim Collins' speech, stating that he urged British forces deplying to Iraq to "show no mercy." The article has been corrected to reflect that he said "show them no pity."
Tim Horgan contributed to the research for this article.
Asa Winstanley is an investigative journalist who has lived and worked in occupied Palestine. His website is www.winstanleys.org.
Tags