I was surfing the web late at night a couple months ago when a number of Apache helicopters began to hover heavily in the sky. The sound of an explosion was soon heard. Since I live across from al-Shifa hospital — the biggest hospital in Gaza — I could see ambulances speeding away to evacuate potential casualties.

I was extremely irritated by the air strike because the next day, Silvia, an activist with the International Solidarity Movement (ISM) and I were supposed to go to Khuzaa, a small village to the south near the boundary with Israel. We are part of The Palestinian Students' Campaign for the Academic Boycott of Israel and the Israeli Apartheid Week organizing committee. Israeli Apartheid Week takes place in March each year to expose Israel's apartheid system. We were set to record stories from the villagers of Khuzaa on video as a call for broad-based boycotts, divestment and sanctions against apartheid Israel.

This call is to show how money which supports Israeli-made products builds the financial base from which Israel invests in military items to commit crimes against the Palestinians. People are working against this economic structure by boycotting Israeli products and corporations that profit from the occupation.

We took a microbus to Khan Younis, a small city, then a taxi to Khuzaa where we met Yamen, our guide, and his sister. As the four of us entered Khuzaa, our eyes fell upon its wide green acres and its rural buildings.

However, danger in Khuzaa does not lurk far away. Just 350 meters from the boundary with Israel are the Israeli military sniper watchtowers from which live fire is frequently directed at those who come near the boundary.

And because I was aiming my camera at their towers, I was risking being exposed to live ammunition that could be fired at me at any moment.

Yamen suggested that we visit the al-Najjar family, a family that has so many stories to tell and whose house lies really close to the boundary.

The al-Najjars live in a small stone house next to a green field with a front door riddled with bullet-sized holes. From here too, one could see the Israeli watchtower.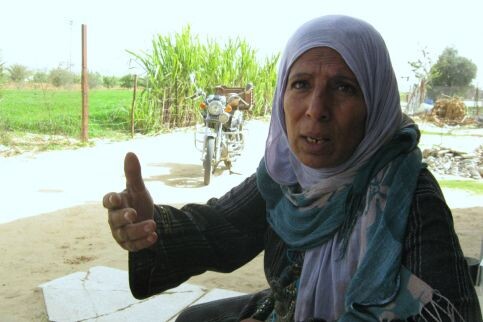 Umm Anas greeted us kindly while other women brought plastic chairs to the balcony. She sat on the stairs and two others sat on the threshold stoop. I asked Umm Anas to come and sit in the chair instead of me but she refused, saying she knows that we in Gaza City always sit in chairs and that she is a farmer and farmers always sit on the ground.

We explained that we were there to document the story of their village and convey their messages to the world.

Wafaa, a member of the family, appeared a while later. She told us her story. She is 16 years old and was shot in her knee two years ago just after Israel's 22-day attacks on Gaza in the winter of 2008-09. "I was going to school when they shot me. I was 14 years old. I know I can walk but I wish I could run like I used to before," she said.

Silvia videotaped. I asked Wafaa if she wanted to continue her studies after high school. She said yes, and that she wants to become an artist. The school Wafaa was walking to when she was shot is the only one in the village that remained standing after the attacks.

Tea is a ritual in Khuzaa. Whenever you knock on a door they won't let you out unless you drink a cup of tea. We had our tea with the family. It was very sweet, in contrast to the sour stories that infiltrated each sip. "They [the Israeli military] bulldozed 25 [square meters] that belong to us," Umm Anas said, with pain in her eyes. "They turned our land into a road for their tanks."

We spent an hour in their house and thanked them for their generous hospitality, promising to visit again. It was a strong noon sun when we continued on our walk, and on the road we met a man who was picking tomatoes off the vine. "Come take pictures of me and give me money," the man shouted.

"I have only 20 shekels in my bag," I replied.

"Twenty shekels now but at the end of the month you'll get $1,000," the man said.

"We are just volunteers; we don't get paid," I answered.

The man laughed and so did we. But laughter is at a premium in this village. We were soon videotaping a man whose house had been completely destroyed during the attacks and who still lives with his wife among the rubble.

Villagers make good use of rubble, however. Two cement walls made from the rubble of the Israeli settlements evacuated in 2005 are positioned strategically as a barrier to Israeli fire.

When I asked to photograph an old woman talking on her cell phone, she laughed loudly as if I was telling a joke. "She wants to photograph me," she said to the person on the other end of the line.

That woman, with her traditional Palestinian embroidered dress, was the last person we met in the village of green fields. With her laughter still ringing in my ears, Wafaa's hope to become an artist and the sense of humor of the man collecting tomatoes from the vines, I am reminded once again of Palestinian sumoud, steadfastness. We will continue to fight for our rights until victory is ours.

Rana Baker is a business administration student who lives in Gaza City and has a weekly program. Baker is also an activist with the Palestinian Students' Campaign for the Academic Boycott of Israel (PSCABI) and is a member of the Israeli Apartheid Week Organizing Committee. Her blog is at http://ranabaker.wordpress.com and she can be followed on Twitter: @ranagaza.
Tags