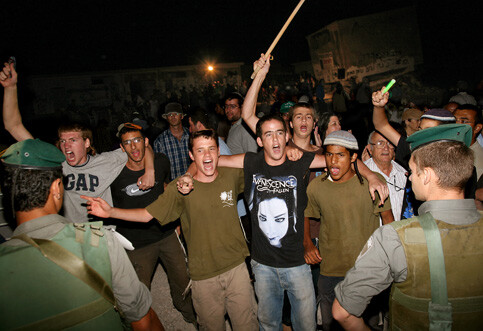 RAMALLAH

, West Bank (

IPS

) - Only six percent of probes into offenses allegedly committed by Israeli soldiers and settlers against Palestinians in the occupied West Bank yield indictments, a new report says.

The report "Justice for All" released last week by the Israeli human rights group Yesh Din examined 205 cases of alleged assault by Israeli settlers that were reported over the years. Only in 13 cases were indictments filed, while 163 cases were closed.

"Conviction rates of Israeli settlers and soldiers involved in violence against Palestinians are around six percent of cases opened due to what we consider unprofessional investigations," Yesh Din's research director Lior Yavne told IPS.

"In many instances the paperwork is either 'lost' or the police or military personnel involved in the investigations claim they are 'unable to identify the perpetrator,'" said Yavne.

The report followed an Israeli investigation into the death of a young Palestinian boy who was shot dead by Israeli troops during a protest against the building of Israel's wall on Palestinian land in the village of Nilin near Ramallah in the West Bank.

The separation wall is being built by the Israelis to separate Israel from the West Bank.

A week later a 17-year-old Palestinian youth from the same village died after Israeli soldiers shot him in the head at point blank range with two rubber coated steel bullets as he attended the funeral of the younger boy.

These events followed an earlier report released in mid-July by the UN Office for the Coordination of Humanitarian Affairs (OCHA) stating that two Palestinian civilians were killed, and 29 injured by the Israeli army in the West Bank during the first week of July alone.

Human rights organization B'Tselem further accused the Israeli authorities of being lenient in bringing Israeli perpetrators to justice while being extremely vigilant in bringing Palestinian perpetrators of violence against Israelis to account for their actions.

Several weeks ago several hundred settlers in the northern West Bank rioted, attacked Palestinians, destroyed their property and set agricultural crops on fire. This followed an attempt by the Israeli security forces to remove some structures from an illegal outpost.

As Israeli security forces tried to establish law and order, a policeman was assaulted, a soldier had his gun snatched from him, while another soldier had a knife pointed at his throat by an irate settler.

Following the escalating events, one settler stated that for every attempt to evacuate an outpost "we will exact a price throughout the area. The tiniest evacuation will result in incidents all day long, so it will be clear we don't give up easily."

Hebron, 30 kilometers south of Jerusalem, is home to some of the most hardcore and fundamentalist Israeli settlers as a US peace activist found out the hard way last week.

More than 700 settlers, protected by more than a thousand Israeli soldiers, live amongst a Palestinian population of almost 170,000.

The nearby Kiryat Arba settlement was home to Baruch Goldstein, a US immigrant doctor from Brooklyn in New York, who shot 29 Palestinians dead as they prayed in the famous Ibrahimi Mosque in 1994 during the holy month of Ramadan. Goldstein was beaten to death by survivors.

The mosque is said to be the burial place of Old Testament prophet Abraham and his family, and so is holy to both Jews and Arabs.

Following the massacre, settlers built a shrine to Goldstein, and he is revered as a hero by many settlers who pay regular homage at his grave.

Due to the close proximity of the two communities in Hebron, unlike other West Bank settlements, frequent clashes have broken out over the years. Following more serious confrontations in the past the Israeli authorities placed Palestinians under curfew, sometimes for days on end, while armed settlers were free to roam the streets at will.

The Israeli authorities also placed wire mesh above the Old City's narrow alleyways so that settlers living in the upper apartments could not throw garbage, urine-filled bottles, chlorine, stones and other debris at Palestinian pedestrians below.

Joel Gullege, a member of the Christian Peacemaking Team (CPT) based in the Old City of Hebron, was taken to hospital a couple of weeks ago where he received stitches after he was stoned and attacked by Israeli settlers.

The attack took place near the village of al-Tuwani, 20 kilometers south of Hebron, in the southern West Bank, as he tried to escort Palestinian children to a school summer camp. The settlers also stole his video camera as he tried to film the attack.

CPT established a daily school escort for Palestinian children due to the frequency of settler attacks. This followed a 2004 Knesset, or Israeli parliament, children's committee ruling which ordered the army to establish daily military escorts for Palestinian children due to the violence they faced.

According to the CPT the military escorts are unreliable and the soldiers themselves are sometimes abusive towards the children.

B'Tselem states there are approximately 420,000 settlers living in 120 settlements, illegal under international law.

All rights reserved, IPS - Inter Press Service (2008). Total or partial publication, retransmission or sale forbidden.