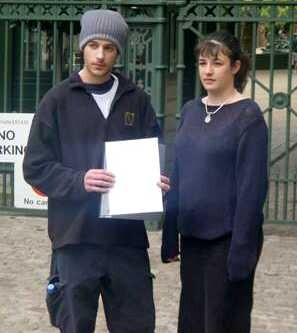 On Friday 10th October - six months after their brother Tom was shot by an
IDF
soldier, Billy
&
Sophie Hurndall presented a letter of protest at the Israeli Embassy in London. The letter addressed to the Israeli Ambassador - Zvi Schtauber, was first opened and checked by security personnel in the presence of the siblings before being received by a waiting official on behalf of the Ambassador.
Billy and Sophie felt it important for the Ambassador to understand the anguish and deep disappointment felt by their family - now six full months after the incident, at the lack of response to the request for a fully transparent inquiry into the shooting.
It has been nearly three months since the results of the family's own investigation were presented to the Judge Advocate General in Israel. This investigation which included the testimonies of thirteen independent eyewitnesses along with a substantial body of medical and photographic evidence was dramatically at odds with the findings of a field report provided by the IDF through the British Embassy in Tel Aviv.
The siblings expressed their dismay that despite the usual diplomatic promises given to them through the British Foreign Office in London, they had to date received no notification that an inquiry would be held into Tom's shooting.
Brother and Sister both echoed their strong held belief that Israel had not just a moral but a legal obligation under international law to ensure that a fully transparent inquiry is conducted.
They stated that they as a family have every right to feel aggrieved at the way they have been treated by the Israeli Authorities and they asked the Ambassador to press the relevant authorities in Israel to ensure that there is no further delay in conducting the inquiry.
The family were forced to appeal to the public in May to assist them with the cost of repatriating Tom from Israel to London and despite subsequent assurances that some of these costs would be compensated on a 'Humanitarian basis' by the IDF, no such compensation has been received to date.
Both Billy and Sophie Hurndall talked of their ongoing commitment to ensuring that Justice is achieved for their brother and of their intention not to rest until those that are responsible for his shooting are prosecuted.
Related Links: