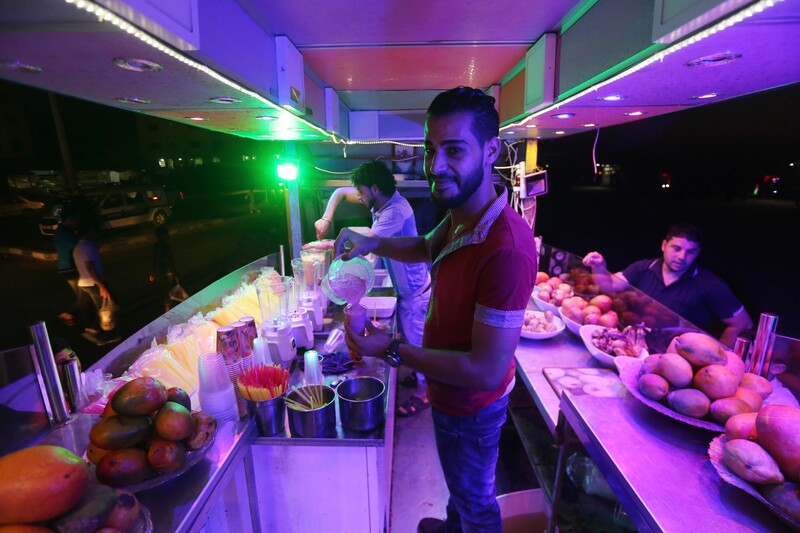 Khalid Abu Hasira takes his family to Gaza City's beach each week.
"Coming to the beach on Fridays is a tradition for every ordinary family," the 36-year-old taxi driver said.
For the two million Palestinians living in the besieged enclave, the sea is their only refuge.
"No electricity, no clean water, and a very hot summer. We have no choice but to come here," Abu Hasira said.
But even enjoyment of the sea, Gaza's crown jewel, hasn't been spared the misery inflicted on every aspect of life here.
Because of chronic power cuts, 100,000 cubic meters of raw sewage are pumped into the sea each day, leaving the water polluted and the beaches health hazards.
Middle and upper class families now prefer going to inland vacation homes with swimming pools at a cost of up to $200 a day. Poorer families have no choice but to enjoy the coast from the corniche, avoiding the beaches.
"We sit on the corniche far from the sea. The sea smells bad and we won't take any risk by swimming in sewage," Abu Hasira said.
As a result of the current situation and the unemployment rates in Gaza – believed to be among the highest in the world – hundreds of people have taken to selling refreshments at the corniche.
The corniche, built in 2012, has become one the most vibrant public spaces in Gaza – and a lifeline for some.
"I had to find a solution"
Ashraf Abu Qamar sold his wife's last gold ring to pay for a small stall on Gaza's corniche.
The 36-year-old had worked in construction until he was blinded in the left eye during an on-the-job accident.
"I had to find a solution," the father of nine said.
Every afternoon, Abu Qamar goes to his stand where he sells hot drinks.
"The economic situation is bad. If a young man wants to go to a café, he will pay $3.50 to drink a cup of coffee," he said. "Here, he can drink coffee and sit on the corniche for a dollar."
Abu Qamar is helped by his 16-year-old son and brother.
"I give each of them $3 a day. We make around $15 a day. On Fridays, we can make $25," he said.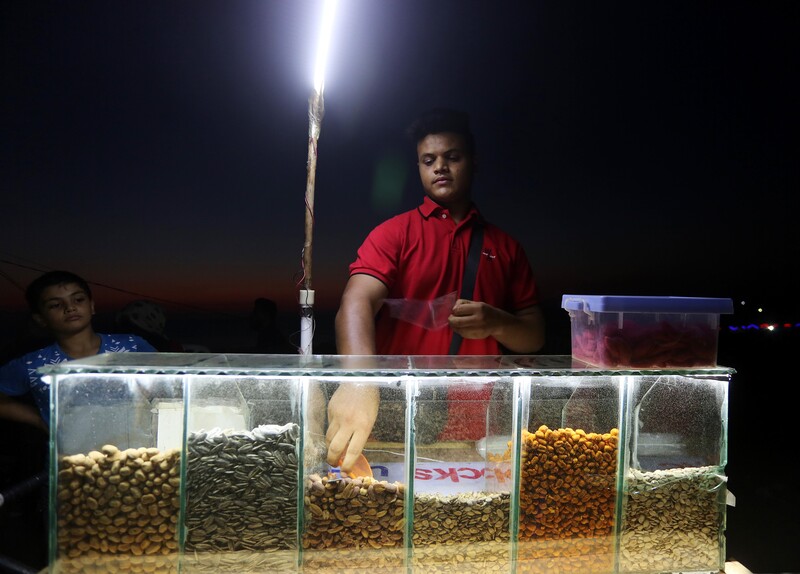 Nuts vendor Mustafa al-Khatib, 20, doubles his profits on Fridays, the start of the weekend in Gaza.
Al-Khatib works at the corniche in the late afternoon and early evening before heading to wedding parties where he plays drums.
"My father and brothers are musicians. I make $25 a day here [on the corniche], in addition to $33 playing at weddings."
Every day is about survival.
"I have to work hard without rest. I can't afford to enroll at a university, and my father won't be able to help me if I decide to get married in a few years. I have to work for my future."
Children are among those working to support their families on Gaza's corniche.
Last year, Ismail, 12, and his brother, Mahmoud, 16, bought two broken battery-powered toy cars and repaired and embellished them with trim, baubles and LED lights.
Every day after school, the pair take the cars to the corniche and sell rides in them to "make other children happy," as Ismail put it.
"A short round on the corniche costs 1 shekel [a quarter]. Pay more and I'll take you for longer rides," he said.
"We all work"
The business brings in a profit of around $3 per day.
"I'm the youngest among my brothers, but we all work to help the family as my father is unemployed and sick," Ismail said.
"I try to work hard during the summer vacation to have money for school. I need new uniforms and books."
In recent years the number of working Gaza children between the ages of 10 and 17 has doubled to 9,700 – 2,900 of them below the legal employment age of 15 – according to the Palestinian Bureau of Statistics.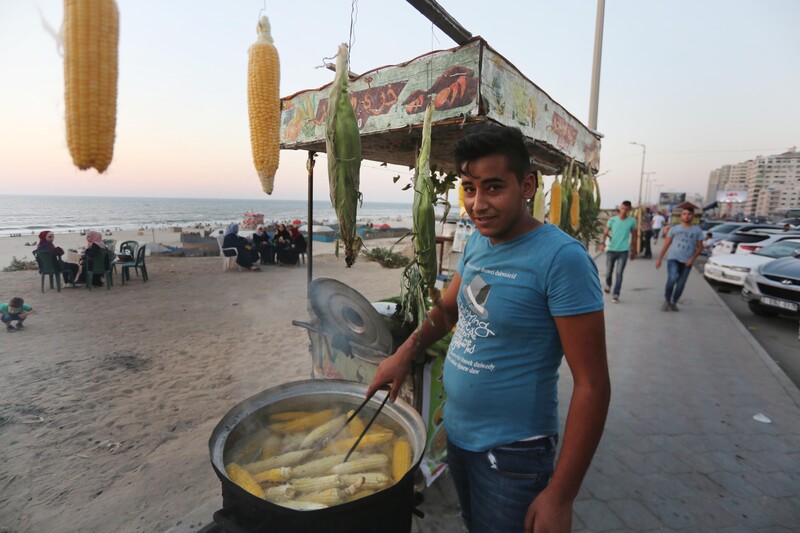 Ahmad, 17, dropped out of school four years ago in order to work. He comes to the corniche every day with his brother Muhammad, 15, to work at their small booth. They work from 5pm to midnight selling boiled and grilled corn in addition to hot drinks.
"I've been working here since 2012," Ahmad said. "In summer, the work is good, but in winter, we can work two days a week at most" because of inclement weather.
According to Ahmad, the booth cost them $200. They take in around $20 per day.
"It's our small family business. I have eight sisters and brothers. My father is unemployed. We have another three booths on the corniche operated by my brothers."
Even though he dropped out of school, Ahmad said he is more fortunate than others.
"I know a lot of people with university degrees and they don't have a job. At least I have one," he said.
After five years of working in the same location, Ahmad has regular customers who come for his corn and to enjoy the sunset.
"We do our best to improve our work. We get the best corn from Beit Lahia [a town in northern Gaza]. An ear of corn costs us one shekel, and we sell it for two shekels" – around 50 cents.
For Ibrahim Dughmush, 23, life is tough but he has no choice.
Five years ago, Dughmush started selling sweet potatoes on a wagon kitted with an oven. He used to sell three crates of potatoes to beachgoers each day. Nowadays, he can barely sell a box.
"In the past, we couldn't walk on the beach because it was too crowded. But now, as you can see, people don't swim. Thanks to the corniche, I can at least still sell some of my potatoes."
Dughmush, the father of two girls, works from 9am to 10pm during the summer.
In winter, he earns his bread by using his wagon to transport goods at markets.
"It's my life cycle. I prefer my summer work as I sell people delicious and sweet food. But in winter, I'm forced to do other work to feed my babies."
Mousa Tawfiq is a journalist from Gaza.
Tags