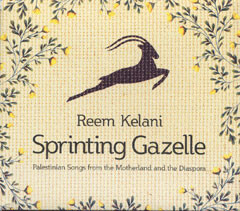 The debut CD of Palestinian singer Reem Kelani - "Sprinting Gazelle: Palestinian Songs from the Motherland and the Diaspora" - is a major contribution from this remarkable singer, musical researcher and broadcaster towards reviving and spreading Palestinian culture.
In the weeks since "Sprinting Gazelle" was released in the UK it has been acclaimed by critics and journalists, and has received excellent reviews in nearly every serious British newspaper. Critics have praised the quality, range and emotional depth of Kelani's voice.
Kelani says she is "overwhelmed" by the avalanche of positive media coverage. The CD has also been featured on radio stations in countries including Britain, Germany, Australia and the US.
The widespread praise for the CD is all the more remarkable given that Kelani made it independently. But through remaining independent she has been free of pressures to make musical and cultural compromises.
Preparing and recording the CD took Kelani and her husband Chris Somes-Charlton two years. Now they are busy marketing the CD in record stores through the distribution company Proper Music, and through Kelani's website at www.reemkelani.com.
The ten tracks take the listener on a 74-minute odyssey through the Palestinian experience, from the nineteenth century to today. The CD is accompanied by an informative 32-page booklet with English translations of the Arabic lyrics. Kelani and her husband carried out the translations of the songs into English with Salma Khadra Jayyusi as literary consultant and British poet Alan Brownjohn as poetry consultant.
Some tracks are Kelani's arrangements of traditional songs. Others are her compositions for poems by such major Palestinian poets as Mahmoud Darwish, Rashid Husain, Salma Khadra Jayyusi and Mahmoud Salim al-Hout.
The dramatic first track "As Nazarene Women Crossed the Meadow" features Kelani singing to the accompaniment of a vocal drone. According to Nazarene folklore, women sang this song when they said goodbye to men leaving to serve in the Ottoman Army. The track is followed by another furaaqiyaat (song of parting), "The Cameleer Tormented my Heart."
Some tracks are sombre in mood, including the Darwish poem "Mawwal: Variations on Loss" and "Yearning" by Husain. Others are more cheerful, such as the spirited traditional song "Habl el-Ghiwa".
Asked about the CD's narrative thread, Kelani says that after she chose the songs, "I realised that they are all either by poets that are pre-48 Palestine or areas that are pre-48 Palestine." She describes the narrative as "totally non-compromising", as shown by a song like "Qasidah of Return", with words by Salma Khadra Jayyusi. The final track is a medley of the songs, "Il-Hamdillah and "Intu Banatu, Ihna Banana". These two songs celebrate the Palestinian's collective identity, "something that the last 58 years couldn't impoverish."
Kelani says that from women in refugee camps she "got the message that I now use in my life as a Diaspora Palestinian - personally, collectively and artistically - that we are not victims. You get on with life, you acknowledge your pain and you're strong and you celebrate and you sing and dance. This is resistance in its purest form."
Reem's group of musicians consists of the award-winning jazz pianist Zoe Rahman; Idris Rahman on tenor saxophone, clarinet and bass clarinet; Oli Hayhurst on double bass; Patrick Illingworth on drums, and the Egyptian violinist Samy Bishai, and Iranian percussionist Fariborz Kiani.
Kelani sees no contradiction in being a jazz singer who is a performer of Palestinian music. "Both disciplines are based on improvisation, both come from suffering and emancipation."
The CD's cover portrays a gazelle on a background of canvas which represents Palestinian embroidered costume and at the same time the earth and sense of belonging. The delicate plant with yellow flowers that adorns the cover is feijan - a herb found in the Nazareth area.
The accompanying booklet's value in providing the lyrics and background to the songs was illustrated recently when a BBC Radio 3 programme featured several tracks from "Sprinting Gazelle". The presenter explained that the words of the evocative "Yafa!" were written by the Palestinian poet, mythologist and translator Mahmoud Salim al-Hout (1917-88) after he lost all his manuscripts while fleeing Jaffa.
Kelani was born in Manchester, northern England, to doctor Yusuf Kelani, from the village of Ya'bad near Jenin, and Yusra Sharif Ali Zu'bi from Nazareth. Reem dedicates the CD to her mother, who died in Amman in 2004, "and to all the 'Big Mamas' who taught me to sing and to belong."
Kelani grew up in Kuwait where she was surrounded by many different kinds of music. The songs her father sang kindled her devotion to jazz, and at the age of 13 she fell in love with Palestinian music when she saw women singing at a family wedding in a village near Nazareth.
Kelani is a marine biologist by university education, and came to London in 1989 on a British Council scholarship to do an MSc in aquatic resource management. But before long she decided to pursue her musical ambitions.
Kelani has attracted a large following of fans who appreciate her unique blend of Palestinian music and jazz, her superb voice and her charismatic and warm stage presence. She has performed at concerts in the UK, US, Canada, Middle East and Europe. Her broadcasting work has included presenting two series of BBC Radio Four's 'Distant Chords' in which she interviewed musicians in exile in Britain.
Kelani has found it difficult to identify suitable musicians in London, and none of the musicians on her CD is Palestinian. Another challenge was finding a recording label. The political folk singer and songwriter Leon Rosselson offered his Fuse Records label as a cover label.
The release of Kelani's CD comes at a particularly difficult time for the Palestinian people. Kelani says: "unless people listen to, and acknowledge, the Palestinian narrative in its own right, no peace treaty, accord or settlement will work. The Palestinian narrative has always been robbed of its independence and authenticity."
This is the English original of an article published in Arabic in Al Hayat newspaper on May 2, 2006 and is republished with permission from The Institute for Middle East Understanding (IMEU). Reem Kelani's CD is available at PalestineOnlineStore.com.
Related Links
Tags