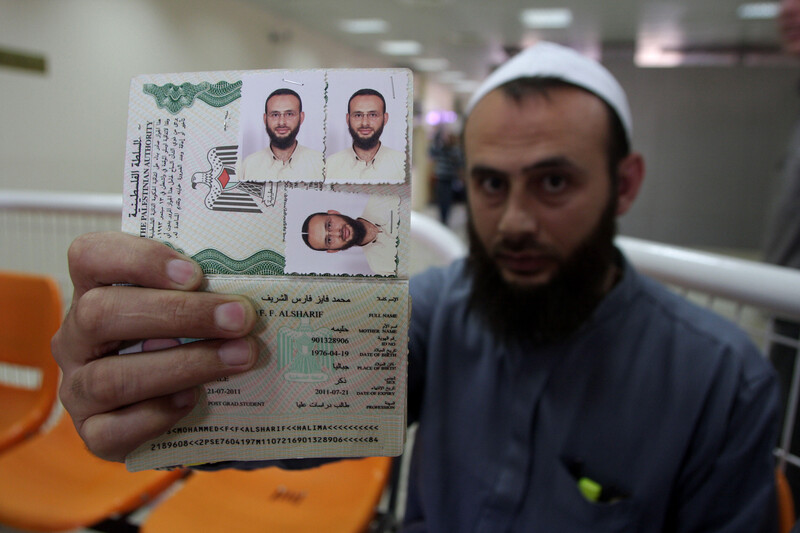 RAFAH, occupied Gaza Strip (IRIN) - The opening of Rafah on 28 May, the only official border crossing between the Gaza Strip and Egypt, has created a lifeline for Palestinians living in Gaza. But some, mostly refugees, will still be restricted to their localities because they lack identification papers.
Palestinians were allowed to pass freely from Gaza into Egypt through Rafah for the first time in four years. The decision marked a huge shift in Egyptian foreign policy, introduced after the fall of President Hosni Mubarak, and provides a critical valve for the 1.6 million people trapped within Gaza's borders since June 2007.
The crossing was partially opened in May last year after the deaths of international activists on board a flotilla attempting to break the siege. It operated a five-day week, from noon until 4pm, but was open only to foreign passport-holders, Palestinians with foreign visas and medical patients.
The restrictions had made it incredibly difficult for Palestinians to enter Egypt, even on genuine medical grounds. From April 2011 to date, around 2,100 Palestinians have been denied entry into Egypt for unspecified reasons, according to the UN Office for the Coordination of Humanitarian Affairs.
Under the new rules, all women, minors and any man under 18 and over 40 will be able to pass freely without a visa six days a week from 9am until 4pm.
Mohamed Matar, 39, a shopkeeper from Rafah, who was among the thousands of people lining up at the crossing on 28 May hoping to leave Gaza, said: "I won't be 40 until October but I'm still going to try. My Mom is in Egypt and very sick with Alzheimer's. She is 80 years old and none of her sons are with her. We are all here in Gaza.
"When I speak to her on the phone she sounds very tired and weak. I'm afraid she will die. If I get through the border tomorrow, at least I can sit with her for a week so that she recognizes me again."
Not everyone happy
Not all Palestinians are as optimistic. For men aged 18-40, the reopening makes little difference. Unless they can provide proof of having a place at university abroad or a foreign visa, they will remain stuck in the Gaza Strip.
There are also hundreds of Palestinians in Gaza, mostly refugees, without identification documents who cannot leave. While it officially withdrew from the Gaza Strip in 2005, Israel retains control of its maritime, air and most of its land borders. It also retains control of its population registry, including the issuance of Palestinian ID numbers without which it is impossible to travel.
Sana Easa, 39, has not seen her family in Cairo since she moved to Gaza to marry her husband Salah 12 years ago. Both need medical treatment unavailable in Gaza's hospitals, but even with the new policy at Rafah, they are stuck.
Sana is a Palestinian but was born in Cairo and lived there most of her life. Her parents left Gaza as refugees in 1967. Her Egyptian passport expired in April 2004 but in order to renew it, she must go to Cairo in person. She is still waiting for the Palestinian ID number she applied for 12 years ago.
"The last time I tried to cross Rafah with my husband was in May 2010," she says. "We got to the Palestinian border at 4am and reached the Egyptian side at 11pm. The Egyptian officials told my husband he and my son could pass through but they told me that because I have expired Egyptian travel documents and I don't have a Palestinian ID I had to turn back.
"At 1am we decided we would come home together. My husband refuses to go to Egypt for the operation alone. He will be a patient and will need help. It was a disaster. This new opening means nothing to me because I know my case."
The border opened at 10am local time on 28 May and within ninety minutes 200 Palestinians had crossed into Egypt. Travelers coming in the opposite direction spoke of huge changes on the Egyptian side of the border.
"It's incredible. Anyone who came to the terminal, they just stamped their passport and gave them entry just like that. I am from Gaza and have a black passport but there were many different passports coming through – yellow, blue, red. There was a huge difference," Hamad Yusef told IRIN.
Israeli concerns dismissed
Israel objects to the reopening, saying that Hamas militants will funnel weapons into Gaza through Rafah.
Dismissing Israeli concerns about increased security threats to their borders, Ghazi Hamad, director of crossings in Gaza, said that Hamas and Egypt had proved – over the past four years, during which they had run Rafah crossing without European Union or Israeli supervision – that they could operate according to international standards. Claims that weapons, drugs and criminals had been smuggled through the border were false, he said.
"This is a very important day for Gaza… For four years we have been living under a siege. Now not all our problems are solved, but it's better.
"We are in talks with the Egyptians and hope that the restrictions applied to men aged 18-40 will be lifted soon."
This item comes to you via IRIN, a UN humanitarian news and information service, but may not necessarily reflect the views of the United Nations or its agencies. All IRIN material may be reposted or reprinted free-of-charge; refer to the copyright page for conditions of use. IRIN is a project of the UN Office for the Coordination of Humanitarian Affairs.
[[Opposition to Camp David Accords Mounts in Egypt]]
Adam Morrow and Khaled Moussa al-Omrani
CAIRO (IPS) - Throughout ousted president Hosni Mubarak's 30-year rule, the 1979 Camp David agreement served to keep the peace between historical foes Egypt and Israel. But since Mubarak's February departure, popular calls for the treaty's abrogation have grown louder.
"Egypt's march towards liberation that began with the Jan. 25 Revolution will not be complete until this dishonorable agreement is scrapped," Mohamed Mahmoud, founding member of the Cairo-based Arab/Islamic Front for the Liberation of Palestine (A/IFLP) told IPS.
Egypt's ruling Supreme Council of the Armed Forces (SCAF), in one of its first official announcements on [[12 February]], declared that Egypt remained committed "to all regional and international obligations and treaties." Most observers saw the statement as a specific reference to the Camp David peace agreement.
The SCAF, which has vowed to hold free parliamentary and presidential elections within one year, has governed the country since Mubarak's ouster on [[11 February]].
But despite the ruling council's assurances, Egyptian opponents of the peace treaty with Israel have become increasingly active in recent months.
Since Mubarak's removal, Egypt has seen a number of demonstrations in front of Israel's embassy in Cairo and consulate in Alexandria. Protesters have demanded that the country's new rulers cut diplomatic relations with Tel Aviv, reopen Egypt's border with the besieged Gaza Strip, and – most contentiously – withdraw from Camp David.
On [[15 May]], thousands of demonstrators amassed outside the Israeli embassy, eventually clashing with police in scenes reminiscent of the 18-day Tahrir Uprising. Hundreds suffered excessive teargas inhalation (two of them reportedly died as a consequence), while more than 350 were arrested and hauled before military courts (most have since been conditionally released).
Only two days earlier, as part of a planned "Third Intifada," hundreds of thousands of Egyptians had gathered in Cairo's Tahir Square in a show of solidarity with their Palestinian brethren. Members of the A/IFLP – formed by a handful of activists after Egypt's revolution – used the occasion to collect signatures for a petition calling for the abrogation of Camp David.
"We've collected more than 5,000 signatures today alone," Mahmoud said at the time. "We're aiming to gather one million signatures, which we will then present to the transitional government."
He added "I don't think this is unrealistic since most Egyptians oppose the agreement."
Notably, a recent poll by the Pew polling agency found that 54 percent of the Egyptian public are in favor of the treaty's annulment.
Signed in 1979, the Israel-Egypt Peace Treaty called for the return of the Sinai Peninsula, occupied by Israel in 1967, to Egypt. In exchange, Egypt established full diplomatic relations with Tel Aviv, making it the first Arab country to do so.
Jordan, which signed its own peace deal in 1994, remains the only other Arab country to officially recognize the self-proclaimed Jewish state.
But the return of Sinai to Egypt under Camp David came with strings attached. Most importantly, the treaty tightly restricts Egyptian military deployments on the peninsula, turning Sinai's entire eastern frontier – including Egypt's roughly 220-kilometer border with Israel – into a de facto demilitarized zone.
In the three decades since it was signed, the official "peace" that Camp David instituted has never been more than a cold one.
"For 30 years the agreement prevented tensions that might have otherwise led to war, but it never led to a genuine normalization of relations," Abdel Menaam al-Mashaat, political science professor at Cairo University, told IPS. "Given Israel's continued mistreatment of the Palestinians, the Egyptian public has consistently opposed normalization."
Yet despite frequent domestic criticism of Camp David's terms, Mubarak's Egypt assiduously upheld its end of the bargain.
"Even before Mubarak's departure, the idea of modifying the treaty in Egypt's favor was often discussed," Tarek Fahmi, director of the Israeli desk at the Cairo-based National Centre for Middle East Studies told IPS. "But these discussions never reached the implementation phase."
According to Mahmoud, Camp David represented "a central pillar of the former regime," which, despite Mubarak's overthrow, "nevertheless still remains intact."
"We're calling for the treaty's annulment because it restricts Egyptian military deployment on its own sovereign territory, thus limiting its ability to defend itself," he said. "What's more, Camp David forces Egypt to recognize Israel, thereby legitimizing the latter's flagrant rape of Palestinian land."
Not everyone, however, believes the treaty should be scrapped willy-nilly.
"A hasty withdrawal from the agreement could lead to unpredictable escalations, including permanent military mobilization or – in the most dangerous scenario – war," said al-Mashaat.
Egypt's powerful Muslim Brotherhood movement, which many believe could play a major role in Egypt's post-election government, has formally stated its commitment to respect "all international treaties" to which Egypt is signatory – including Camp David.
Some Brotherhood officials, however, have also said the issue should ultimately be decided by the public.
"After elections, a national referendum should be held on whether or not to withdraw from the treaty," leading Brotherhood member Saad al-Husseini told IPS. "In either case, we'll support the will of the people."
In light of recent, post-revolutionary Egyptian policy changes, Fahmi believes an official request for the treaty's modification is on the cards.
"Egypt's transitional government is gradually dealing with outstanding issues relating to Palestine: gas exports to Israel have been halted, the Gaza border reopened, and a deal between Hamas and Fatah brokered," he said. "Now the government will likely turn its attention to the Camp David file."
According to Fahmi, Israeli officials have anticipated such a request and are "currently in the process of drawing up an alternative arrangement."
Israeli officialdom, for its part, has been largely silent on the issue.
In a related development on Friday last week, thousands of Jordanians staged demonstrations in Amman to protest government corruption and demand the termination of Jordan's 1994 peace treaty with Israel.
All rights reserved, IPS - Inter Press Service (2011). Total or partial publication, retransmission or sale forbidden.
Tags