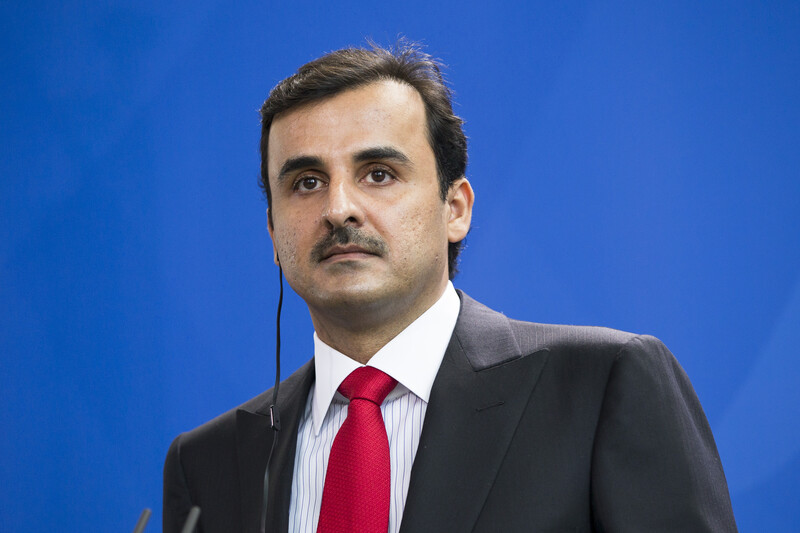 Qatar donated $250,000 to some of the most extreme pro-Israel organizations in the United States, including one that funds senior Israeli military officers to go on propaganda tours.
Joseph Allaham, a lobbyist working for the Qatari government, transferred the money through his firm Lexington Strategies in late 2017 and early 2018.
The sums included $100,000 to the Zionist Organization of America (ZOA), $100,000 to Our Soldiers Speak and $50,000 for Blue Diamond Horizons, Inc.
Our Soldiers Speak describes itself as the "vehicle through which the IDF [Israeli army] and the Israeli National Police dispatch senior officers to select campuses overseas" and to give "briefings" to members of the US Congress.
Blue Diamond Horizons is a company controlled by Mike Huckabee, the Christian Zionist former governor of Arkansas.
Huckabee, who happens to be the father of Donald Trump's White House spokesperson Sarah Huckabee Sanders, opposes any Israeli withdrawal from Jerusalem and has suggested Israel should annex the West Bank.
In US government disclosure documents, Lexington Strategies describes the payment to Huckabee's company as an "honorarium for visit," while the donations to the ZOA and Our Soldiers Speak are labeled as contributions for "charitable goodwill."
In January this year, Huckabee traveled to Doha, as one of a parade of far-right and pro-Israel figures invited to Qatar as part of the Gulf emirate's intensive outreach to Israel and its lobby.
Working for Emir
The disclosure, filed by Lexington Strategies on 15 June under the Foreign Agents Registration Act (FARA), reveals that the money given to the Zionist organizations came out of $1.45 million provided by the State of Qatar for lobbying on its behalf.
The document explicitly names Qatar's ruler, Emir Tamim bin Hamad Al Thani, as the client of Allaham's lobbying efforts.
One of the stated purposes of the money paid by Qatar to the lobbying group is to encourage "dialogue with [the] Jewish community abroad and in the United States."
In reality, Qatar has been reaching out to some of the most extreme supporters of Israel as part of its effort to curry favor with the United States.
For more than a year, Qatar has faced isolation and blockade by regional rivals Saudi Arabia and the United Arab Emirates. The Trump administration initially expressed strong support for that blockade, labeling Qatar a sponsor of "terrorism."
Doha fears that under the influence of the Saudi-led bloc, the US could withdraw its massive Al Udeid air base from Qatar, making the tiny state vulnerable to invasion from bigger neighbors.
In order to fight back, Qatar is competing with its Gulf rivals for US affections, and like those rivals it views the support of Israel and its lobby as the fastest route to Washington's heart.
As part of this effort, Qatar hired lobbyist Nick Muzin and his firm Stonington Strategies and was in 2017 paying him a monthly retainer of $50,000. This was later increased to $300,000 a month, according to FARA filings.
With Allaham's disclosure it now emerges that Qatar has hired more than one Washington firm to win the favors of the Israel lobby.
Shielding the lobby
One of the key concessions Qatar has made is to suppress an explosive Al Jazeera documentary revealing the inner workings of the US Israel lobby.
As The Electronic Intifada exclusively revealed in March, the film identifies a number of lobby groups as working directly with Israel to spy on American citizens using sophisticated data gathering techniques.
The documentary is also said to cast light on covert efforts to smear and intimidate Americans seen as too critical of Israel.
The Zionist Organization of America, one of the recipients of the Qatari emir's largesse and hospitality, took public credit for getting the film censored.
But amid criticism within pro-Israel circles, ZOA president Morton Klein claimed to be "shocked" when he learned that the money had originated from Qatar, and told The Jewish Week he would return the donations.
Our Soldiers Speak, the group that promotes the Israeli military, affirmed to the publication that it is "very pleased to take every penny."
The Jewish Week also reported that one of the guests Allaham invited to the ZOA's gala dinner last year was Ahmed al-Rumaihi, who had been a Qatari diplomat and the former head of Qatar Investments, a $100-billion sovereign wealth fund whose holdings include Qatar Airways.
While there, al-Rumaihi reportedly asked to be introduced to Steve Bannon, the former senior Trump adviser who gave a speech at the ZOA gala.
In an article published days before Allaham filed his FARA disclosure, Mother Jones magazine reported that Klein was questioned about al-Rumaihi's presence at the dinner. The ZOA president responded, "What's the problem? Joey [Allaham] paid me $100,000 for that table!"
Occupation advice
While courting those who facilitate and justify Israel's crimes against Palestinians in Washington, Qatar presents itself as one of the key supporters of Palestinians in Gaza.
Qatar funds projects and provides aid in the territory that has faced massive Israeli military assaults and a devastating siege over more than a decade.
Israel also regularly sprays Palestinian farmland in Gaza with herbicides, destroying crops.
But recent comments by Qatari diplomat Mohammed al-Emadi suggest that Qatar's agenda is effectively to help Israel pacify Gaza and manage its occupation better.
Al-Emadi is in charge of Qatar's activities in Gaza. He suggested in an interview with Israel's public broadcaster Kan on Sunday that the Great March of Return protests on the Gaza-Israel boundary fence would quiet down if Israel were to allow Palestinians in Gaza to work in Israel.
"It could start for example with 5,000 people in Gaza who would work in Israel. That is good. That would stop the protests, the fires, the kites and the balloons," al-Emadi said.
Since the end of March, Israel has killed more than 140 Palestinians and injured more than 4,000 others with live fire during protests aimed at ending the siege and calling for the right for refugees to return to their original lands from which Israel excludes them because they are not Jews.
But while Israel is undoubtedly happy to see Qatar pay to keep Palestinians in Gaza at the edge of survival, there is no sign it is interested in taking Qatari advice.
On Monday, Israel announced it was closing the only goods crossing to Gaza in retaliation for incendiary kites launched from Gaza that have caused damage to crops on the Israeli side of the boundary.
The Israeli human rights group Gisha said that "collectively punishing nearly two million people in Gaza by closing its only official crossing for the movement of goods is both illegal and morally depraved."
Tamara Nassar is associate editor and Ali Abunimah is director of The Electronic Intifada.
Tags