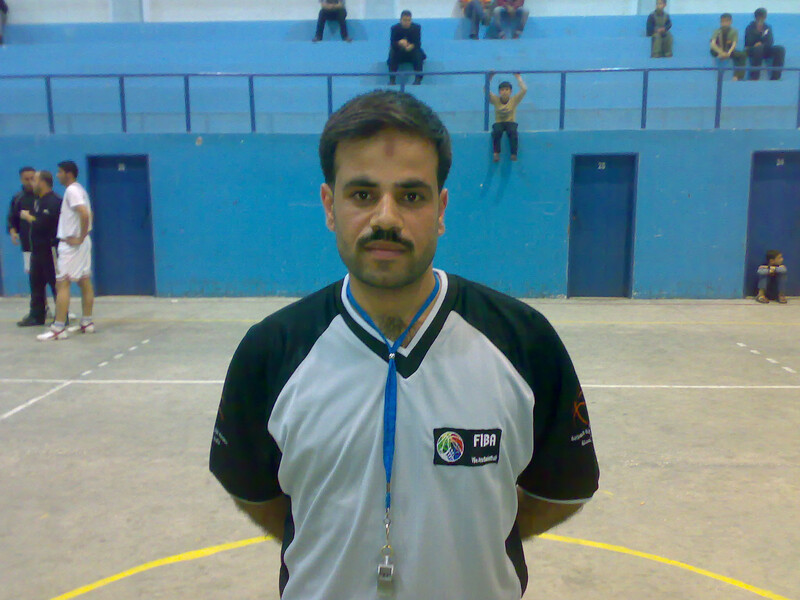 Saed Ehmaid, a 32-year-old basketball referee, began his career in the Maghazi refugee camp in the central Gaza Strip. He is known widely as "the smiling face." And with a broad simile, he welcomed me at his family home in in the camp.
Ehmaid lives with his wife and their two-year-old daughter Jenny at a home in which one room is filled with medals and awards. He is an one of two internationally-accredited basketball referees in the Gaza Strip.
At the age of 12, in the alleys of the camp, Ehmaid used to participate in wedding street parties as a singer and dancer for folkloric songs. In every corner of the camp, Saed was well-known as a child, and was encouraged by his family and teachers to keep up his talents.
As Ehmaid's horizons expanded, one more talent appeared: impersonations. At school, Ehmaid began to imitate teachers and fellow students; and in the street parties across Maghazi camp, Ehmaid used to imitate other public figures, like the late Palestinian leader Yasser Arafat.
A referee's career
Sports was also a favorite hobby for Ehmaid, and back in 1995, he joined the Maghazi club's junior basketball team.
"I found myself to be very fond of basketball and I wanted to contribute with my talent," he said. Famous local basketball players helped him develop his skills.
Ehmaid's career as a referee began in 2003, when he was selected by the Palestinian basketball union to participate in a championship for the Gaza Strip's basketball teams. He acted as a referee for three matches.
Ehmaid said: "I began to show up in the basketball community in Gaza as a referee and only two years later I was selected by the basketball federation to go to Saudi Arabia for an exam for internationally-accredited referee status." Ehmaid and his colleague Hussain al-Sheikh returned to Gaza as accredited referees.
Trouble crossing into Egypt
One of the remarkable stops for Ehmaid's career as a referee was back in 2007. He returned to Saudi Arabia to work in an Arab championship, where he refereed three matches and observed a fourth.
Although he says the experience was "pretty remarkable," he experienced difficulties getting to the country.
"I was forced by the Egyptians to be transferred to Cairo International Airport, right from the Rafah crossing terminal. I stayed at the airport two consecutive days, awaiting Egyptian measures for my travel. Yet finally I managed to travel to Saudi Arabia and participate in the championship," he recalled, looking less cheerful.
The International Basketball Federation states that a referee must renew his or her accreditation papers every five years. In 2011, Ehmaid was supposed to travel to the West Bank to take part in a local Palestinian championship, and renew his accreditation. But even after relentless coordination by Palestinian and international sports bodies with the Israeli occupation authorities, Ehmaid and the entire Gaza team were denied access to the West Bank.
They decided to take part in a junior championship in Iraq instead. They traveled via the Rafah crossing terminal on the Gaza-Egypt boundary line, about six months after the eruption of the January 2011 Egyptian revolution.
"Unfortunately, we faced quite similar measures at the crossing, despite the fact that all the visas [were issued]. I was amazed that this could happen in post-revolution Egypt." They were ultimately able to cross, and Ehmaid acted as a referee for three matches in Iraq.
Sport and politics
Ehmaid believes a referee must have qualities like patience, tolerance and awareness of regulations.
"During my job at the al-Bureij refugee camp, near Maghazi, the audience shouted loudly and some of them threw stones. My colleagues and I managed to withdraw peacefully from the scene until police cracked down on the angry crowds." Maghazi and Bureij teams are the most competitive basketball teams in Gaza, Ehmaid says.
Concerning the situation of the sport across the occupied Gaza Strip, the young referee draws a gloomy picture. He says much more needs to be done.
"The current political split between the two major Palestinian parties, Fatah and Hamas, as well as the ongoing Israeli blockade of Gaza, have both badly affected the sport here. It is true that we in the federation managed to organize some limited championships, but training and championships are still widely lacking," Ehmaid maintained.
He cited the example of Israel's 2008-2009 attack on Gaza. "That war made things worse for us in terms of rehabilitation of our sports activities. Yet, one year after the war, we managed to organize a friendly championship for older players."
He added there is a lack of technical support in Gaza, including digital screens and other needed facilities. "The siege has made such things unavailable," he says.
Local work
Ehmaid also does a lot of activism inside the camp, where he is a member of the local refugee committee. He is currently working on an educational project dedicated to the history of Maghazi. It will be done in three languages: Arabic, English and French.
"We in the Maghazi refugee camp live as difficult a life as in many other parts of the occupied Gaza Strip," he said. "You know there is the continued Israeli blockade, a high rate of poverty and unemployment as well as other major problems like lack of infrastructure. I am always concerned to do as best as I can for the sake of our Palestinian community."
Saed Ehmaid has been working as human resources trainer with the non-governmental Kan'an institute for development in Gaza City.
While saying goodbye to me, Saed smiled and performed an imitation of Yasser Arafat, recalling some of the late leader's famous sayings. He has a smile filled with much hope, despite the fact sometimes, his monthly salary arrives later than scheduled.
Rami Almeghari is a journalist and university lecturer based in the Gaza Strip.
Tags