I was part of a nifty double act in my childhood football team. My friend Yousif al-Najjar and I both played as forwards. He was short and moved quickly, while I had a good record of scoring goals with my left foot.
In our fifth year of primary school, Yousif and I were placed in separate classes and, by extension, we were on different teams. Playing for opposite sides, we both qualified for the final of the school's championship.
My team won 4-2.
It was Yousif's first significant loss, and he took it badly. He even refused to shake hands with me at the end of the match.
We had a row afterward.
Two days later – 15 December 2001 – Israeli forces invaded Jabaliya refugee camp in northern Gaza.
Yousif's cousin approached me around noon that day and immediately told me that Yousif had been killed. An Israeli soldier had shot him in the head. Yousif was two weeks shy of his 11th birthday.
It was the first time that a friend of mine had died. I had no idea how to express myself, especially given that our last conversation had been an argument.
So I just stayed silent.
Yousif was killed on the eve of Eid al-Fitr. When I went to his funeral, his mother Aisha wept as she showed us the clothes Yousif had planned to wear at Eid.
I took a photograph of Yousif from his home and kept it on my wardrobe door. Every morning, I turned to it and told Yousif that one day we would play together again.
Yousif died long before Israel's large-scale attack on Gaza in the summer of 2014. The fifth anniversary of that attack nonetheless makes me think about him.
His death was not the last time that I would lose a football buddy.
Unable to say goodbye
In 2010, I joined a team called the Knight. The team's main organizer was Salam al-Madhoun. He did not coach us but took care of financial matters and logistics.
We won many games. And, of course, sometimes we were beaten.
Salam was a fighter with the Qassam Brigades, the armed wing of Hamas. On 21 July 2014, he was among a group who succeeded in entering Israel, via a tunnel. The act was in reprisal for a massacre that Israel had committed in al-Shujaiyeh, a Gaza City neighborhood.
Having entered Israel, soldiers killed Salam and a number of his comrades.
Our team has not yet been able to say goodbye to Salam. Israel has retained his body.
Israel has refused to reveal where it has kept the remains of fighters killed at this time five years ago. Retaining bodies in this way amounts to collective punishment. It is a violation of international law.
I stopped playing football after Salam was killed. I used to be obsessed with the sport. Today, I do not even watch it on television.
For me, football has become intertwined with tragedy.
A constant smile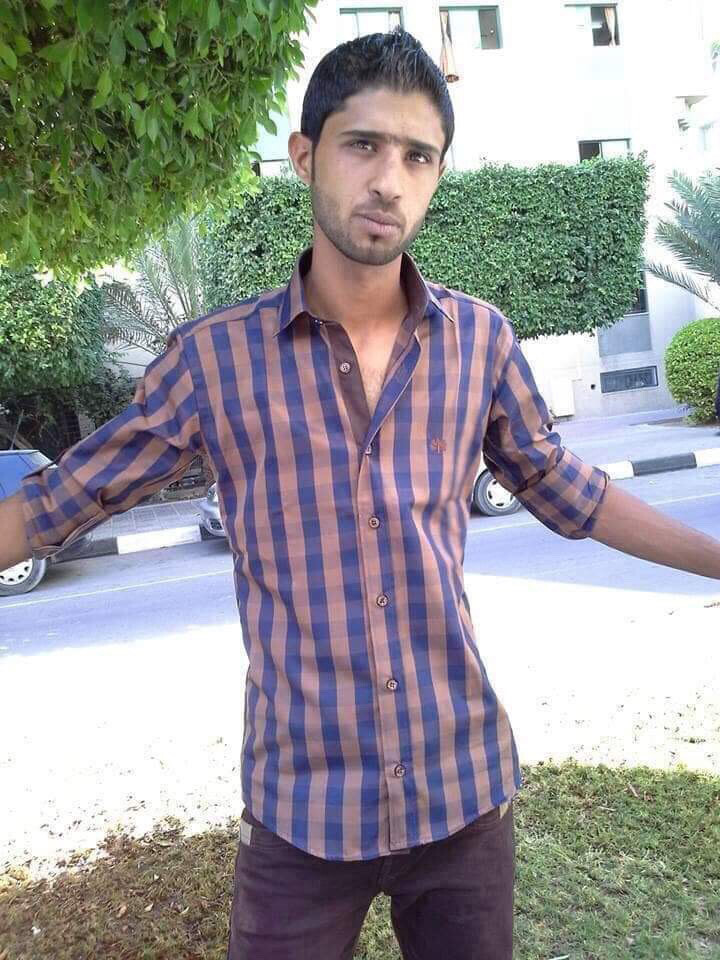 I kept myself busy as a reporter with the Gaza-based paper Alresalah in 2014. I was determined to document Israel's crimes against my people.
From the early stages of Israel's attack that summer, I had to try and keep working, despite how Israel was killing my friends.
I was reporting from Kamal Adwan hospital, which serves Jabaliya. On one occasion, when I arrived at the hospital, I saw a medic washing an ambulance. When I spoke to him, it transpired that he had just transported the body of a man killed in an Israeli strike on nearby farmland. I asked for the name of the victim and was told it was Muhammad al-Sharatha.
I didn't think too much about the details I had been given. I just called an editor at Alresalah, who asked me to take some photographs of the victim.
When I entered the mortuary, I was so shocked that I fell to the ground. It was the same Muhammad al-Sharatha who had been my friend at the Islamic University of Gaza.
Muhammad, I soon heard, had been helping a neighbor to plow his land when he was attacked.
I thought about how Muhammad was a modest guy. He had lived in poverty throughout his life but always had a smile on his face.
He was studying social work in college.
After one of our final exams, Muhammad said to me: "I can't believe that I am so close to graduating. My mother will be so happy and proud."
Role model
As well as playing football, I used to practice kung fu.
In February 2002, I began receiving lessons from Medhat al-Yazji, the best-known practitioner of kung fu in Gaza at that time.
I was one of Mehdat's favorite pupils. I learned so much from him that I finished second in a championship just a few months after I had begun kung fu lessons.
Following that championship, I got a new instructor: Said Abu Jalala, a huge man. Mehdat and Said were friends.
The last time I met Mehdat was in July 2002. We met by chance and shook hands in our unique way. The greeting consisted of me pretending to hit Mehdat and he protecting himself with his hands.
I asked Mehdat why I hadn't seen him for a while. I cannot recall his answer. But his parting words continue to haunt me: "Tell Said Abu Jalala to forgive me; tell everyone to forgive me."
On 23 August 2002, my father woke me up with some terrible news. Israeli forces had killed Mehdat. He was a resistance fighter with al-Aqsa Martyrs Brigades, the armed wing of Fatah. He died during an operation against a military post at Kfar Darom, an Israeli settlement then in Gaza.
I was devastated by Mehdat's death.
He was my role model. I even imitated his haircut.
At the end of Mehdat's funeral, I sat down beside Said Abu Jalala. Innocently, I told Said how Mehdat had sought his forgiveness for not being available to teach kung fu.
Said began to cry uncontrollably.
I continued taking kung fu lessons from Said for another year. Then I gave up the sport.
Some of our neighbors evacuated their homes in 2014. But my family stayed in Jabaliya refugee camp. When we felt we were in danger, we would converge in our bathroom. It has a concrete roof; the remainder of our home is covered with asbestos.
I vividly remember one evening towards the end of July that year. We heard lots of explosions in the camp that night.
Israel had shelled a United Nations school where hundreds had taken refuge. Nineteen people were killed in that attack.
I went to Kamal Adwan hospital so that I could report the identities of the victims.
There were bodies everywhere in the hospital yard. So many people had been killed by then that the morgue was full.
A forensic doctor accompanied me as I walked between the bodies. We stopped before the body of a large man. When I asked the name of the victim, the doctor replied that it was Said Abu Jalala.
My old kung fu instructor.
Five years later, I am still disturbed by that memory, along with so many others.
Hamza Abu Eltarabesh is a journalist from Gaza.
Tags