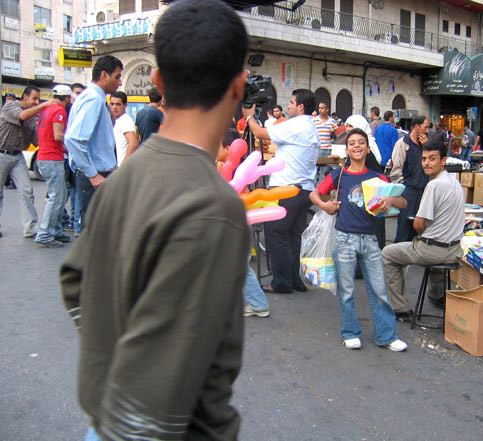 With the coming of Eid al Fiter and in spite of the depressed economy and Israel's chokehold on Palestinian revenues and customs, traders and vendors in Ramallah are hoping to make some money.

Some of them are children, since government schools have yet to open in the West Bank because of the strike by government employees.

The vendors' merchandise is all cheap, but it is colorful and maybe affordable. Popular items appear to be plastic weapons — plastic guns and swords. To Palestinian children, the scene in downtown Ramallah is as exciting as any Christmas season is in downtown New York to American children.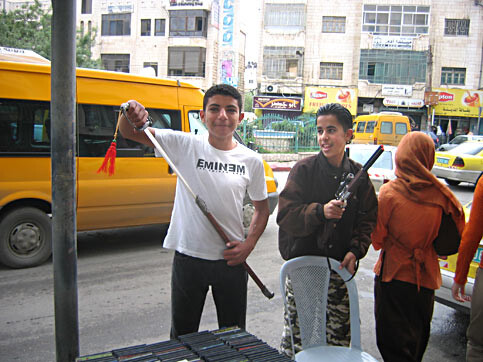 Downtown Ramallah (Al-Manara) is the heart of commerce in the city. Originally a quiet resort town, Ramallah has expanded to incorporate outlying areas and become an important population center in the oPt. It is a favorite spot for Palestinian expatriate nationals to invest and is the seat of the Palestinian government. Ramallah has "Stars

&

Bucks", the name of a coffeeshop in one of the buildings downtown.

The narrow streets and closely built downtown has resulted in congestion, though. Palestinian police are constantly trying to reroute traffic with little effect. What makes things worse is that pedestrians must walk in the streets, since the narrow sidewalks (in places contained by railings) also accommodate the many vendors hawking their wares. Some come from other cities to try their luck in Ramallah, where over 90% of the people depend on commerce rather than agriculture to make a living.
Rima Merriman is a Palestinian-American living in Ramallah in the occupied West Bank.