Issa Amro is committed to peaceful resistance to the Israeli occupation in his native West Bank city of Hebron, despite frequent arrests, attacks by settlers and other unrelenting efforts to sabotage his work.
"Nonviolence is the best tool because it strengthens civil society and it gives a role to each person: the kids, the women, the elders and the youth. With nonviolent activities you get more international support and you neutralize the violence of the oppressor," he explained.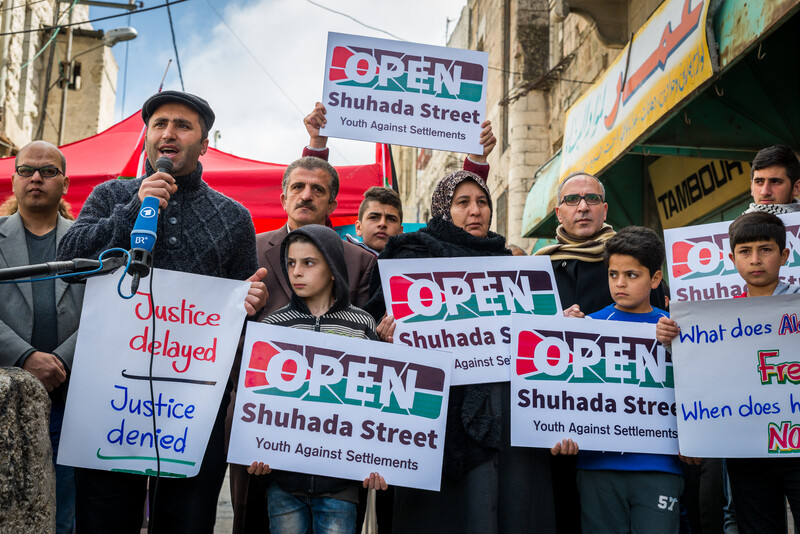 In Hebron, several hundred hostile settlers, many of them armed, live within close quarters of Palestinians under the guard of the Israeli army. Soldiers severely restrict Palestinians' movement and do little to prevent settler violence against Palestinians and their property.
Amro, 36, founded the direct action group Youth Against Settlements.
"We go to universities, we go to schools and we organize activities within our community to teach the youth how to resist the occupation using nonviolence," he said.
Every year, Youth Against Settlements organizes a week of activities as part of the Open Shuhada Street campaign, calling for the reopening of one of Hebron's former main commercial thoroughfares, which the Israeli army has shuttered and closed to Palestinians since 1994.
Access to the street for Palestinians was restricted after the massacre of 29 worshippers inside the Ibrahimi mosque by American Jewish settler Baruch Goldstein that same year.
This year's Open Shuhada Street campaign included an art event in front of an Israeli checkpoint involving students from the nearby Palestine Polytechnic University.
"Through art, we send a message to the occupiers and tell them that they cannot occupy our imagination and dreams of freedom and justice. Art can reach out to more people," Amro said.
The event was violently dispersed by Israeli soldiers who fired stun grenades at the students after a few boys threw stones towards the checkpoint.
Amro gives regular tours of Hebron to delegations from around the world, showing the reality of life under military occupation. The tours are often targeted by settlers seeking to intimidate both Amro and the visitors.
Jewish settler Ofer Ohana frequently interrupts tours conducted by Amro. He is an ambulance driver in Hebron and has been known to delay or even deny the provision of medical attention to Palestinians.
"There is no law enforcement on the Israeli settlers or soldiers. As a Palestinian I am under Israeli military law and my Israeli settler neighbors are under Israeli civilian law. We are under different laws even though we are living in the same neighborhood," Amro explained.
As part of this year's Open Shuhada Street campaign, Youth Against Settlements members and volunteers were invited to join residents of Hebron in an evening of commemoration for the victims of the 1994 Ibrahimi mosque massacre.
As people started to make their way home after the evening's commemorative activities, Israeli soldiers detained Amro together with three other Palestinians, including a 10-year-old girl.
While Amro was detained, one of the settlers approached him. "He told me that each dog has his own day to be killed, meant to intimidate me and to describe me as a dog," Amro recalled.
As people gathered, waiting for Amro and the other Palestinians to be released, the infamously violent settler Anat Cohen drove her car directly into the crowd.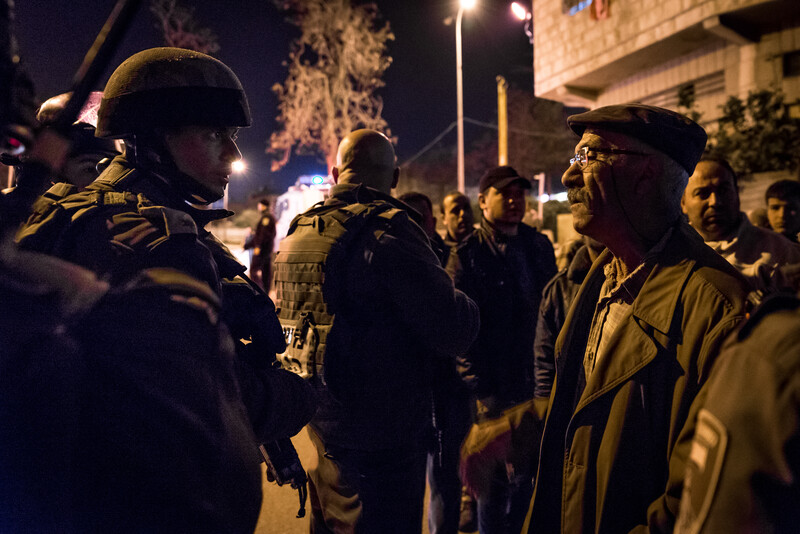 Several military units were called to the scene but none made any attempt to restrain Cohen. Yet in recent months soldiers have shot dead numerous Palestinians who Israel said used their cars as weapons against Israelis.
"As Palestinians we are under the military law; we don't have any rights and they don't take our testimonies and our words into consideration. Soldiers are believed to always say the truth; they don't need to show evidence. We, on the other hand, need to show evidence that we are not guilty," Amro said.
A Palestinian man collapsed during the incident. Many Israeli soldiers stood around, making no effort to provide assistance. An ambulance was called but its arrival was delayed.
Two days later, during a demonstration marking the end of the week's Open Shuhada Street campaign, Israeli soldiers broke up the crowd and arrested a human rights lawyer and a journalist. Approximately 50 people were injured when soldiers fired tear gas, stun grenades and rubber-coated bullets at the crowd.
Amro was arrested a few days later at the end of a meeting with a delegation from Breaking the Silence, a group which publishes anonymous testimonies by former Israeli soldiers to expose the army's rights abuses.
He was charged with incitement, organizing an illegal demonstration and evading arrest – allegations which he rejects.
"It is a kind of intimidation to stop the nonviolent activities and to stop any person from speaking out against the occupation and human rights violations," Amro, who was released one day later, said.
The constant harassment doesn't deter Amro.
"I will continue fighting them until they leave Hebron and they end their human rights violations," he added.
Claire Thomas is a freelance photographer from the UK whose work focuses on social, political and humanitarian issues in the Middle East, Europe and Africa. Follow her on Twitter and Facebook.
Tags