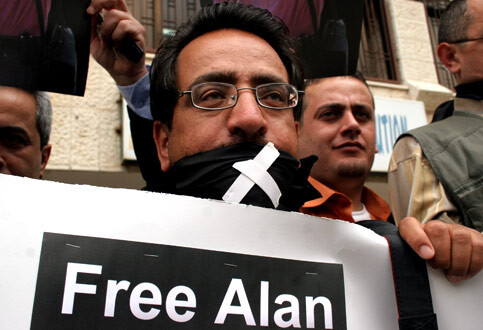 I feel helpless. We are all tired. At this point I don't know what to say, and what I will say cannot do justice to the respect I hold for Alan Johnston, and for the people of Gaza for that matter. I am much tempted to say the usual things: his kidnapping is no good for the cause, that Alan doesn't deserve this … I know many people have said as much but at the end of the day it is a question of politics, or other interests, and I feel helpless.
What I really want, obviously, is for Alan to be released. One month is an unbearable amount of time in such circumstances and I honestly cannot imagine how much the boredom and solitude might be affecting him, despite his strength of character, his calm nature and sharp mind. To those people who are waiting, hoping, and expecting for Alan's release every day, however, I want to convey a brief detail of what I went through when kidnapped in Gaza. I can in no way imply that Alan is going through the same: he has been held for much longer and is alone. I can only say that beyond the actual denial of my freedom those who held me treated me and my parents with the utmost respect, and gave us everything we needed in an attempt to maintain our physical strength as well as our morale and psychological wellbeing. Our kidnappers constantly repeated the fact that the respect I had earned in the Gaza community deserved the same respect from them towards us. I am certain that the same is true for Alan, who is held in enormously high esteem in all the occupied Palestinian territories and the world — evident from the sentiments of anger, desperation and sadness shown by journalists and countless solidarity groups worldwide since he was kidnapped.
To those who are holding Alan Johnston:
I guess you are the only people I really want to talk to, because I know that everyone else apart from you already wants what I want. I am personally calling on you to listen: I want to remind you who you are: you have families, children, brothers, sisters, people who are close to you, just like Alan is dear to us all. I know the kind of place in which you are holding him, the boredom you are feeling, the anger and frustration you are going through. I know you are watching the TV and following the news and you know now how much Alan means to the people of Gaza and of Palestine; you know how much he is respected and how much he has done for the Palestinians during his three years in Gaza. When no one else could cover the reality of what is going on in your world, Alan was there, describing the sonic booms after the disengagement, the electricity shortages after the power plant was hit, the constant and never-ending closures that affect every part of your lives, the massacres, the medical patients suffering at Rafah crossing. He was telling your entire story to the world, piece by piece, and now there is no one left to tell it. I know what your answer will be: and what good has it done? You know it has done so much — it has provoked increased outcries against the constant human rights violations you face and has gained increased support for an end to the occupation. The results are always slow but you know they are results nonetheless. That support that Alan has built, for your people, for the Palestinians, for your brothers, sisters, daughters and sons, is the same support you are destroying more every day that goes by with him in captivity.
If you continue targeting foreigners such as Alan Johnston I fear you are doing the same as what Israel has done by targeting Tom Hurndall, Rachel Corrie and many others. You are pushing away from Gaza those who want to help you get out of the situation your people have been suffering for decades. You are isolating yourselves, and your people. And I do not believe this is what you want and it is not who you are. During the time I was kidnapped, I realized that those who had kidnapped me wanted what I wanted for their people — freedom, economic opportunities, an end to corruption and power imbalances, and an end to the occupation — but they were trying to achieve it in the wrong way and it was clear that in reality they knew that.
I am asking you now to maintain some self-respect, let down your barriers and let Alan go, and take the opportunity following his release to give your voice afterwards, when people will want to listen. It is the only way. I plead you, for the Palestinian people, for your families, for Alan, for me. It is well known in Gaza the expression: Min a'shar il qawm arba'in yom sar minhum (One who lives forty days among a people becomes one of them). Alan is one of you a thousand times over. We are tired. Khalas.
Kate Burton, former human rights officer with Al Mezan Centre for Human Rights, is a friend of Alan Johnston and also a British citizen. She was kidnapped in Gaza in 2005 and held for 58 hours. Alan covered her story for three days.
Related Links