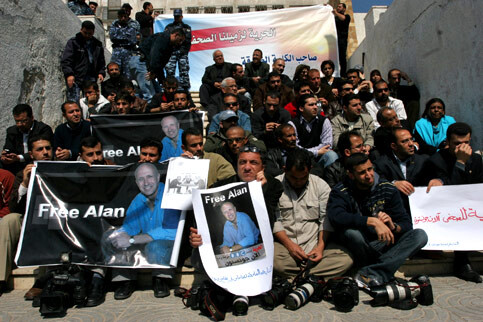 3 April 2007 — The International Federation of Journalists (
IFJ
) today called for the immediate release of kidnapped
BBC
correspondent Alan Johnston and backed Palestinian journalists' decision to hold a three day-strike to call for his release.
"It is unconscionable that the Palestinian government has not done more to secure Alan's release," said IFJ General Secretary Aidan White. "Every day that passes jeopardises Alan's safety even further and we support our Palestinian colleagues in their work to make sure that he is released quickly and unharmed."
IFJ affiliate The Palestinian Journalist Syndicate (PJS)-Gaza said on Monday it was holding a three-day strike to call for Johnston's release.
Johnston, who had been working in the Gaza Strip for three years, was kidnapped on March 12 by unknown gunmen. No group has made any demands for his release.
The PJS-Gaza has held numerous demonstrations and has set up a protest tent in front of the Palestinian Legislative Council (PLC) to press the government and the president to make sure the kidnapped journalist is released.
On Monday, Palestinian journalists organized a demonstration in front of the Prime Minister's Office. When they tried to enter the Prime Minister's office, some demonstrators were attacked by guards, the PJS-Gaza said.
"These protests show the solidarity among all the journalists in Palestine who are united in their concern for their colleagues' safety and in the call for protection of journalists to keep them from being used as political pawns," White said.
The IFJ, the PJS and British affiliate the National Union of Journalists of the United Kingdom and Ireland have united in their call for Johnston's immediate release since his abduction in early March.
"We shall continue our protests and campaigns until Alan Johnston is released," said Sakher Abou el Oun, head of the PJS-Gaza branch.
The IFJ has written to Palestinian Prime Minister, Ismail Haniyeh, asking him to step up efforts to find and liberate the reporter.
Johnston is the latest reporter to be kidnapped in Gaza. All the other journalists in recent cases have been let go unharmed but worries about Johnston's safety have increased along with his time being held.
The IFJ represents over 500,000 journalists in more than 100 countries.
Related Links
Great concern over continued detention of

BBC

journalist, Reporters Without Borders (2 April 2007)
Palestinian journalist's letter to Alan Johnston, Sami Abu Salem writing from the Gaza Strip, occupied Palestine (28 March 2007)
BBC

reporter still held two weeks after kidnapping, Al-Haq (26 March 2007)
Al Mezan condemns the kidnapping of

BBC

journalist, Al-Mezan (13 March 2007)
BBC

's Alan Johnson second reporter kidnapped in Gaza this year, Reporters Without Borders (12 March 2007)