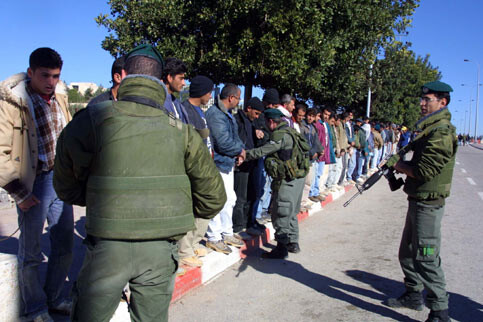 It is 12:30pm at the Nablus area District Civilian Affairs Office (

DCO

). It is over 40 degrees outside, where a long queue of Palestinians had been waiting in the oppressive heat (some for over three hours) with dust and dirt and no place to sit. They are here to request a permit, formal permission from the Israeli government to travel from the surrounding villages into Nablus to work.

Thousands of Palestinians go through this torture daily in Israeli offices throughout the Occupied Territories (OT) as the Israeli government intensifies restrictions on the movement of Palestinians. Israeli government restrictions on the movement of Palestinians in the OT are terrifyingly reminiscent of apartheid South Africa's pass-laws.

Since March 2002, permits have been required to travel from one district to another. The Gaza Strip - only 30 kilometres long - is divided into three districts itself. The web of permits required has become mind-boggling following the construction of Israel's apartheid-style "security" wall, which divides the West Bank into eight separate and isolated "Bantustans". Apart from work, study and travel permits, some Palestinians even need permission to live in their own homes!

This new permit is for people caught between the "security fence" and the West Bank-Israel border, an area being called the "seam zone". More than 12 000 Palestinians are caught in this trap, and more may follow as the wall snakes its way around and through towns. Palestinians living within these areas are required to obtain permits to enter the area and live there.

According to the BADIL Resource Centre for Palestinian Residency and Refugee Rights, any Palestinian who lived in the area would be defined by a new category of "long-term resident" and everyone over the age of 12 would be required to obtain a permit to live in their own homes and travel beyond their villages. In addition, only Israelis and Jews could enter the designated areas without a pass.

A "pass" is also required just to travel a few kilometres to work or see family. Another group of people living east of the wall need permits to enter or leave the area, and to work on the land that they own and have farmed for generations.

The permit maze

Obtaining a permit, though, is no easy task, according to Adam Miles of the Friends Committee on National Legislation, an American NGO[1]. Miles spent six weeks in the Occupied Territories and Israel last summer, and described the process agonising process. "A line forms at the window at around 7:00 am, and usually takes about 90 minutes to pass through. Each man gives his ID card, explains his request, moves to some hard benches nearby, and waits to be called again.

The benches fill up very quickly. The wait is completely arbitrary, it seems. One man arrived promptly at 7:00 am to fill out his request. He sat impatiently and watched as countless men, who arrived long after he did, were called ahead for further processing. At one point, he re-entered the initial line and cut to the front to demand more information from the soldier behind the window. This did him no good. He was ordered immediately to sit back down and wait his turn," described Miles.

"It's not surprising that the Israeli military doesn't want any photos or video taken of the DCO. It's a terrible place. I'm not a Christian, and I haven't spent a great deal of time imagining Purgatory, but after a day at the Nablus DCO, I'm quite certain that the Israeli government has a much better grasp on the concept than did Milton", quips Miles.

Apart from the heat and the long wait, Palestinians must also endure the humiliation of being ignored and mistreated by occupying soldiers: 18- to 20-year-olds who demand that they stand in straight lines; lose their information; and "forget" their requests.

"The DCO closes at 3:00pm no matter how many "cases" are still pending. If your name is not called before closing time, you're forced to spend another day waiting in the sun. The process then starts over; again with the dim hope that your name will be called, again with the realization that even if you are called there is a good chance your request will be denied, again without a clear understanding of how the system works,' explains Miles.

If Palestinians don't go through this tortuous practice, they cannot travel, and are forced to find work in the economically downtrodden villages. They could try to go around the checkpoints illegally into the larger cities, but if they are caught, their ID is taken and they are detained for the day at the checkpoint; again in the sun without food, water, or bathrooms. If a person is caught more than twice, they are arrested for three days. After that, imprisonment is up to six months. For some, the consequences are even more horrifying. In May 2001, several Palestinian workers suspected of entering Israel without work permits, were severely beaten and killed, according to a Middle East News Online report.

On top of permits, Palestinians face curfews and internal closures frequently imposed on cities, towns, villages and refugee camps. In the West Bank there are more than 180 checkpoints and roadblocks. Palestinians living in the West Bank and holding West Bank identification cards face a number of restrictions if they want to travel outside the West Bank or if they want to enter or cross East Jerusalem and/or Israel. There is a general ban on West Bank card-holders entering Jerusalem or Israel.

Miles spoke to two men who work in Nablus. They told him this was their fourth or fifth attempt with the DCO over the past two weeks to obtain their permits, and were still waiting patiently. The man who had been waiting since 7:00am was also still there - waiting not so patiently. With only a half-hour left, knowing how unlikely it was now that he would be called before the 3:00pm deadline, he stood red-faced and grew visibly more agitated. Dozens and dozens of others stood alongside him waiting sadly and desperately to go home shortly with no permit to "live".

Endnotes
1. Adam Miles' full account of his experiences in Israel and the OT is available in Peacework magazine, available online at www.afsc.org/peacework.

Suraya Dadoo is a researcher with Media Review Network, an advocacy group based in Pretoria.